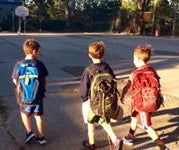 It always starts with "how was your summer?" To which I always truthfully reply, "Awesome. And way too short." Because it was. And it always is. With a full-time job and five full-on kids, I love the downtime that summer provides. And I dread the nag I become when school is back in session. The sunset swims, lazing about and catching fireflies and are replaced by repetitious rants about finishing homework, taking showers and finishing homework. Yes, twice for the homework. At a minimum. Followed by an admittedly whiny and desperate, "Why don't any of you ever do anything I ask the first time?! "Sound familiar? I hope so. Well, and I hope not. I hope so because I'd like to think I'm not alone; I hope not because I'm truly sorry if you're sharing in the misery that September spawns in our house.
This back to school season has been a particular challenge. Week one, while only four days long, featured our five kids at three different schools and included multiple calls from school nurses and one from a principal. I guess you could say our kids didn't make a seamless transition. And neither did I.
One nurse called four times in two days. Because one kid visited her four times in two days! First it was an itchy eye. Then a runny nose. Then an upset stomach. And a headache. All the classic symptoms of the back to school blues, if you ask me!
Meanwhile, at a school on the other side of town, another nurse was calling to inform me of "a head wound that I don't think requires stitches, but maybe you should come take a look." Really?! What about the meeting I'm in the middle of at work? Am I supposed to just drop everything to examine what may or may not be a gaping head wound?! That's really not my area of expertise. And since this little victim was one of our identical triplets I went with, "I'm sure he'll be fine -- and if he has a nasty scar, maybe that will help folks tell them apart!" That's me. Always making lemonades out of lemons. And, perhaps another lapse in parental judgement. What can I say? No one's perfect!
As the school day came to a close, my phone rang again. I was still sitting in that same meeting. This time, it was the principal from the head-wound school calling. "Don't worry," I told her, "I talked to the nurse and I'm sure he'll be fine. Thanks so much for following up!" As I tried to hang up, I heard her mutter, "Um, I really hate making these kinds of calls, but I'm calling about another one." Seriously?! Another kid? Now what?!
As it turns out, we had a little fella in big trouble for some "very mean words" on the bus. While it was "a first time offense," it was being taken very seriously. And rightfully so, I suppose. Although, when I completed my at-home interrogation that evening and my red-faced, sobbing, breathless child proclaimed "I might have said she had (sob, choke, sob!) chubby legs!", I had to suppress a laugh. I mean really, he might have said it? It feels rather specific for a "might have"… and frankly, rather trivial for a call from the principal but who am I to say? After all, I had a ballet teacher who told me I had chubby legs daily from roughly 1982-86... which I suppose doesn't make it right, but still, does it make my little guy a bully?!
As we dashed to back to school night that evening, my husband and I lamented our current state of child-rearing. It wasn't looking good. And then it got even worse. A solemn looking mom approached me in the hall with an apprehensive look. "Oh no", I thought to myself, "I hope this isn't the mom of the girl with the chubby legs!" It wasn't. This mom had a girl with "ugly shoes." So... more than one kid had delivered mean words on the bus that day. And apparently, the self-congratulatory nods my husband and I exchanged at last year's parent-teacher conferences were premature. We've always simply strived to raise nice humans. And we thought we were. But it looks like we have more work to do. For now, we're just going to try to keep the nasty remarks in the back of the minivan instead of the back of the bus. Just like it was this summer. Oh how I miss the summer...
Related
Popular in the Community