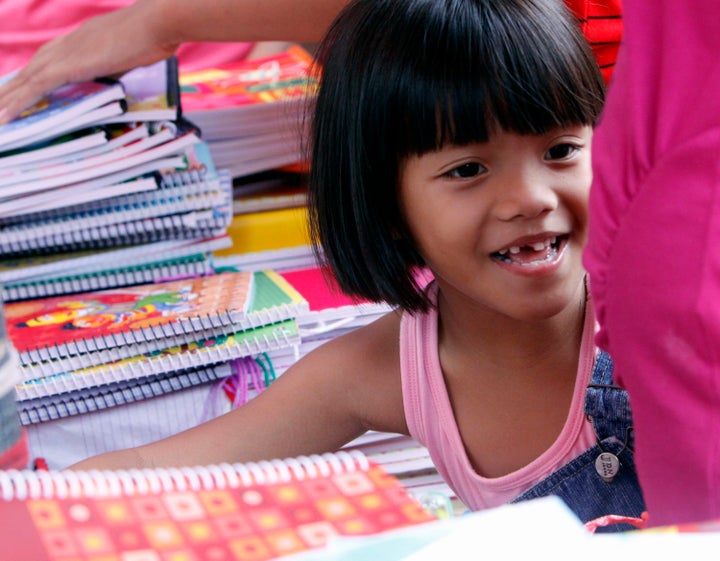 The days when you could send your kids off to the first day of school with a lunchbox and a hug are long gone. Today's back-to-school preparations likely include filing out piles of pre-enrollment paperwork, lining up carpools and, of course, the dreaded shopping excursions for clothes and school supplies.
If you're new to this game or simply need a refresher course, here are a few suggestions that can help you save time, money and sanity:
Get organized. Keep a file with letters, emails and notes sent home from your kid's school for things like registration requirements, report cards, permission slips, required vaccinations, school policies (absence, illness, discipline, etc.), contact information for teachers, aides and classmates' parents, etc. Find out if the school has a website, online calendar or email list you can sign up for.
Also, create a family master calendar noting registration deadlines, school holidays, vacations and field trips, doctors' appointments, your work events, carpool schedules, parent/teacher meetings, athletic and arts events, parties, etc.
Back-to-school shopping. By the time they've bought new clothes, classroom supplies and paid for extracurricular activities, many parents will end up spending several hundred dollars per child. Unless you've been setting money aside all year (which you really should), you'll need to determine what you can afford to spend on school-related expenses without blowing your overall budget. Scoring bargains won't help your bottom line if you end up paying interest on unpaid balances.
Here are a few budgeting tips:
Before you shop, make a comprehensive list for each child. Use previous years' expenses as a guide and compare notes with other parents.
Be transparent with your kids about the budgeting process, including how much money is available to spend. Get them involved in prioritizing expenses between "must-haves" and "nice-to-haves" as well as how to compromise: If they truly want those pricey jeans or new laptop, work together to figure out a way they can earn the price difference.
As an added inducement to save money, agree that if you come in under budget, you'll split the savings with them.
Spread clothing purchases throughout the year so your kids don't outgrow everything at once. Many stores hold fall clearance sales to make room for holiday merchandise.
Although shopping online can save money, time and gas, don't forget shipping and return costs, which could undo any net savings. If your kids are old enough, put them in charge of online comparison shopping.
Review the school's dress code so you don't waste money on inappropriate clothing.
Ask which school supplies you're expected to buy. Go in with other families to take advantage of volume discounts and sales.
Find out how much extracurricular activities (athletics, music, art, etc.) cost. Account for uniforms, membership dues, private lessons, field trips, snacks, etc.
Rent or buy used sporting equipment or musical instruments until you're sure they'll stick with an activity. (Try PlayItAgainSports.com and similar outlets.)
Factor in public transportation, school bus or carpool expenses.
Learn what your school charges for meals and weigh their convenience (and nutritional value) against the cost of home-prepared lunches and snacks.
Find out your school's policy on immunizations and see what's covered by your insurance -- or which ones you can access free at health fairs or community clinics.
Know when it's important to spend more for higher quality. Cheaper notebook paper shouldn't matter, but you shouldn't risk buying poorly made shoes that might hamper proper physical development.
Before buying new clothing or accessories, look for "gently used" items in the closets of your older kids, friends and neighbors, at garage sales, thrift and consignment stores, and at online sites like Craigslist. While you're at it, sell or donate items you no longer need.
Clip newspaper and online coupons. Many stores will match competitors' prices even if their own items aren't on sale. In addition, numerous consolidation websites post downloadable coupons and sale codes for online retailers, including: CouponCabin.com, CouponCode.com, CouponCraze.com, Dailyedeals.com, DealCoupon.com, DealHunting.com, Dealnews.com and MyBargainBuddy.com.
Mobile shopping applications take online shopping to a whole new level by allowing in-store smartphone and mobile browser users to scan product barcodes and make on-the-spot price comparisons, read reviews, download coupons, buy products and more. Popular apps include Amazon's Price Check, ShopSavvy, Yahoo!Shopping and PriceGrabber, with more rolling out all the time.
Save on textbooks
. Textbooks are one of the biggest expenses for college students, often costing hundreds of dollars a year. Fortunately, many alternatives to buying a new (or used) copy from the campus bookstore now exist.
Websites like Chegg.com, CampusBookRentals.com, BookRenter.com and eCampus.com let you rent textbooks for the semester at a much lower cost, often with free shipping. In response, more and more campus bookstores have begun rental programs.
Many textbooks are now available in ebook form that you can download and read on your computer at a greatly reduced price.
Several websites, including CampusBooks.com, Bigwords.com and AllBookstores.com let you comparison shop when buying multiple textbooks, as well as choose the best option among buying, renting and ebook for particular texts.
A few cautions when ordering school textbooks:
Whenever you buy or rent textbooks, always make sure you're getting the edition with the correct ISBN (International Standard Book Number) for your course.
If ordering online, be sure to factor shipping costs into the overall cost.
Ask about return policies in case you decide to drop the course.
Make sure the books can be delivered in time for the start of classes.
Bottom line: Plan ahead for back-to-school season and you'll save money, time and aggravation.
This article is intended to provide general information and should not be considered legal, tax or financial advice. It's always a good idea to consult a legal, tax or financial advisor for specific information on how certain laws apply to you and about your individual financial situation.