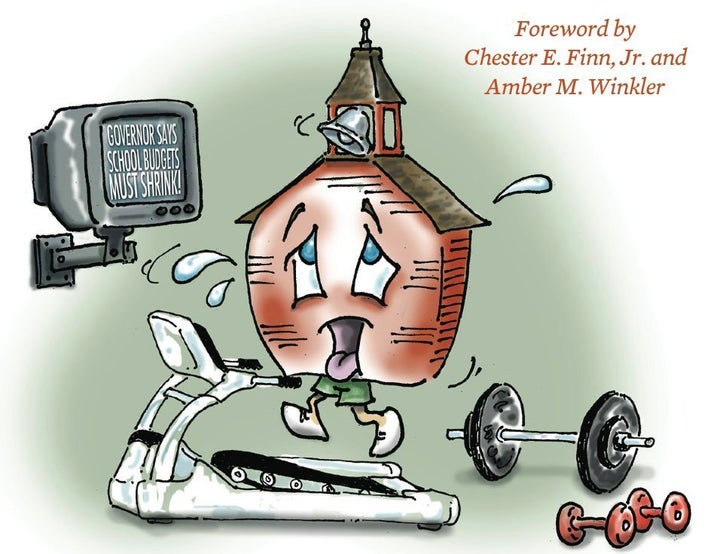 As school districts suffer from increasing costs and not enough cash, only 11 percent of Americans are willing to pay more in taxes to fund communities' schools, according to a new report released Thursday.
Instead, almost half (48 percent) said that the best approach to fixing a school-district deficit would be "dramatically changing how it does business," and 26 percent would "change as little as possible and wait for times to get better."
But that doesn't mean they don't recognize the school funding problem. Seventy-seven percent said they expect their school districts' financial woes to last beyond the current crisis, according to the survey, commissioned by the right-leaning, Washington, D.C., think tank the Thomas B. Fordham Institute.
And many would close that gap by reducing or freezing teacher pay to plug budget holes.
"It's striking how willing the public is to make teachers pay for the cost of the downturn," said Michael Petrilli, Fordham's executive vice president. "They want to have their cake and eat it too. They want to just pay the workers less and have the same services."
Fifty-eight percent of respondents said freezing salary is a good way to save money and avoid layoffs. "For a year or two, that kind of thing is doable. If this is a long-term crisis and a change where suddenly our schools forever are going to be operating at a lower financial level, that is not sustainable and will have a negative impact on teacher morale and stability," said Petrilli, a Republican who worked in the U.S. Department of Education in the George W. Bush administration.
"It kind of makes the case for teachers' unions to defend the rights of teachers."
But Randi Weingarten, president of the American Federation of Teachers, the nation's second largest teachers' union, questioned the poll's credibility. "I'm really disappointed," Weingarten said. "They methodologically didn't do the right kind of polling." She said she consulted with several pollsters who told her the poll over-represents Republicans and under-represents minorities. She called the questions posed by the poll "false choices." (Petrilli said the poll was designed to present respondents with real-life situations school boards face).
School districts across America are dealing with huge deficits, layoffs, furloughs, ballooning class sizes, and any types of cuts they can imagine. Some school districts are going to four-day weeks, eliminating prekindergarten, shortening school years and switching to half-day kindergarten.
"We're having to put more students in a classroom now," Billy Walker, a superintendent of Texas's Randolph Field Independent School District, testified in a recent congressional hearing on education funding. "The concept of doing more with less is admirable, but there comes a time when there is not enough left to adequately and equitably educate the children of America."
And the picture may worsen: Federal stimulus funds that saved scores of education jobs are drying up, and a round of automatic cuts to federal funding is imminent if Congress fails to act. Schools across the country could lose $1.1 billion in Title I funding, money set aside to serve poor students.
Most people don't want school districts to simply chop services during the annual budget crunch. Rather, they want school districts to change; 48 percent indicated that if their district were facing a deficit, they would rather "cut costs by dramatically changing how it does business" instead of trimming around the edges.
The more popular cost-cutting measures including closing or combining schools [63 percent]; merging small school districts [63 percent]; freezing school workers' pay and reducing teacher salaries [58 percent]; and cutting back on administrators [69 percent.]
If teachers must be laid off, 74 percent of respondents prefer firing them based on poor performance rather seniority, which is the norm in many school districts. Fifty-one percent would rather lay off a veteran teacher with 20 years of experience, than a new teacher with two years of experience and "excellent performance" evaluations.
Likewise, 73 percent answered that they'd rather have a larger class of 27 students taught by "one of the district's best performing teachers" than a class of 22 "taught by a randomly chosen teacher."
But the survey didn't ask respondents how they'd measure teacher quality, a much-debated question. "People like the idea of doing layoffs based on effectiveness in theory," Petrilli said. "In reality, it's going to get a lot messier."
The survey was funded, in part, by the Bill & Melinda Gates Foundation philanthropy. It was conducted by the Farkas Duffett Group, and interviewed 1,009 nationally representative adults in March 2012 with a margin of error of +/- 3 percentage points.
August 2, 11:35 a.m. This story was updated to include Weingarten's comments.
Calling all HuffPost superfans!
Sign up for membership to become a founding member and help shape HuffPost's next chapter