Calling all kindergarteners, grade schoolers and teens! While you're squeezing the life out of summer, we parents are hunting for back-to-school looks we hope will express your style. I've handpicked these finds for everything from the first day to serious play, with the goal of helping you save every day on the clothes you love. Keep in mind that beyond any of these fun trends, you know you have a winner if once donned, your kiddo lights up and emanates empowerment; confidence is by far the hottest accessory.
ANIMAL INSTINCTS
Circle time kicks off with a roar with animal motifs front and center on kids' shirts, sweaters and more.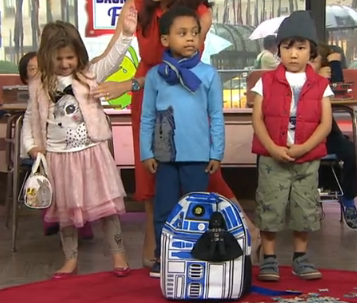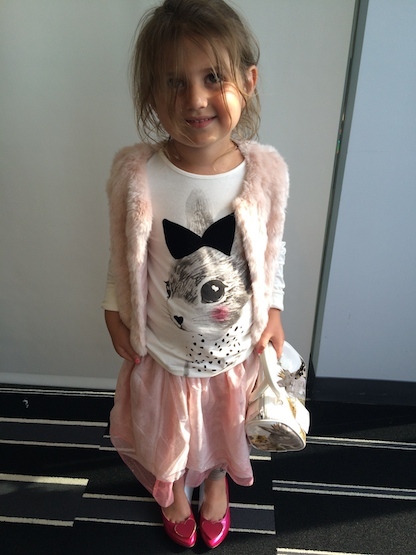 Elizabeth:
Bunny Bow Shirt, $4.99, HM.com
Faux Fur Vest in pink, $17.99, HM.com
Tutu Tulle Layered Skirt, $14.99, HM.com
Stevies #Dressup Ballet Flat, $21.99, Target.com
Animal Purse, $17.99, HM.com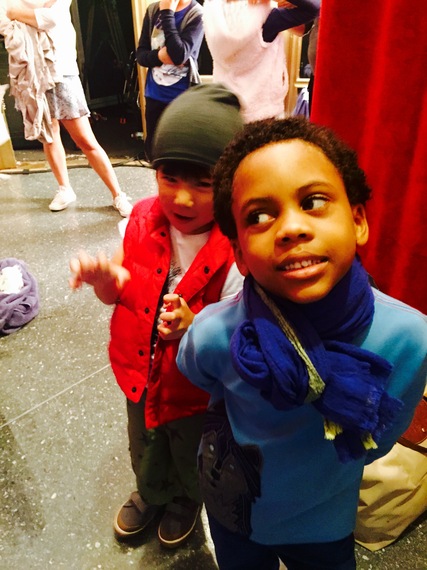 Zion (right):
Get Appy Tee in Lakeside, $34, HannaAndersson.com
Straight Leg Cords, $36, HannaAndersson.com
Star Wars R2D2 Backpack, $19.99, Target.com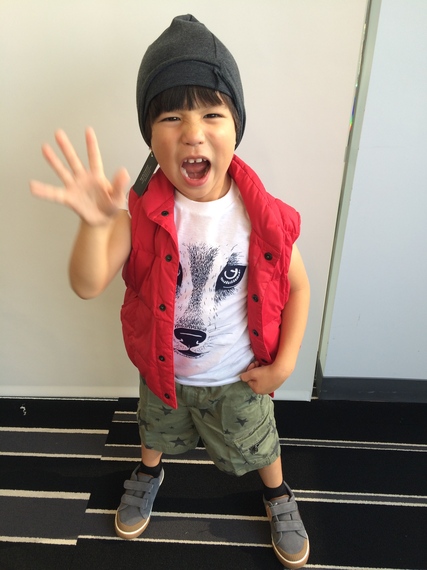 Rowan:
Wolf Tee, $32, SaltCityEmporium.com
All Out Star Cargo Shorts, $45, HannaAndersson.com
Boys' Down Vest, $39, LandsEnd.com
Beanie, $11, SaltCityEmporium.com
Kasper Suede Sneakers by Hanna, $55, HannaAndersson.com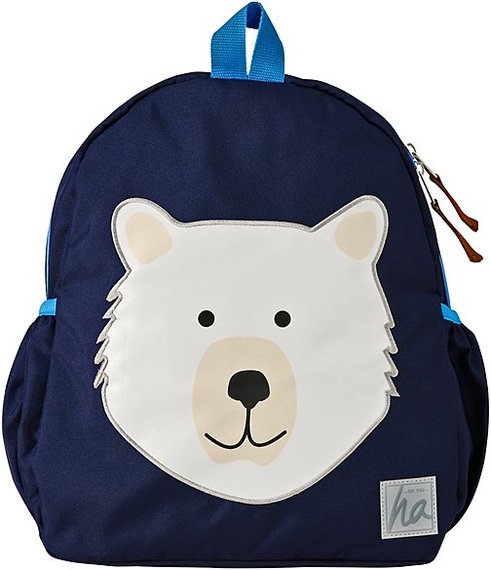 There and Backpack Junior in bear, $32.20, HannaAndersson.com

POPULAR PLAIDS
With a myriad of beautiful plaids this fall, it's also a versatile pattern that you can dress down for school or dress up for a special occasion, and wear right up to the holidays. (Look especially for shirtdresses this season in this print.)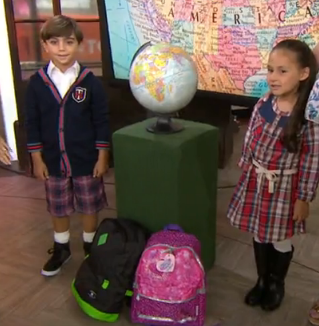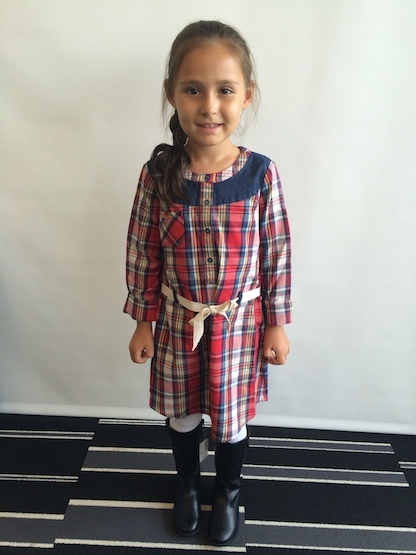 Ella:
Plaid Shirtdress, $41.60, HannaAndersson.com
Microfiber Tights, $3.15, ChildrensPlace.com
Ryder Tall Boots, $23.07, ChildrensPlace.com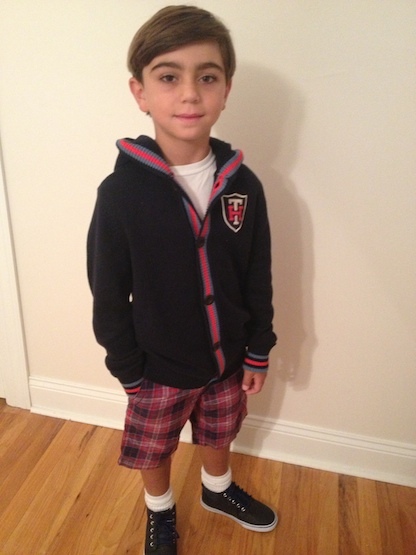 Joseph:
Hooded Sweater, $46.50, USA.Tommy.com
Red Plaid Short, $36.50, USA.Tommy.com
Rockstar Skate Sneaker, $20.26, ChildrensPlace.com
IF THE KNIT FITS
With an abundance of knitwear trends available, it's about finding separates that express your style whether a knitted dress or pants, punchy tights, a striped cardigan and/or a glow-in-the dark tee (the latter, another trending design moment).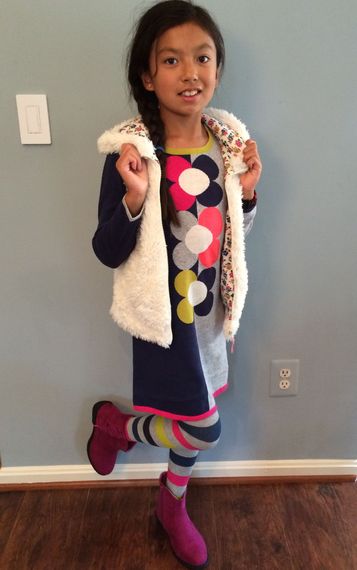 Fiona:
Fun Knitted Dress, $64, BodenUSA.com
Patterned Tights, 2-pack, $24, BodenUSA.com
Cosy Vest in Ecru, $38, BodenUSA.com
Suede Fringe Boot, $29.95, FabKids.com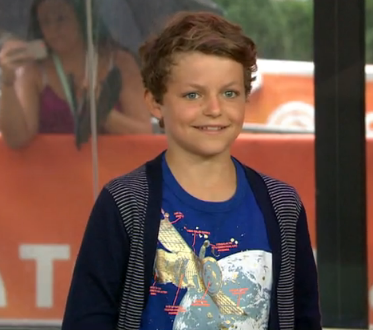 Mack:
Glow-in-the Dark T-shirt, $34.50, Jcrew.com
Cotton Cashmere Cardigan, $59.50, Jcrew.com
French Terry Moto Pants, $35, TeaCollection.com
Blue Velcro Sneaker, $24.95, FabKids.com
SPORTY LOUNGE
Athleisure has spilled into kids' clothing and they're loving it! From comfy, cozy track pants to sleek joggers and sweatshirts with lace cutouts, dressing relaxed never looked so swell. Also look for lots of influences from the Dark Side--as in Star Wars designs on everything from backpacks to T-shirts.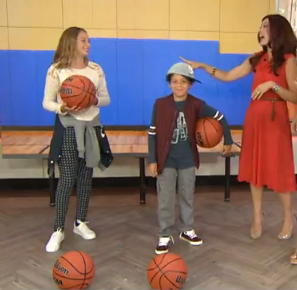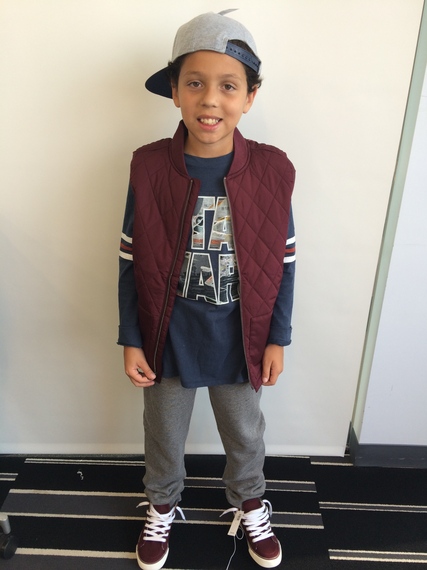 Jared:
Quilted Vest, $29, OldNavy.com
Junk Food Star Wars Football Tee, $26.95, Gap.com
Twill Joggers, $16, OldNavy.com
Canvas Top Sneakers, $24, OldNavy.com
Flat Visor Jersey Baseball Hat, $9, OldNavy.com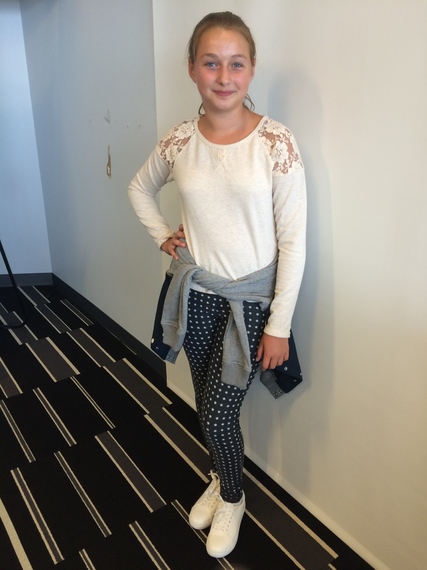 Olivia:
Lace Accent Sweater, $12.99, HM.com
Varsity Jacket, $24.99, HM.com
Navy Star Leggings, $14.99, H&M
White Sneakers, $24.99, H&M
ROCK STARS
Teens can ease back into school with a little bit of rock and roll...a graphic print shirt or mixed-media dress topped with a faux leather jacket is just the ticket to a winning presentation.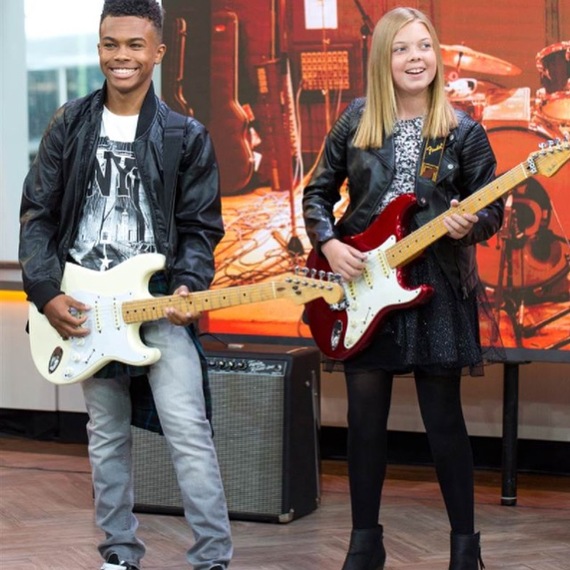 Caroline (right):
Floral & Sequin Dress, $49.95, Abercrombie
Mossimo Black Annie Booties, $34.99, Target.com
Biker Jacket, $34.99, HM.com
Kingsley (left):
Boys' Moto Jacket, $39.95 H&M
Tony Hawk NY Bridge Graphic Tee, $18, Kohls.com
Straight Jeans, $39.95, Gap.com
Mossimo Jace Sneakers, $17.99, Target.com
STARS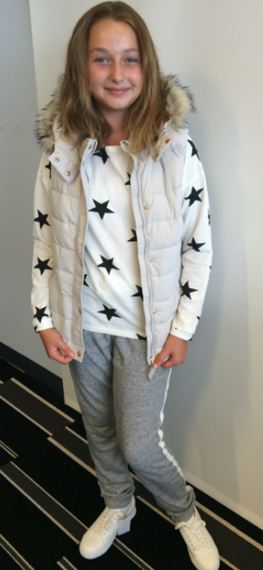 Olivia:
Black Star Sweater, $12.99, HM.com
Striped Sweatpants, $19.99, HM.com
Puffer Vest, $34.99, HM.com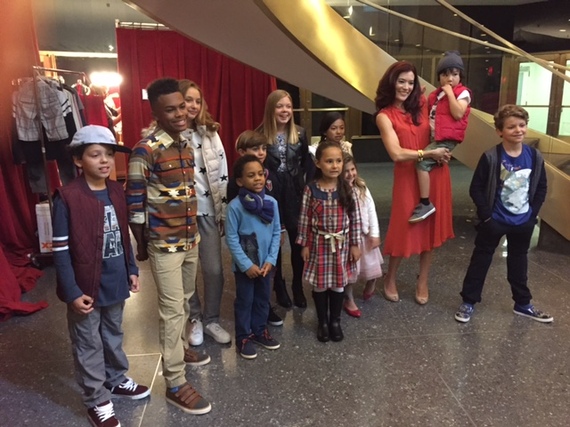 To see the above looks in action check out my NBC Today show segment and more back-to-school trends here.
*Sale prices reflect time of publication and may be subject to change.