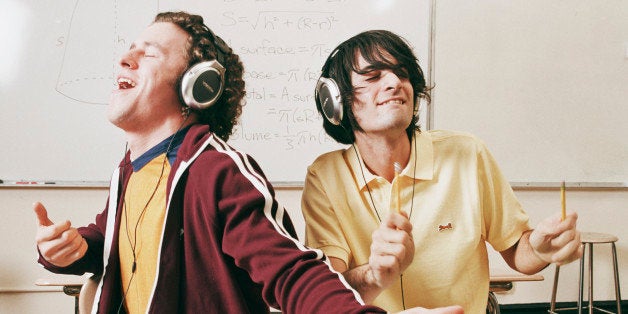 The first day of school means new teachers, new classes and new hopes for an amazing year ahead. We already asked you what your big back-to-school dreams were -- but what about non-academic goals? Sure, getting good grades and college applications are no doubt important, but it's also important to have other aspirations outside the classroom. Here are five back-to-school goals you should add to your list that have absolutely nothing to do with school!
1. Make a new friend outside your "group."
Even if you and your crew have been tighter than Spandex since your juicebox days on the playground, take a step outside your comfort zone and dare to befriend someone new. Maybe it's that new French exchange student or that cool girl with the awesome My Little Pony hair streaks in your woodshop class. Don't be afraid to strike up a conversation - putting yourself out there isn't as scary as you think. While he or she might not become your instant BFF, you might discover a mutual love for intricately-designed cupcakes and cheesy horror movies -- a.k.a. the beginning of a beautiful friendship.
2. Finish a book... that wasn't assigned to you.
Don't get us wrong, "To Kill a Mockingbird" and "The Great Gatsby" are fantastic books, but there's something to be said for opening a new book because you want to -- not because you have to. The required reading assigned by your teachers doesn't leave much room for "fun" reading, but when you get some downtime, instead of hopping on Tumblr, give your eyes a break from the screen and curl up with that guilty pleasure that's been collecting dust on your nightstand. Getting lost in a book is not only a great distraction from college application stress, but it's equally a great way to treat yourself for your hard work. (Check out these suggestions from our teen intern, Riley!)
3. Catch some serious zzzz's.
You know, you know -- sleep is important. But seriously, you owe it to yourself to get a full night's rest. It's all too easy to stay up until 2 a.m. binge-watching "Teen Wolf," but Dylan O'Brien can wait, we promise.
"But wait," you say, "I've got a huge bio test tomorrow and my entire college career depends on it!" Fair enough. However, know that pulling an all-nighter doesn't necessarily guarantee you an "A," and it can actually be more harmful than helpful. Of course, some projects and tests will merit late nights, but staying up until the wee hours isn't a habit you want to start. Instead, set realistic deadlines for finishing your work and repeat this to yourself: No test is worth your sanity.
4. Learn something new outside the classroom.
Take a sign language class. Learn to code. Sign yourself up for guitar lessons. The point is, do something for you -- not for your parents, your teachers or your resume. Seriously. Just for fun. Who knows? You could totally be the next Jimi Hendrix in the making and not even know it.
5. Eat breakfast. Every day.
Crazy goal, right? The fact of the matter is, skipping breakfast can lead to potential health issues down the road and even affect your grades. And sorry, but we're not counting strawberry Pop-Tarts as a balanced meal. Don't have time? Click here for easy, on-the-go breakfast ideas for when you're running out the door. Your stomach (and brain) will thank you.
Calling all HuffPost superfans!
Sign up for membership to become a founding member and help shape HuffPost's next chapter
BEFORE YOU GO
PHOTO GALLERY
20 Things Not To Worry About Before You Turn 20