Enrolling in a Fine Art MFA program is a tough decision for any would-be artist, and it comes with multiple considerations. ARTINFO has examined the most popular guides out there, like U.S. News's graduate school rankings, along with a plethora of online advice columns to try and tackle this subject in the most practical way possible. Everyone is familiar with the cachet of programs like Columbia and Yale, but we've singled out the following programs as our own personal favorites. Our criteria more or less boil down to weighing their respective price tags against the prospects of financial aid, teaching assistantships, and other support, as well as the benefits of their prestigious faculty, impressive facilities, valuable visiting artist programs, and cutting-edge curricula. In many cases, we've picked schools that seem truly to offer enrollees a great deal (i.e. they are reasonable considering what you get), though a few are simply examples of world-class programs that are worth considering (i.e. they are still expensive -- but it might be worth it). We also mention a few caveats about each, where we found them.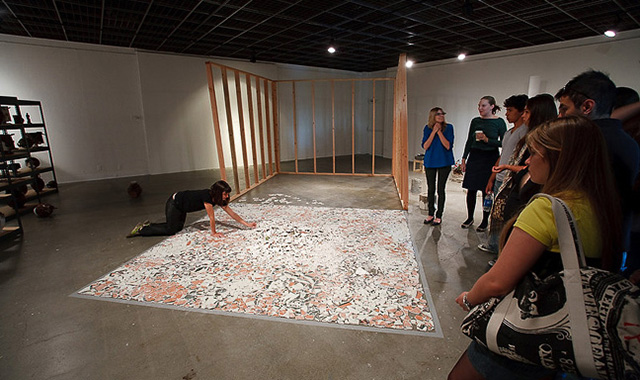 "Pick Up the Pieces" at California Institute of the Arts, an exhibition/performance by student Liz Glynn
/ Courtesy the Artist and California Institute of the Arts

Art Center College of Design
Faculty: Walead Beshty, Stan Douglas, Mark Allen, Mungo Thomson
Alumni: Zack Snyder, Doug Aitken, Ron Osborn
Price Tag: $18,772
About: This private school is nestled in bucolic Pasendena, California, outside of the hustle and bustle of Los Angeles, but close enough that the city's many gallerys and museums are just a short drive away on the freeway. Though the school's tuition compared with its competitors won't break the bank on its own, the program participates in the Federal Pell Grant, FSEOG, and Cal Grant programs. The school has gained the reputation as the West Coast's version of RISD, with more of a professional program than a post-studio one, sending many of its graduates off to work in Hollywood's film industry, or putting their graphic skills to use in design and media.
[Fine Print]: Outside of the studio art MFA, programs are more structured and geared towards professional fields.
California Institute of the Arts
Price Tag: $39,014
Faculty: Michael Asher, Jo Ann Callis, Sam Durant, Harry Gamboa Jr., Charles Gaines, Michael Ned Holte, Thomas Lawson, Allan Sekula
Visiting Artists: Miranda July, Uta Barth, Steve Rodin, Glenn Ligon
About: Their current faculty list is nearly as long as the impressive alumni they boast. Cal Arts sets itself apart with its accumulated star power, which helps to balance out their not-so-meager price tag. The one-on-one attention given to the MFA candidates is nearly unparalleled, and the loose requirements for graduation give students a freedom in their curriculum they will likely find nowhere else. Since the art school is just a section of Disney's grand Santa Clarita valley arts compound, students have access to classes and collaborations throughout the school. For those who want to study with renowned artists, and pretty much do whatever they want at the same time, this is totally worth the price. The program is unique in that students will have multiple opportunities to have solo exhibitions, giving them more exhibition experience by the time they graduate than other programs.
[Fine Print]: Students are required to take several critical studies courses, which can include anything from the social sciences to literature - while Cal Arts is an institution specializing in the arts, it is well supported by its robust critical studies departments. Overall, while there are some scholarship and grant opportunities, this is still a private school and has one of the biggest price tags on our list.
Hunter College, Department of Art
Price Tag:$15,615.70, $8,465.70 (New York Resident)
Faculty: Paul Ramirez Jonas, Nari Ward, Constance De Jong,
About: One of the best programs with a substantially affordable price tag in the New York metropolitan area (it's a perfect example for why the CUNY system is a great deal) the Hunter MFA stands as a really a big fish in bigger pond. It has amassed an impressive faculty list and a many of its young alumni have jumped right into shows in Chelsea, like the painter Jules de Balincourt. Candidates are admitted into the program through an area of concentration, from painting to photography, and must present their thesis in that area. For in-state residents, this is a bargain price for one of the most prestigious programs in the bunch.
[Fine Print]: There isn't much of a campus life and studio space and facilities are spread out throughout the city, with graduate studio space on west 41st Street and 10th Avenue. There is big competition in New York's art world, so while you may be in the center of it all, prepare for the cut-throat environment.
MIT Program in Art, Culture and Technology (ACT)
Price Tag: $20,885
Guest Speakers: Yvonne Rainer, Alfredo Jaar, Mark Tribe, Tom Eccles (external reviewer)
Faculty: Antoni Muntadas, Joan Jonas,
About: There is big emphasis placed on the critical studies program portion of the program, and its connections with the advanced technology community of greater MIT. Of the other schools on our list, MIT's MFA has a unique experimental and systematic approach to visual art that is very research heavy, stressing an interdisciplinary approach. The MFA is part of the department of architecture, within the school of architecture and planning, and is the latest evoltion of the Center of Advanced Visual Studies (CAVS). With big names like Otto Pine and Krzysztof Wodiczko in the institution's history, as former directors of CAVS, it's no wonder faculty members like Nam June Paik, Joan Jonas, and Antoni Muntadas have been drawn to the program to teach.
[Fine Print]: The program is highly competitive, with only six spots available each year, making it the smallest peer group as well as the most science-and-research oriented program.
Rutgers University, Mason Gross School of the Arts
Price Tag: $11,808, $7,692 (New Jersey Resident)
Faculty: LaToya Ruby Frazier
Visiting Artists: Huma Bhaba, William Kentridge, Christian Marclay, Richard Serra, Christopher Wool
About: Candidates are required to produce a written thesis as well as participate in the MFA thesis exhibition in order to graduate - a small price to pay considering that, comparitively, tuition is basically free. Teaching assistantships that can supplement tuition costs are available based on undergraduate course offerings, artistic merit, accomplishments in a specialty, and previous teaching experience. With the MFA thesis exhibitions held in New York, the program's campus provides a great environment to concentrate on work (with no shortage of available studio space) in a smaller (but still very much urban) setting, while maintaining the ability to stay abreast of New York's art scene.
[Fine Print]: Rutgers is a state university, so there is a substantial difference in tuition prices for New Jersey residents. Also, while the school may be close to the art hub of New York City, it is not much of one itself - with more frat houses in town than art galleries.
Tyler School of Art, Temple University
Price Tag: $31,470, $22,710 (Pennsylvania Resident)
Alumni: Lisa Yuskavage, Liz Markus
Visiting Artists: R.H. Quaytman, Wangechi Mutu, Hal Foster, Dara Birnbaum, Doreen Remen, Hilary Harkness, Patty Chang, Siebren Versteeg, Rashaad Newsome, Amanda Ross-Ho, Kerry James Marshall
About: The graduate teaching and technical assistantships cover full tuition and provide an annual stipend for students, and are renewable each year, so while tuition is not cheap on its own, it can be for some. The painting and drawing programs share a great deal in common with the sculpture programs, and together are ranked among the top 10 in the country according to US News. Philly is no New York, but art students have plenty to see and participate in while studying there, from the Philadelphia Museum of Art to the newly renovated Barnes Collection.
[Fine Print]: Temple University is a huge school, and students will actively have to seek out art opportunities in the city.
University of California Berkeley, Department of Art Practice
Price Tag: $15,220.75, $7,589.75 (California Resident)
About: Berkeley's MFA program is smaller and less recognized than some of its peers, but it's nothing to scoff at. Berkeley is one of the few on our list that provides both a conceptual and technical program, with professional training. Students at the graduate level are required to take classes in other subjects from the larger university curriculum, which places large stock in its students' ability to thrive in visual art and academic environments. The MFA thesis exhibition is held at the Berekely Art Museum, and each class has approximately 14 students.
[Fine Print]: Berkeley has an excellent program, but unlike some of the other schools on our list, the larger university isn't known for its hidden gem of an art program.
University of California San Diego, Visual Arts Department
Price Tag: $29,617.50, $14,515.50 (California Resident) (2012-13 fees/tuition)
Faculty: Anya Gallacio, Steve Fagin
About: San Diego's program leans heavily towards art theory and new media studies and does not have craft-oriented programs, nor facilities. An added benefit for those with interest in technology is UCSD's Center for Research in Computing and the Arts (CRCA), an interdisciplinary center on the university's impressive campus. Each class is relatively small, with 40 to 50 students to 29 faculty, making the one-on-one time you would receive here pretty high. Teaching assistantships make up for a large portion of graduate funding aid, covering at least three quarters of tuition.
[Fine Print]: San Diego is not the art hub that Los Angeles is and has a much smaller, DIY gallery scene.
University of Southern California, Roski School of Fine Arts
Price Tag: $27,519 or Free
Faculty: Sharon Lockhart, A.L. Steiner, Jud Fine
About: Considering the price of a private school education these days, the oldest art school in Southern California happens to provide a prestigious program that is well funded. Its MFA program has generous funding awards for both incoming and continuing students. The teaching assistantship award covers tuition for a full year, along with a monthly stipend, and medical and dental benefits. First year awards are granted automatically during the admissions process without a separate application, and second year awards are based on merit, given at the end of the first year.
[Fine Print]: The facilities have been rumored to be fairly small compared to So Cal neighbors like Cal Arts. The school is also a huge sports school, so while you may have community within your program, it won't be the artiest crowd overall - go Trojans!
Virginia Commonwealth University, School of the Arts, Department of Sculpture + Extended Media
Price Tag: $23,300, $9,885 (Virginia Resident)
Visiting Artists: Paul DeMarinis
About: Ranked first in the country in the area of sculpture, VCU's facilities are a wonderland for artists working in hardcore mediums like metals, stone, and industrial materials. Some of the biggest draws for the program are the foundry and metal fabrication shop. While you may be pretty far from major art world happenings, there is near limitless space and facilities for artists to make the kinds of large scale projects they likely wouldn't be able to realize at an urban university.
[Fine Print]: The program has a variety of scholarship opportunities, but only if you apply in the fall semester.
For questions please write the author at amartinez[at]artinfo.com.
More of Today's News from BLOUIN ARTINFO:
Related
Popular in the Community