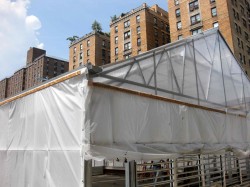 At P.S. 333, a New York City public school otherwise known as The Manhattan School for Children, a little schoolyard garden plot like the ones popping up at schools across the nation is simply not enough. Thanks to the enterprising efforts of parent volunteers, a history-making project is taking shape on the building's rooftop: a glass and metal structure officially called The Sun Works Center, which a press release calls "a technically sophisticated, 1,440 square-foot recirculating, hydroponic greenhouse."
Benjamin Linsley, Managing Director of Brightfarm Systems, which designed the greenhouse and helped manage the project, has another name for it: "the mother of all school greenhouses." I recently had the opportunity to visit the work site on the third-floor roof, where the structure is still awaiting its glass walls, but should be ready for when school starts in the fall.
On a blazing August day, Linsley and I sweltered as we watched two workmen fit together metal support poles inside the structure. A couple ventilation fans stood distressingly still, and, as the cooling systems aren't installed yet, so did Linsley and I, sweating and discussing the scope of this ambitious project.
"In terms of school greenhouses, this will be far and away bigger, more expensive, more sophisticated than any other," Linsley told me over the roar of a workman's drill. "We've designed it such that there is a full classroom space in here. And then a whole suite of different growing systems and aquaponic systems, and some environmental science equipment" and teaching tools.
Brightfarm Systems has been adamant that the greenhouse be integrated into the life of the school and that the school administration take ownership of this remarkable asset. Linsley noted that garden and greenhouse projects being abandoned when those maintaining them move on is an all-too-common schoolyard story. As such, the greenhouse will be used to enhance the curriculum of many different subjects -- not just biology classes -- and provide food to the school's lunch program.
"There's the possibility to use this system as a hands-on place to learn across most of the curriculum," Linsley told me. "Most school teachers, areas of the curriculum, and school life should in some way be able to interact with it. Our principle is to try to make this facility central in the school."
The parents who were instrumental in pushing this project forward over numerous financial, zoning, and administrative hurdles are determined to bring their school-greenhouse vision to others as well. They started a program called The Greenhouse Project under the auspices of Brightfarm's non-profit partner, New York Sunworks. The project will use the P.S. 333 greenhouse as a model for other NYC schools.
This post originally appeared on Change.org. Photo: Katherine Gustafson
Related