The summer is just about over. For some, school has already started, while others try to savor the last few weeks of break. With Back to School, many families end up stretching their budgets. There are new clothes, supplies, and food to buy. Since this time of year can be tough financially, I have put together some of my favorite back to school saving tips.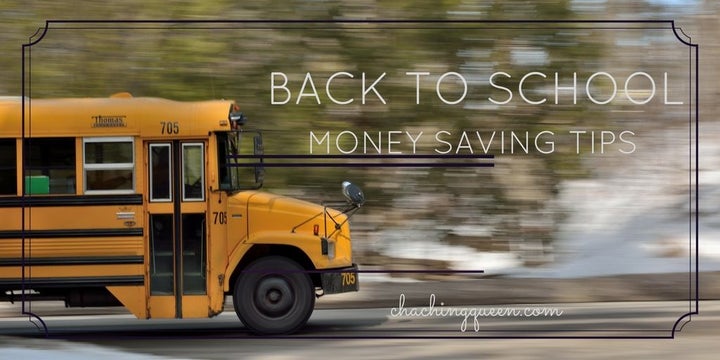 This post on Back to School Savings includes:
1. How to Save Money on Food for Back to School
2. How to Save Money on School Supplies and Kids Clothes
3. How to Save Money on College
1. Save Money on Food
You can even save money on healthy food
My kids prefer to bring a lunch from home. Thankfully, this allows to me to (mostly) know what they are eating each day and provide healthy lunches that help sustain them through the school day.
As you probably know, healthy food can be expensive. For back to school savings, one of the ways I reduce the cost of lunch food it to buy in bulk. Costco has a great variety of produce, some organic, for relatively inexpensive prices. Every weekend we do a Costco run, late in the day near closing time when it is least crowded. Amazon also offers bulk healthy snacks. I stock up on fruits, vegetables, and healthy snacks as well as Ziploc baggies or other storage containers.
Prepare school lunches ahead of time
Every Sunday, I prepare the kids' lunches for the week. I have a whole School Lunches Organization System for Stress Free Lunch Packing. Basically, I cut, sort, and organize by day the lunches for the week. I have a soft hanging shoe/sweater rack for the non-refrigerated items and a whiteboard to keep track of the lunch planned for each day.
For each day, I aim to include one protein, fruit and/or vegetables, a healthy-ish side such as wheat crackers, a snack, and a dessert.
Although this method takes some time, I end up saving a lot of money instead of giving pre-packaged lunches and snacks.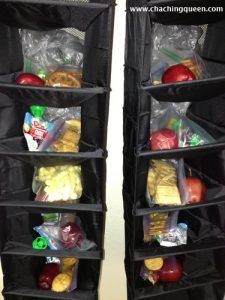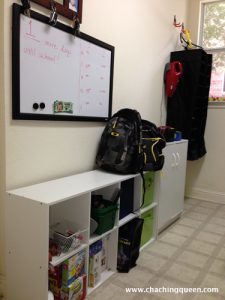 Save Money Grocery Shopping for Back to School
I write many posts about saving money on groceries. To give you a few quick tips, here are some ideas on how to get back to school savings while grocery shopping.
Check to see if your store has its own coupon app.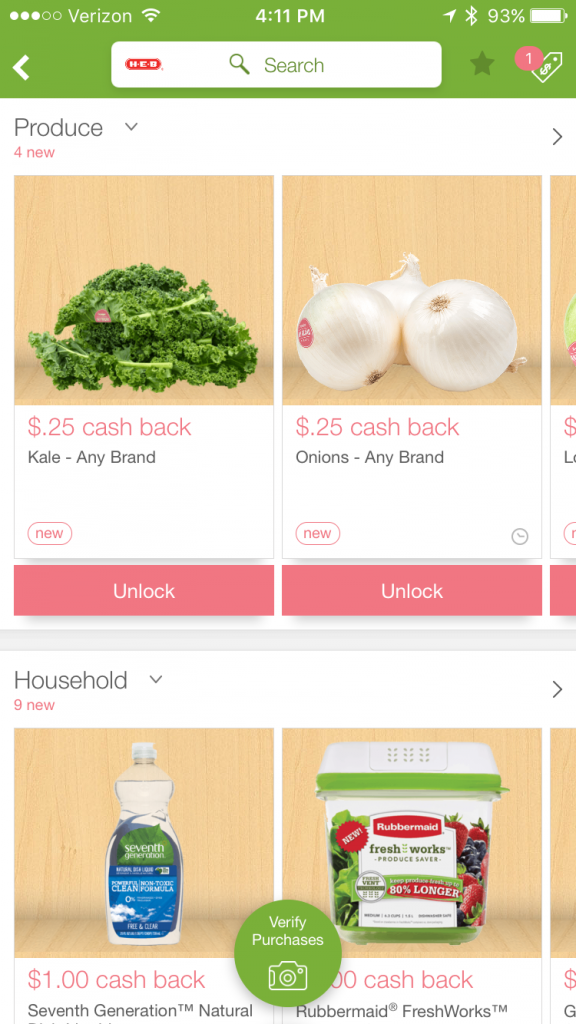 You can cut out coupons from the paper or print coupons online here. Before I shop, I search the coupon database for items on my list. This shows me where any available coupons for that product are located (printable, Sunday paper, etc.). Check out my post, How do I find coupons? for more tips on finding coupons.
Another money saving app, the Ibotta app gives you cash back for items you purchase. With this app, you have to scan barcodes and receipts after you purchase the items.
Key tips for Saving Money While Shopping
I wrote a whole post about Tips on How to Save Money and Not End Up Spending Even More. The key takeaways are plan ahead and be flexible. For example, I write out my shopping list first and then organize coupons or search for coupons based on that list. Let's say I have pasta on my list. I normally buy store brand pasta, but I spot this coupon for $1 off 4 Barilla Pasta boxes. I will print or take this coupon with me and compare prices to see if the Barilla price is better after coupon than the store brand without a coupon.
2. Save Money on School Supplies and Kids Clothes
Our school has a deal with a company that pre-packages school supplies and will send them right to your door. Yes, this is convenient, but in the end, it costs more money than buying all of the items yourself. If you start early enough in the summer, then you can comparison shop and get the best deal on school supplies. I got most of our school supplies from Target school supplies and Amazon school supplies. Amazon has school supply lists here. This summer, Target had a deal for a free $5 gift card when you spend $30 on school supplies. You can also buy supplies in bulk on either Amazon or though Costco and share with a friend/friends.
Just like getting grocery coupons, you can apply the same method for clothes and school supplies. Check out the How to Find Printable Coupons for Retail Stores and Restaurants part of the post, How do I find coupons?
Be open to second-hand clothes.
For another one of my back to school money saving tips, buy or borrow from friends or family. Check out Craigslist, Ebay, garage sales, or online neighborhood garage sale groups.
Check out clothing swaps.
Clothing swaps are budget friendly ways to trade in your family's clothes, shoes, and accessories for new (to you) items. Every year I go to the clothing swap at Crestview United Methodist Church. I bring a bag (or bags) of items we no longer wear and I come with a FREE bag (or bags) and different clothes, shoes, etc. for all of us. If you don't have a clothing swap near year, then create one with friends and family.
Ask for discounts and coupons.
Don't be afraid to ask for coupons or discounts. You never know what they might offer you. I was at the Vera Bradley Outlet store over the summer, the day after my birthday. While checking out, the cashier asked me if I'd like to join the email list for birthday coupons. I told her my birthday was just yesterday and asked if I could still get the discount. She said, "Yes." I got 25% off just for asking! Therefore, it can never hurt to ask. To get more tips on asking to coupons and discounts, read How to Ask For Coupons and How to Ask for Discounts.
Remember: If you want back to school savings then think ahead, prepare, buy in bulk, ask/look for coupons and discounts, and be open to second-hand items.
Finally, do you have any tips and tricks on how to save money with back to school shopping? Please share, how did you do this year?
Popular in the Community