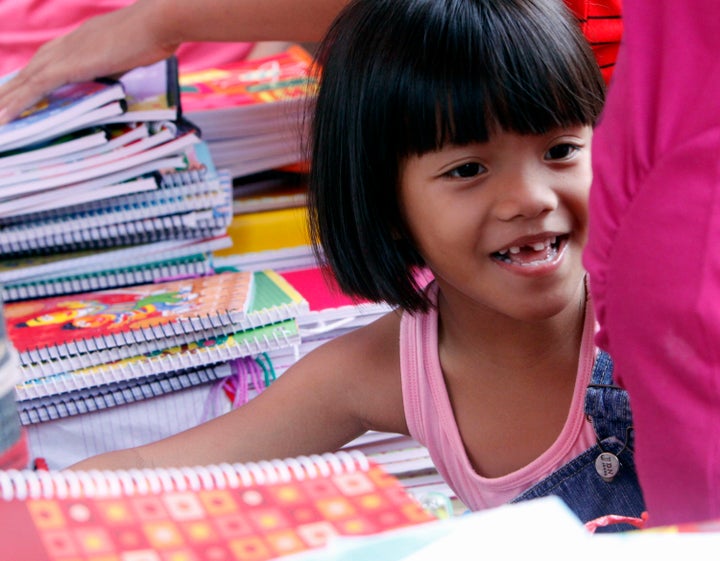 NEW YORK (Dhanya Skariachan) - Almost two-thirds of U.S. shoppers plan to spend the same or less this back-to-school season as last year, a survey showed, in an early sign that retailers may not obtain a huge boost from the second-biggest selling season of the year.
About 65 percent of parents surveyed by America's Research Group said they did not plan to spend more during the key season that typically runs from late July into early September as students gear up for the upcoming school year.
The question was one of several asked exclusively for Reuters as part of a larger America's Research Group survey.
While many retailers have already started advertising weeks ahead of school year's start, about 43 percent of parents said they plan to shop only a week or two before schools open, hoping to find better deals later in the season. Less than 7 percent of parents plan to shop two months before school.
"Because of where the economy is, they are kind of waiting till the very end to do more of their shopping, hoping that the deals will be even better," said Britt Beemer, president of America's Research Group.
Consumer spending accounts for almost 70 percent of the U.S. economy.
"Nothing has changed from last year," he said. "About the same number of people are still unemployed, the same number of people are underemployed and nobody is getting any real raises."
Also, many school districts with strained budgets are loading more of their purchases, including basic items such as paper towels and hand sanitizers, onto parents.
About 74 percent of parents plan to shop at discount chains and department stores rather than specialty stores dedicated to clothing or office supplies as they try harder to make their budgets work amid high prices for food, fuel and apparel. (For a related graphic, click r.reuters.com/vuc72s )
"People have kind of fallen into this economic mindset of survival," Beemer said. "They are coping with less money."
The trend does not bode well for office supply stores such as Office Depot Inc, OfficeMax Inc and Staples Inc or teen apparel chains, traditionally seen as destinations for back-to-school shopping.
Parents are also finding creative ways to spend less during the key season, Beemer said. For instance, he expects at least half of American parents to walk into stores with detailed shopping lists this year, unlike years past when only about 40 percent of them carried lists.
"The reason why they got a list this year is parents are not taking their kids to back-to-school shopping with them as they did last year," Beemer said. "When parents take their kids with them, they always spend more."
About 19 percent of shoppers plan to buy more store brands, while others said they will shop online or even make do with last year's items.
The survey was conducted July 6-12 and has an error factor of plus or minus 3.8 percent.
(Editing by Matthew Lewis)
Related
Popular in the Community