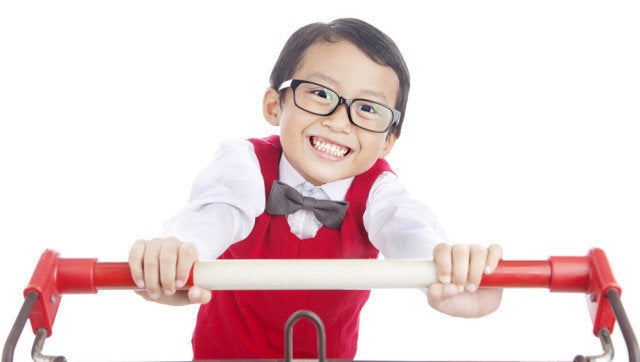 Back-to-school season is makeover time for many kids hoping to show off the latest styles when they walk the hallways. A recent Women & Co./ Parenting.com survey found that 60% of parents say their biggest back-to-school expense is kids' clothing.
But with the economy still iffy, everybody is counting their pennies; more than two-thirds of parents want to spend as much or less on back-to-school shopping as they did last year, according to a recent poll by market research firm Kantar.
With a little thought and some crafty ideas, you can outfit your little fashionista without going broke, say the experts.
Don't Shop in the Usual Places
Instead of hitting the mall, try vintage and thrift shops and the Army Navy store for fashion-forward finds and keep an open mind about alterations. A good-quality used jacket with a torn hem that your local dry cleaners will mend for a few dollars can be a better deal than a cheap piece of "fast fashion" that will fall apart after a few washes.
"Check auction sites for high-end items like those brand name sneakers your kid has to have," says Coupons.com consumer savings expert Jeanette Pavini. And thrift stores have $1 areas that even the trendiest shopper checks out for finds, she adds.
Among the fall trends for boys is plaid. Seen on jackets, shirts, vests and military-inspired outerwear, designers have yet again gone mad for plaid, says David Zyla, an Emmy Award-winning stylist and author of The Color of Style. These looks can be found in Army Navy stores for a fraction of the price of the designer styles they inspired.
As for fall trends for girls, dresses are vintage-inspired and skirts come in many classic shapes, like A-lines and dirndls, worn with cardigans, ponchos and capes, adds Zyla. These looks all lend themselves well to vintage shopping.
Go Basic
The bright shades that were trendy among adults last season are big for kids' clothes this fall, Zyla observes. He suggests buying basic pieces such as pants, coats, dresses and shoes in flattering colors, then working in the more trendy touches around them.

"As a cost-saving and highly creative Project Runway-esque exercise, take the children to a thrift store and give them each an allotted amount of money to buy the less practical 'fun' pieces that can be mixed in to make the basic pieces go further," suggests Zyla. "This way they learn how to express their individual style, and you're not going broke on a back-to-school wardrobe that will most likely last only one season."
You can also get the kids involved in crafting to make their own individual fashion statements. Since bright colors are in for fall, buy plain white t-shirts (or even use old, washed-out ones) and fabric dye and tie-dye your own with instructions from a crafting website.
Wait Until Later
Even in the northernmost states, most kids won't need sweaters and a coat when school starts, so don't buy fall clothes yet. You'll end up paying full price.

"By October, stores need to clear out back-to-school clothes and make room for holiday inventory, so look for denim in the clearance racks," the savings expert Pavini suggests.
If the kids want to rock some new clothes on the first day, buy a couple of pieces from the summer clearance racks and layer them or buy a few trendy accessories to freshen up the clothes that still fit from the end of the last school year.
And remember: kids are fickle and may hate in September what they loved at the store in August. Keep all your receipts and return anything they haven't worn the first month of school, except for winter gear, she adds.
About Women & Co.:
Women & Co.®, a service of Citibank, is the go-to personal finance source for women. Women & Co. delivers financial content with sharp, insightful commentary and a female point of view. Sign up for free at womenandco.com.
Related