 There's something about fresh notebooks, brand-new binders, and comfy fall outfits that can make even the least enthusiastic student excited about going back to school.
This year, much of the money moms spend will go straight into their children's closets, according to a new survey conducted by Parenting.com and Citibank personal finance service Women & Co.
More than 90 percent of the 1,000 moms who participated in the survey said they spend more on new outfits for their children than clothes for themselves; more than half said they expect to spend more on clothing than any other kind of back-to-school product this fall.
Total spending varies by region, but average spending per child nationwide is $131 for clothes and $48 for other school supplies, according to the survey (compared to figures for the average cost of prom circulated earlier this year, these numbers sound downright reasonable). A quarter of moms say they "buy more than they should," and 12 percent ask their children to help pay for supplies.
Other estimates for average back-to-school spending vary. A recent National Retail Federation survey found that "families with children in kindergarten through 12th grade are expected to spend $688.62 on average for back-to-school items this year, up from $603.63 last year," according to Reuters; last year, an American Express survey put costs for "the average family of four" at $800.
The new Parenting.com/Women & Co. survey also found that more than half of moms dread "getting their kids back on a school schedule" even more than activities like shopping and registering kids for activities. Of course, while shifting back into school mode can be hard, many parents are looking forward to the extra hours of peace and quiet that the school year brings. From the sound of it, though, moms won't be using any of that time for personal shopping.
More information from Women & Co. and Parenting.com's 2012 Back-to-School Spending Report can be found in the infographic below.
What are your back-to-school money-saving secrets? Is there anything you're planning to splurge on this year? Let us know in the comments below!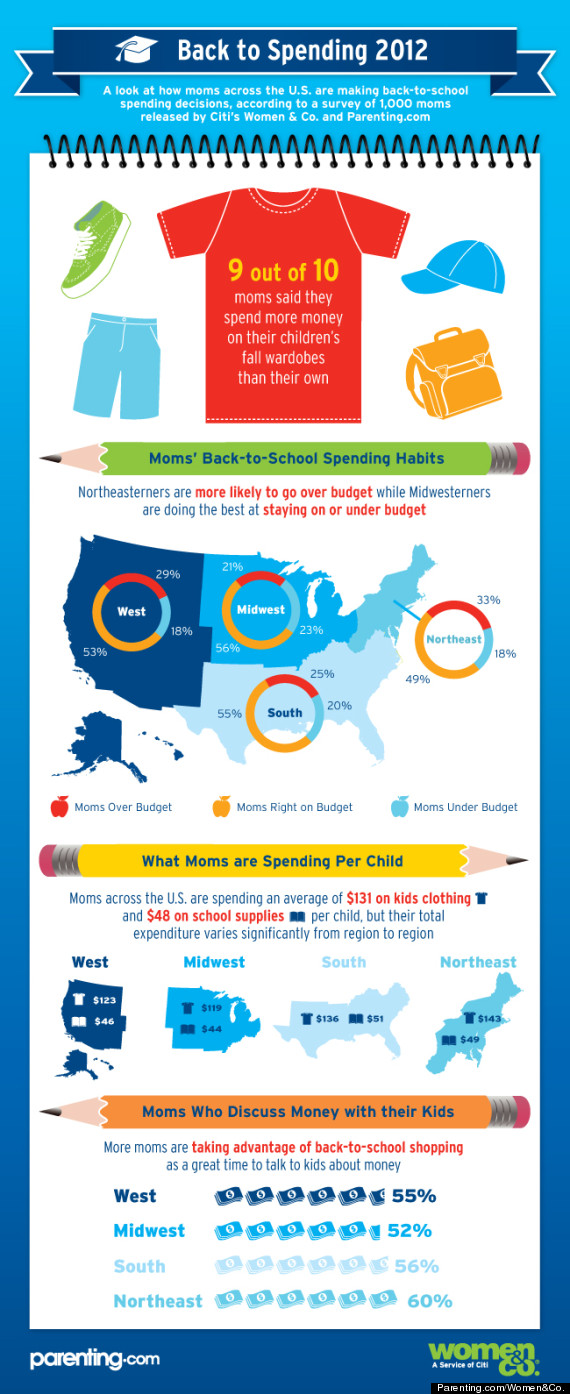 Support HuffPost
A No-B.S. Guide To Life
Related
Popular in the Community