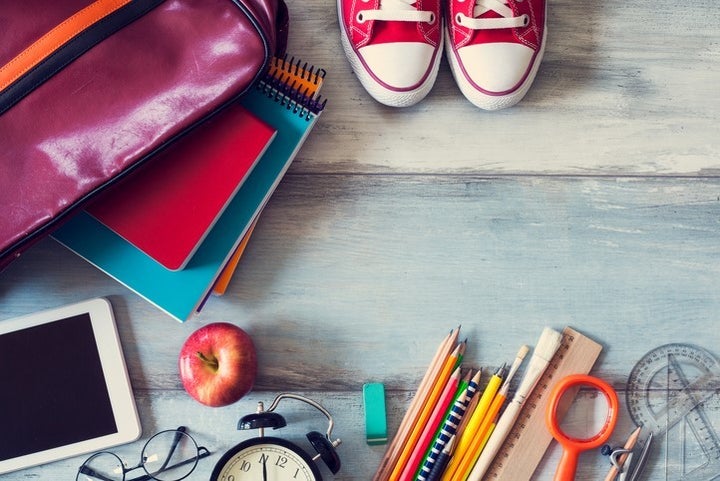 It's that time of year again: the days are getting shorter and the evenings are cooling down. It also means schools will be opening their doors to millions of children across the United States. The new school year can often be a welcome relief to parents from the chaos of fluctuating summer schedules and a return to predictable routines. However, for many households dealing with chronic illness in the family, this time of year can be fraught with anxiety and stress.
"The start of a new school year brings on all kinds of new challenges that we do not have to deal with over the summer," says Grace Timmermans, who works as a Patient Care Specialist at Good Days.
Timmermans has Spina Bifida Occulta, Scoliosis and related arthritis of the spine that causes intense widespread pain in her back, neck and legs, and makes it difficult for her to sit, stand or walk for any extended period. These complications from her illnesses impacted how much and what she could handle during the school year.
"Making sure the kids were ready for school each night and each morning posed all kinds of challenges," says Timmermans. "Even simple things like packing lunches or signing multiple forms could be very taxing."
Fortunately, her oldest child is now in high school and can handle most activities and chores without any assistance, including driving himself to and from school. However, when all three of her children were school age, Timmins found it essential to openly communicate with teachers about her situation and have a back-up plan in place and offer flexibility for her children when Timmins was constrained by her health conditions.
"Staying in constant contact with the teachers made it possible for my kids not to be penalized ...due to my medical struggles," says Timmermans.
In particular, the school nurse can be a parent's best ally, according to Tracy Magee, a Pediatric Nurse Practitioner who direct the PNP program at Northeastern University in Massachusetts.
"The school nurse needs to be completely clued in to your child," says Magee. "The school looks to the nurse to interpret parent concerns and help both staff and parents work together on behalf of the child."
But it is often up to the parents to proactively take steps reach out to the school and appeal for special modifications for their children.
"I'm not shy about reaching out to the school psychologist and social worker to ask for extra support for my kids," says Nancy Kelly of Massachusetts. "We've been fortunate in terms of our kids' needs and the school district's willingness to step up and I think part of that is having established key relationships with school staff."
Kelly also encourages her children to advocate for themselves and be assertive when it comes to their medical needs.
Nonetheless, Kelly--who has three children, all with chronic illness--still sometimes worries about school staff not picking up on her children's need when they are unable to voice them. Likewise, Margaret Cubria of Staten Island, New York, has similar concerns about her 10-year-old daughter, who has chronic bronchitis, pneumonia and epilepsy.
"What may seem normal to a teacher may not be normal to me, so I worry that they would not know what to look for if she is having a seizure or difficulty breathing," says Cubria.
These worries are common among parents of children with chronic illness, but there are things that can be done to better avoid or manage flare-ups at school. For Cubria, her daughter has a paraprofessional who is very familiar with how her symptoms manifest. Cubria's daughter also has a specialist team of physical and occupational therapists assigned to her at the school a couple of times a week.
"Working closely with both their PCPs and specialists and making sure medications are given consistently and the correct times are important," says Eric Goodman, Pediatric Nurse Practitioner with Dartmouth Hitchcock in Keene, NH. "Having clear documented action plans at home and school for what to do in certain situations can also be really helpful."
These action plans usually include an an IEP, which is a legally binding document drafted collaboratively by the parent and school regarding a child's special educations. Established through the Individualized Education Program under the Individuals with Disabilities Education Act (IDEA), an IEP entitles a child to special education services outlined in the plan. Both Cubria and Ferrari have IEPs for their respective children. Additionally, Kelly had a 504 plan for one of her children as well, which is part of the Rehabilitation Act. While a 504 plan shares many similarities with an IEP, a 504 plan can be applied more broadly to a child's needs for certain accommodations and also enables parents to file a complaint with the federal Office of Civil Rights for perceived violations. Having a 504 plan can offer an extra incentive for schools to put in additional efforts to meet the child's needs.
Above all, though, it's important to instill a sense of acceptance and normalcy for the child, in order to foster healthy social ties and involvement. In Kelly's case that meant enrolling her children to a "reverse inclusion" camp.
"It emphasizes a brand of diversity that doesn't get a lot of attention," says Kelly. "It isn't about ignoring 'disability' or even embracing it so much as seeing it as part of the world."
Meanwhile, Cubria's daughter recently joined chorus, her only extracurricular activity.
"I feel sorry for my daughter at time because [her illnesses] takes away from opportunities to be social in school and make it harder to make friends," says Cubria. "But now with chorus, she is excited and looking forward to 5th grade."
Related
Popular in the Community