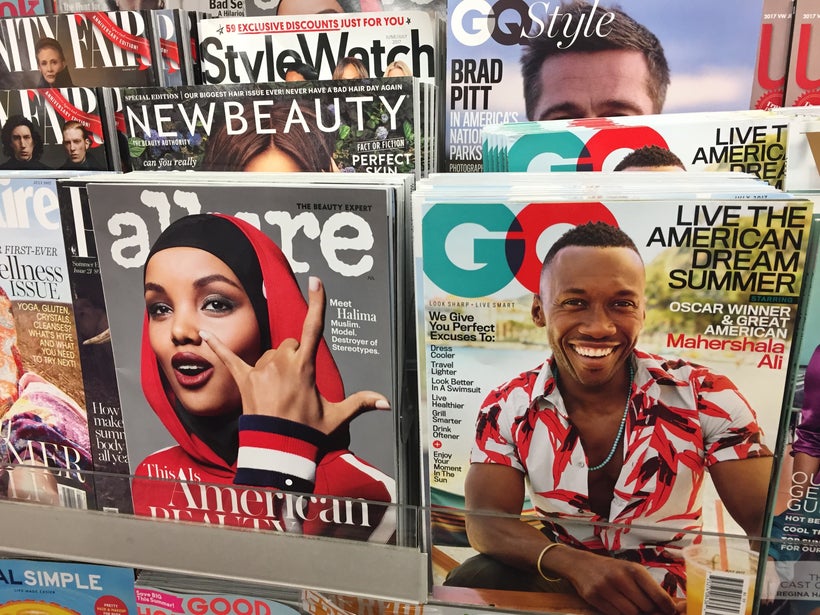 If you passed the magazine section at your local newsstand or grocery store this month you might have seen two Muslims, actor Mahershala Ali and model Halima Aden, gracing the covers of this month's GQ and Allure magazines, respectively. This inclusion is notable in light of the Muslim Ban but also because the Muslims featured in these issues, which are dedicated to celebrating American diversity, are not "Brown" but Black. 
When it comes to Muslims in the media, the images are both plentiful and one-dimensional. Typically speaking, Muslims who make appearances in US media share two fundamental characteristics–they are "originally" from somewhere else and they are "brown" – in this case, either South Asian, Arab, or Middle Eastern. This is the case for negative portrayals, like your run-of-the-mill terrorist on primetime TV, and also in more complex depictions like Aziz Ansari's character on Master of None. While it is true that many Muslims in the US are immigrants and people of color, when depictions solely revolve around these two characteristics it helps to perpetuate the "foreign-ization" of Americans who are Muslim and subsequently the mistaken idea that there is something intrinsically incompatible between Muslims and the United States. In a country where people who are anything other than white male Christians still have to prove their loyalty to flag and country, if Muslims are always non-white and not "originally" American then there is always the chance to tell them to "go home!" 
Depictions of Muslims as "foreign" and "Brown" have not always dominated. Around 50 years ago, the dominant image of Muslims in US media was Black and native-born. Back then, they were called the "Black Muslims," a term popularized by historian C. Eric Lincoln to refer to Black Americans who were members of the Nation of Islam (NOI). A precursor to the anti-Muslim racism of today, the Black Muslims were demonized in the media as a threat to American values because of their advocacy for Black American liberation. This was famously done in the five-part 1959 public television docuseries, "The Hate that Hate Produced" which depicted NOI schools and small businesses as evidence of hate. The show's host, Mike Wallace, also delegitimized the Muslim identity of the "Black Muslims" telling his audience that "Black Muslims" practice hate whereas orthodox [read "real"] Muslims (who weren't, at that point, Americans) preach peace and reject the NOI.  At the time, this was a common way to frame the NOI and so for these mid-20th century Muslims the "threat" they posed was not due to un-American beliefs and practices based on Islam but Black nationalism. The most of famous of these "Black Muslims" in the media were Malcolm X and Muhammad Ali. Today, these figures still loom large in the US mainstream imagination but not as Muslims, or even as terribly threatening, but as symbols of a spirit of Black American protest that has morphed into proof of what makes America exceptional. 
Nevertheless, the trope of the Black Muslim as protest figure does still make occasional cameos in US popular culture. For example there was Regina King's character, Aliyah Shaheed, in the first season of the TV drama American Crime and most recently, Kendrick Lamar reproduced some of Gordon Parks' famous images of the NOI in the video for his song "Element." Yet the GQ and Allure covers mark a departure from that as well. They give a picture of Black Muslim identity to goes beyond protest tropes. Both Black, American and Muslim, although the Allure cover story never references Aden's Blackness, they are also different in key ways: gender - Ali is male and Aden female, ethnicity - Ali is Black American and Aden has roots in Somalia, citizenship - Aden is a refugee turned citizen and Ali was born in California, and religion - Aden was born into a Muslim family and Ali converted to Islam. 
Other Black Muslims have also made media splashes in the past year. There was bronze-medalist Ibtihaj Muhammad who was the first American to compete at the olympics in a headscarf and was later detained at the border and A Tribe Called Quest's (Q-Tip and Ali Shaheed Muhammad are Muslim) performance alongside Busta Rhymes and Consequence, also Muslims, at the Grammys. And before Aziz Ansari, Dave Chappelle hosted the first Saturday Night Live after the 2016 US elections. Of course in the mainstream media some of these Muslims are usually only talked about only in terms of their race. Yet each of them, like Ali and Aden, subvert the prevailing idea that Muslims are "foreign" and "brown" while also complicating stale notions of Black identity in the US. 
Do these covers portend a major shift or a "back to Black" as the face of Islam? To be honest, in a media landscape that tends to skew simplistic and sensational, it's not likely. Nor should it be since there are many faces of Islam, including Black Muslims. Yet even if they don't shift the tide, the circulation of images of Black Muslims in media culture is useful. While today's "Black Muslim" cannot be reduced to a protest trope they are not depoliticized. Writer Carvell Wallace's profile on Mahershala Ali depicts a man who knows the struggle continues and meets it with grace.  This is, perhaps, the hallmark of the Black Muslim experience. Since they live at the intersection of multiple forms of historic and contemporary marginalization, Black Muslims continue to have a keen sense of what's wrong, which can help keep all us Americans more honest. They also continue to have a hopeful vision of what's possible, which can help us all do much better. Black Muslims have a lot to offer, but the question remains: is America ready yet?
Calling all HuffPost superfans!
Sign up for membership to become a founding member and help shape HuffPost's next chapter
This post was published on the now-closed HuffPost Contributor platform. Contributors control their own work and posted freely to our site. If you need to flag this entry as abusive,
send us an email
.