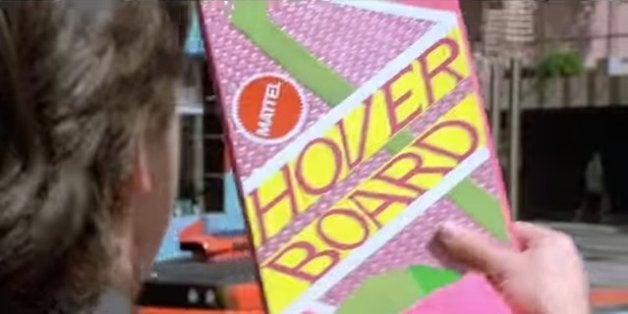 Marty McFly's hoverboard from "Back to the Future Part 2" is going up for auction in October.
Radio Times reports the iconic film prop, which is currently valued between $17,000 and $26,000, is one of many pieces of classic film memorabilia that will be auctioned off at London's Westfield shopping centre in the fall. The auction is a collaboration between movie prop reseller Prop Store and cinema chain Vue Entertainment.
For those who aren't familiar, the hoverboard was used by Michael J. Fox's character in the 1989 film. According to USA Today, the prop is made of solid wood. Prop Store project manager Sian Anderson told the outlet that the hoverboard also features a "rare ball-bearing spinning footpad."
It's worth mentioning that the hoverboard does not actually hover. Sorry.
There are 375 props up for auction, including McFly's board. Radio Times reports that other items include a Golden Ticket from "Willy Wonka and the Chocolate Factory" ($26,000 - $34,000), Arnold Schwarzenegger's biker outfit from "Terminator 2: Judgement Day" ($38,000) and Captain Nemo's Nautilus Car from "The League of Extraordinary Gentlemen" ($69,000 - $102,000).
Those are some hefty price tags, but this collection only scratches the surface of what some devout collectors are willing to pay. In November, an anonymous buyer paid $4,085,000 for one of the two title statues featured in "The Maltese Falcon," per Yahoo Movies.
Check out Marty McFly's hoverboard in action.
Popular in the Community