"The baby was born all right…But our dear Jane died…I hope never to witness again another such scene of sorrow and deep distress as this family was suddenly plunged in.
I cannot describe our feeling when my son, the husband and father, returned with the Doctor... [I was] nearly heartbroken myself…what could I say or do? I never felt so helpless in all my life." *
Jane Maughan, the woman who died after giving birth, was my great-great-grandmother. The diary entry above was written by her mother-in-law, who also noted that the baby died just a month later. They were pioneers living in a rural western state in the U.S. in 1892.
The depth of the family's loss and sorrow is palpable, but the year of the death is reassuring to most of us: 'That is how childbirth used to be,' we may tell ourselves, 'but not anymore.'
Yet just last year, in 2015, it is estimated that more than 800 women died worldwide every day from causes related to pregnancy and childbirth, often in scenarios not unlike my great-great-grandmother's death more than a century ago: at home without a skilled birth attendant, and without modern prenatal care.
While it's important to note that there has been some very real progress since maternal health was identified in 2000 as one of the Millennial (and now) Sustainable Development Goals, the progress has been uneven.
The vast majority of deaths still occurring are in parts of the developing world, and completely preventable. How?
· Adequate prenatal care: The World Health Organization recommends four prenatal visits. My great-great-grandmother's family recorded that she "had not been well" during the final months of her pregnancy, adding "we were all…anxious about her." In modern times we can identify so many of the conditions that can potentially lead to disaster in childbirth if untreated, such as pre-eclampsia, diabetes, anemia.
· Skilled care during childbirth: A trained professional is absolutely essential. In 1892, a birth attendant may have lacked any training apart from giving birth herself, and even if a doctor was on hand, it's unlikely he could successfully handle an obstetric emergency. In 2016, we have the medical knowledge to ensure safe deliveries in most cases, provided that women are able to access a skilled practitioner.
· Helping women space and possibly limit births. Women with short intervals between births are at higher risk of premature delivery, low infant birth weight, and a host of other potentially serious complications. In my family's diary, they record that the mother was giving birth to her 13th child when she died. In 25 years she had had 12 live births and several miscarriages. Today, a range of modern, safe contraceptive options can give a new mother's body time to rest and recover; to replenish nutrients lost during pregnancy and breastfeeding and help ensure continued reproductive health.
Meanwhile, whenever and wherever a woman dies giving birth, the tragedy for her family is inestimable. As a daughter of my great-great-grandmother recalled of that terrible time:
My brother, Peter, took us all together and tried to comfort us but the shock and grief in the home was overwhelming. For many months, although I knew [my mother] would never come back, I was always expecting her. *
We know how to save mothers' lives. The recent decline in maternal deaths in some parts of the world is encouraging, but there is still much work to be done. Delivering the solutions can be challenging, especially in very rural areas of extreme poverty, but we can and must keep striving to understand and overcome the barriers to safer childbirth. **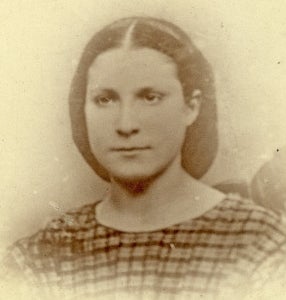 *From the diary of Rachel Ann Maughan Wadsworth, describing the death of her mother & quoting the diary of her paternal grandmother. Jane Farnes Maughan, in 1892. Source: Family Records: Wadsworth, Frederick J. and Maughan, Rachel Ann F. McMurdie, Greg & Carrie; compilers.
**Update coming soon on the maternal & infant health project I am supporting & working on in rural West Africa, described in a previous post.
A final note - Demonstrating the need for continuing vigilance to this issue, everywhere in the world: parts of the US have recently experienced an uptick in maternal deaths, for reasons as yet undetermined.
Popular in the Community