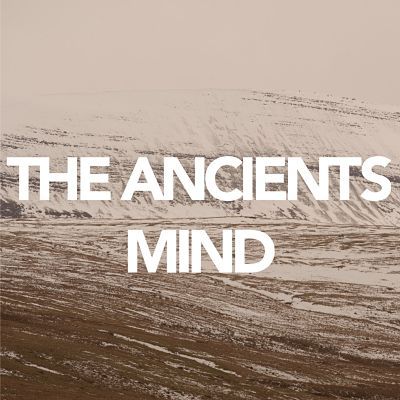 "Joey Ramone had an infatuation with The Ancients, which took me by surprise! Why would a punk rock legend have any sort of affection for what we did? But getting to know Joey as I did, I think the best I could tell was that Joey always wanted to be a crooner. He admired the way I sang, my voice, my delivery. I guess that's what kind of drew him to the band. And I'm still very flattered by that. And he eventually became kind a crooner, especially on his later songs - which brought a smile to my face because I knew he had it in him!" Fred Schreck
Though we may have crossed paths as musicians on the same stages and studios sometime in New York City in the 1980s, my first official awareness of singer, songwriter, recording artist Fred Schreck was by way of John Ashton's Satellite Paradiso - whom I interviewed (February 2014) upon the release of their brilliant self-titled debut.
Fred's work with the former Psychedelic Furs guitarist is, in a word, extraordinary. If you dig heavy experimental rock with massive pop hooks and matchless musicianship- for lack of a better description - I highly advise that you seek out their first and only official release (as of this writing) which also features bassists Gail Ann Dorsey and Sara Lee, drummers Frank Coleman and Paul Garisto, saxophonists Mars Williams and Duncan Kilburn, cellists Jo Quail and Jane Scarpantoni, and guitarist Cheetah Chrome, among others.
As we communicate via social media, whenever Fred posts a missive I read it, listen to it, and/or share it. One morning Fred posted a track by his band The Ancients - an ensemble which I was unacquainted with.
When I heard the track, my immediate reaction was one of... joy! I revel when artists of a certain age make music that moves forward rather than replicates the past, as so many often do whether they are aware of it or not. Fred's post took me back to the moment I first heard David Bowie's Low album, which was co-produced by Tony Visconti, on the day it appeared in the Sam Goody bins in January 1977. When my friends and I dropped the needle on side one song one on that freezing winter day - we didn't know what we were hearing: new sounds, new grooves; a new way of arranging music as a collage that somehow coalesced into a single burst of energy. We loved it. And we tried our best to make music like it. In those days, we expected recording artists and their producers to blow our minds. The Ancients blew my mind. So, I congratulated Fred on his new music and asked for additional info so we could talk about it. Like Bowie and Satellite Paradiso, Fred was making music that matters in the present tense.
However akin to his Paradiso pals Ashton and Coleman, Mr. Schreck has a refreshingly dry sense of humor. When he responded that this "new" album entitled Mind- a collaboration with composer, producer, multi-instrumentalist Morgan Visconti - was actually recorded two decades ago, I shrugged it off as one of his customary jibes. I worked as a bass player in recording studios and bands in those days and earlier -and tracks such as "Circa 1977" did not sound like that circa 1993 with regard to the mix and the arrangement - just to being with. To my ears The Ancients would have knocked Trent Reznor down a notch or two or three had this record dropped in the alternative rock era when NIN was all the rage. When I received the official Ancients press release which proved fact to what I thought was fiction, I demanded answers from Messrs. Schreck and Visconti!
Testifies Schreck: "The Ancients were conceived as sort of a solo project for me. I was in a band that was pretty popular in the New York City music scene in the late 1980s called Shoot the Doctor. We'd gotten a certain amount of notoriety though we failed to get that 'big record deal' which was the goal of every band in those years. The frustration of not getting the prize made some cracks surface within the band. Along comes Rob Sacher -who at that time was the manager of a club called Mission which was a pretty popular hangout for people who liked Goth and industrial alternative rock. He approached me one time at a gig, invited me down to the club to talk, and I think he initially wanted to guide along and help my former band - in the end we decided it was best for me to break off and take some of the songs that I'd written and think of them in a new way. That's how the first Ancients album came about."
Among Schreck's associates for that first album was Morgan Visconti. Recalls Fred "Morgan was about eighteen years old, fresh from England and living in the city for the first time. He was being a bit of a bad boy, hanging out in clubs such as Mission. Rob plied him with drinks and asked him to take a shot and produce one of my songs." The track "Release Me" emerged as the most recognizable cut on the record. As such Schreck and Visconti struck up a friendship, with Morgan joining The Ancients live line-up. "I knew that Morgan was destined for other things. I knew that eventually he was going to make a name for himself..."
Sessions for Mind commenced in the summer of 1993 at Morgan's Manhattan studio. Visconti notes "We worked fast and furious during available hours, mostly nights and weekends as I was writing and recording music for television during regular office hours. Our inspirations although not very specific, included King Crimson, Killing Joke, Bowie, even Peter Gabriel and Genesis at some points - that combined with what we were absorbing at the time - Soundgarden , Smashing Pumpkins, Nine Inch Nails. We didn't want to emulate a 1990's sound but we couldn't help putting a bit of grunge on here and there."
Among the players who contributed to Mind included Schreck's former Crush bandmate Paul Ferguson (Killing Joke), his former Shoot the Doctor mates and guitarists Albert Zampino and Dave Tsien; drummer John Socha; guitarist Chris Sokolewicz; and singers Diva Gray and Robin Clark who had also backed David Bowie on "Young Americans."
With regard to the striking relevance of Mind in the year 2015, Visconti theorizes. "It's harder and harder to sound 'this year' as things change so quickly. But music is also cyclical, 'the 1980's strikes back' may have just expired and maybe now is the time for the return of the 1990s! I think that because our influences were outside the box of the 90s, it never really congealed as a 90s record. We didn't want to be those Seattle bands, I guess we existed in our own bubble."
Schreck agrees. "The other explanation could be that at least lyrically, I tend to stay away from topical subjects. I think on one song I sing 'turn the dial' - which even then was antiquated. Morgan did such a great job producing. In the end what sounds good will always sound good!"
Among The Ancients' admirers was Morgan's dad, the aforementioned legendary producer, arranger, and multi-instrumentalist whose list of Rock 'n' Roll Hall of Fame worthy credits include timeless recordings by David Bowie, Thin Lizzy, T. Rex, Sparks, and Morrissey to cite a very select few.
"I remember Tony being a proud dad when I played him my mixes" states Morgan. "But being a stubborn twenty- something, I was too cool to ask for further advice or help both musical and industry wise, which is something I regret now looking back. I was wary of nepotism. I wanted to blaze my own trail and all that. He's always a very honest, no-bullshit critic of mine but I sensed that he thought I was doing all the right things in the studio. I remember he came to several of our shows and enjoyed them too."
Consequently Mind was never released in its time. Schreck and Visconti's personal and professional lives went in decidedly different directions. However they remained comrades, and Mind had always been on their minds.
Schreck: "Five years later, we'd talk and say 'this stuff is great, we gotta do something with it ...ten years later, fifteen years later....same conversation!"
Morgan: "For some reason, now in 2015 it was clear. We've just gotta do it."
The Ancients Mind on the Human imprint is currently available on iTunes and Amazon.
Calling all HuffPost superfans!
Sign up for membership to become a founding member and help shape HuffPost's next chapter