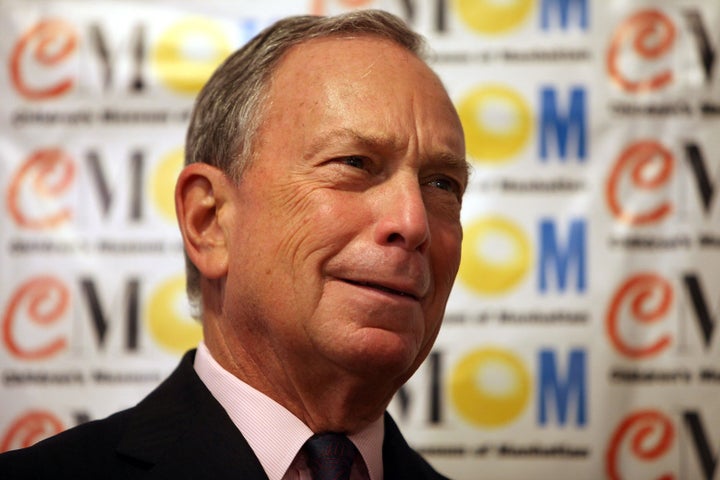 In the endorsement of Mayor Michael Bloomberg for re-election that ran in the Saturday New York Times, the paper wrote that Democratic challenger Bill Thompson "has spent too much of his campaign attacking Mayor Bloomberg rather than explaining how he would manage the city."
Leaving aside the inconvenient fact that Thompson, with his meager campaign funds allowing him to buy only a few 15-second spots amid the mayor's adver-lanche, hasn't had a lot of time to explain much of anything, the Times' critique is dead-on accurate when it comes to the comptroller.
But it'd also be true if the Times had said it about Bloomberg.
Thompson has certainly gone negative—his primary night victory speech, for instance, was a full-throated denunciation of the past eight years, laced with a populist anger that the comptroller had apparently done a pretty good job of concealing for most of Bloomberg's two terms.
But the mayor also went negative early, and he has flung mud often and pretty hard—an unusual step for an incumbent with a big lead in the polls. There was the chalkboard ad, the man-in-the-street ad where people weigh in on what a loser Thompson is, the mailer deriding Thompson's resume. There was even Rudy Giuliani's revisionist history lesson linking Thompson to David Dinkins.
Apparently, the Times would have had Thompson devote his puny ad budget to a relentlessly positive campaign while the mayor took a multimillion-dollar blowtorch to the Democrat's reputation.
And yes, Thompson has not spent a lot of time describing what he'd do as mayor. But neither has Bloomberg talked at length about what he'd do differently with his third term—a term that posed problems for iconic mayors LaGuardia, Wagner and Koch.
That's not to say the mayor hasn't made new pronouncements: He's proposed policies to help immigrants and community college students, improve mass transit, reduce illegal guns, create high-wage jobs, improve ballot access and further restrict campaign contributions.
Thompson's policy shop has also been active. The comptroller has produced fairly detailed policy papers on housing, the economy, healthcare, education and the budget.
Both candidates have proposed incremental policies as well as broader shifts. Both have thrown their support behind policies that they have no direct authority over—Bloomberg on mass transit, Thompson on the commuter tax—but would have to lobby Albany for. In Bloomberg's case, some of the new policies are a mere repackaging of older ideas—like last week's announcement of a "new generation" of his affordable housing plan, which amounted to making the same plan he campaigned on in 2005 somewhat less ambitious, a sort of political re-gifting.
But the fact is neither candidate is talking much about the policies they've proposed. The fact is, this election is a referendum on the Bloomberg era so far. And both candidates are campaigning accordingly.
As a vastly outspent challenger, Thompson has to meet the mayor on the Bloomberg campaign's terms. It's tough for a candidate to talk about police civilianization when your opponent is running ads all over the place that blast your "record of failure."
As an incumbent, the mayor ought to talk about his record and that's what Bloomberg is doing. Even Monday's address at New York University—billed as a "major speech on the third term"—was as much rear-view mirror as it was crystal ball.
The mayor said he wanted to give a picture of "what the city will look like on December 31, 2013, if I am lucky enough to be remembered ... er, to be re-elected mayor." But the speech largely was about the continuation of policies the mayor has already launched, like his school reforms, environmental efforts and redevelopment of the waterfront.
When it came to new stuff, the mayor promised little that he could personally deliver.
"Can we cut crime another 15 percentage points? It may be impossible," Bloomberg said, offering a question rather than a promise. "I believe it can be possible." The mayor predicted that the schools will be so good that "families will be moving into the city for the schools," as his existing reforms continue their work.
He did vow to "continue to protect the character of communities through rezoning," but the most detailed program he laid out was for mass transit, over which he lacks any direct authority; he wants to cut the Long Island Railroad and Metro North fares in half and bring back the F-train express. He boasted the "most ambitious public health agenda" in the world, but added only that "we're not slowing down now."
All this, the mayor concluded, would deliver us a city that is "safer, stronger, greener and healthier—and better than ever."
And hey, who can argue with that? As for the details, polls indicate the mayor will have four years to nail those down.
Heading into the last week of the campaign, Team Bloomberg hyped the endorsements they'd received from all three city dailies. As if there were ever any doubt. Rupert Murdoch, Mort Zuckerman and Arthur Sulzberger, Jr. cast their lot with the mayor a year ago when they backed his term limits change, long before Thompson or anyone else had a chance to say what they'd do differently, right around the time Bloomberg aides were threatening to spend $80 million to destroy anyone who dared run against the mayor.
As it is, Bloomberg is on track to spend far more than that. On advertising alone, the mayor has spent $49 million so far, to Thompson's $2.4 million. Saturday's Times editorial explained that the paper of record reversed itself on term limits for fear that they might "unfairly limit voters' choices." Jeepers, we'd hate to see that happen!
Calling all HuffPost superfans!
Sign up for membership to become a founding member and help shape HuffPost's next chapter