 One in every three kids in this country are either overweight or obese. One out of three.
That means one out of three kids in this country are going to be far more likely to face serious health issues -- some studies point to the fact that 33 percent of kids born in 2005 will have diabetes. And as the old saying goes, we got nothing without good health.
Obesity in this country is nothing short of an epidemic and what's going to stop it? The bright characters peppering boxes full of sugar in the grocery store aren't helping. Nor are the millions spent on TV commercials for sodas, candy bars, and fast foods.
So what's going to make eating healthy, nutritious, and whole foods cool for kids? What's going to make it fun for families? What's going to make parents want to teach their kids to connect with their food and stop to think exactly what is it that they're putting inside of their body.
It's design.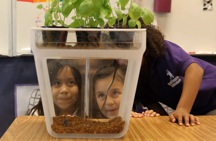 When Back to the Roots launched our first grow-at-home mushroom kit in a big, bulky, clear plastic bag, we could barely sell them at a Berkeley farmer's market. As we worked with designers though to make the kit more accessible, friendly, easy, fun and beautiful -- we realized it opened up a whole new market. We now sell our mushroom kits at over 2500 retailers nationwide -- from Whole Foods, to Home Depot, to Nordstorms, to Bed Bath and Beyond. We've sold hundreds of thousands of kits and gotten the boxes in front of 10,000s of kids in schools across the country. An ugly, bulky bag (which we started with!) would not have been able to get kids excited about growing their own food -- but the fun, easy to use experience that is the kit today -- that has. We're working on the same thing now with our new Home Aquaponics Kit. How can we bring design, fun, and ease of use to aquaponics -- another traditionally big, messy, bulky experience - and get families and kids involved in growing their own food and thinking about what they put in their bodies
It's not just Back to the Roots -- there's a growing movement in food that's becoming passionate about design. Soma is doing it with water, making drinking clean water fun and easy; POM made healthy pomegranate juice fun, and Cuties made eating oranges as easy of a snack to munch on as candy and chips.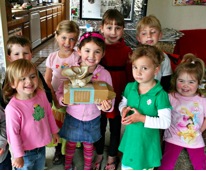 If we're going to change the way the next generation eats -- to a healthier lifestyle that understands exactly what they're putting in their body -- we have to make healthy, local, whole foods as fun, exciting, and easy to eat as all the fatty candy bars, sugary cereal, and bright soda bottles we see around us all the time.
At Back to the Roots, we truly believe design has the power to transform health and what families choose to eat -- and we're working everyday to design fun, excitement, and beauty into nutritious food.
REAL LIFE. REAL NEWS. REAL VOICES.
Help us tell more of the stories that matter from voices that too often remain unheard.