On May 24, 1966, one of my favorite musicals opened on Broadway. Not only did Mame receive rave reviews from critics, Jerry Herman's musical catapulted Angela Lansbury into a new phase of her remarkable career. As we look back from a vantage point of 50 years, it becomes obvious that the success of Mame stood smack in the middle of a golden age of musical theatre.
Not only did 1966 begin with several long-running hits packing in audiences, some great talents were entertaining audiences.
Over at the St. James Theatre, Carol Channing was nearing the end of her appearances in the original Broadway cast of Hello, Dolly! (Ginger Rogers would take over the title role in August of that year).
Fiddler on the Roof was still selling out at the Imperial Theatre.
Funny Girl (with Mimi Hines starring as Fanny Brice) moved from the Winter Garden to the Majestic in March and would remain there until November.
Holdovers that would close during 1966 included Half A Sixpence at the Broadhurst, Skyscraper (starring Julie Harris) at the Lunt-Fontanne, and On A Clear Day You Can See Forever (starring Barbara Harris) at the Mark Hellinger.
During 1966, Sweet Charity (starring Gwen Verdon) was the opening production of the newly-restored Palace Theatre and the Music Theatre of Lincoln Center's hit revival of Annie Get Your Gun (starring Ethel Merman) transferred to the Broadway Theatre for a limited run. Although there were some notable musical failures (Pousse-Cafe, Chu Chem, A Time for Singing, A Joyful Noise), new musicals included It's A Bird, It's A Plane, It's Superman, Cabaret, The Apple Tree, Walking Happy, and I Do! I Do! (starring Mary Martin and Robert Preston).
Of the 16 new musicals playing on Broadway in 1966, nine received film adaptations.
Composers (and composer/lyricists) represented on Broadway that year included Irving Berlin, Jule Styne, Cy Coleman, Jerry Herman, Oscar Brand, Jimmy van Heusen, David Heneker, Jerry Bock, Burton Lane, John Morris, Duke Ellington, Charles Strouse, John Kander, Mitch Leigh, and Harvey Schmidt.
Lyricists represented on Broadway in 1966 included Sammy Cahn, Bob Merrill, Dorothy Fields, Sheldon Harnick, Alan Jay Lerner, Gerald Freedman, Lee Adams, Fred Ebb, and Tom Jones.
Ironically, two musicals whose stories are set in the 1960s recently received back-to-back opening nights in San Francisco. Instead of looking back at the turbulent decade which most of us remember for its race riots, political assassinations, and the birth of the LGBT movement, these two shows offered a chance to revisit the 1960s through the lens of musical theatre.
Many people have fond memories of 1987's Dirty Dancing, a film set in a Catskills resort which starred Patrick Swayze and Jennifer Grey. The film was subsequently adapted for the musical stage, premiering on November 18, 2004, at the Theatre Royal in Sydney, Australia.
Following national tours of Australia and New Zealand, productions of Dirty Dancing -- The Classic Story Onstage have been staged in Hamburg, Berlin, Cape Town, Johannesburg, and London (as well as touring to theatres across the United Kingdom and Ireland).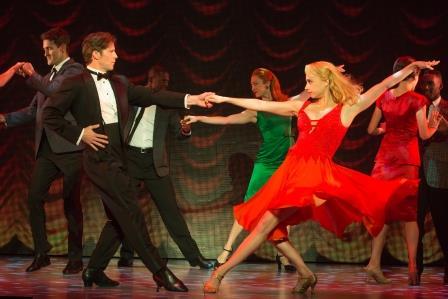 Christopher Tierney (Johnny) and Jenny Winton (Penny) in
a scene from Dirty Dancing (Photo by: Matthew Murphy)
Dirty Dancing's first North American tour began in Toronto in 2007 and continued on to Chicago, Boston, and Los Angeles but never made it to Broadway (most likely because of the Great Recession of 2008). On September 2, 2014, a 31-city tour premiered at the National Theatre in Washington, D.C. Although several new leads have stepped into the roles of Johnny Castle and Baby since the show left the nation's capital, when Dirty Dancing touched down at the Golden Gate Theatre in San Francisco it was greeted with high-pitched screams of approval from a welcoming audience with fond memories of the film.
The action takes place in the summer of 1963, several months before President John F. Kennedy was assassinated (followed by the assassinations of his brother, Robert F. Kennedy, and the Reverend Martin Luther King Jr.) and the Gulf of Tonkin incident on August 2, 1964 -- which dramatically escalated America's military involvement in the Vietnam War.
For Dr. Jake Houseman (Mark Elliot Wilson) and his wife, Marjorie (Margot White), a three-week vacation at a popular resort owned by their friend, Max Kellerman (Gary Lynch), offers a welcome escape from suburban boredom as well as a chance for their two teenage daughters, Frances "Baby" Houseman (Rachel Boone) and Lisa Houseman (Alex Scolari), to meet some nice (hopefully Jewish) boys.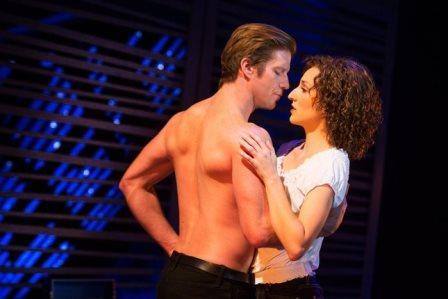 Christopher Tierney and Rachel Boone in a
scene from Dirty Dancing (Photo by: Matthew Murphy)
Although Kellerman's has been a popular resort for many years (and Max was the first in the area to integrate his staff), as Bob Dylan warned, "The times they are a'changing." Instead of going into the family business, Kellerman's son, Neil (Jesse Carrey-Beaver), wants to join some of his friends on Freedom rides through the Deep South after the summer season ends. While the waiters and entertainers have strict rules against socializing with the guests, there's no stopping the wealthy widows and horny cougars who are willing to tip generously in exchange for a young man's sexual favors.
The set-up is obvious. Baby can't wait to lose her virginity and, when the star dancer's partner, Penny Johnson (Jenny Winton), gets knocked up and needs an abortion, the 17-year-old "Daddy's girl" rushes to the rescue. In addition to getting Dr. Houseman to lend her the money for Penny's abortion, Baby also agrees to learn Penny's dance routine and perform it with Johnny Castle (Christopher Tierney) at the neighboring Sheldrake Hotel.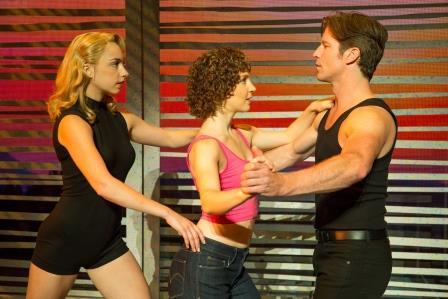 Jenny Winton (Penny), Rachel Boone (Baby), and
Christopher Tierney (Johnny), in a scene from
Dirty Dancing (Photo by: Matthew Murphy)
Smoothly directed by James Powell (with choreography by Michele Lynch), Dirty Dancing is a well-oiled entertainment machine that stays lean and tight throughout the evening. What impressed me most was the show's production values, beginning with the set design by Stephen Brimson Lewis, costume design by Jennifer Irwin, and sound design by Bobby Aitken.
The production makes especially good use of Tim Mitchell's lighting coupled with Jon Driscoll's video and projection designs. The rapidly changing scenes (especially the moments when Johnny and Baby go walking through a corn field or try practicing dance lifts in the lake) were humorous and evolved with a near-cinematic flow.
Dirty Dancing is an odd musical in that its two romantic leads never sing, its score contains no original music, and its primary singers are two supporting actors (Adrienne Walker and Doug Carpenter) who portray members of the resort's hospitality staff. As the bandleader (Tito Suarez), Jerome Harmann-Hardeman has some nice moments. Herman Petras generates laughs as the thieving Mr. Schumacher as he practices his rendition of "Bésame Mucho" for the season's final talent show.
Evan Alexander Smith is appropriately smarmy as the horny waiter who knocked up Penny, with Alex Scolari scoring comedic points as Baby's sister, Lisa. Although the chorus does a lot of dancing, the heavy lifting is nicely handled by Christopher Tierney as the hotel's sexy lead dancer and resident heartthrob, Jenny Winton as his professional partner (Penny), and Rachel Boone as Baby.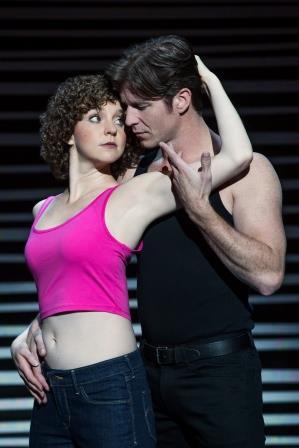 Rachel Boone (Baby) and Christopher Tierney in a scene
from Dirty Dancing (Photo by: Matthew Murphy)
Three decades after Dirty Dancing was first released in movie theatres, there is one other difference that should be noted. The financial stability of Kellerman's guests (Jake Houseman can easily lend $250 to his daughter, Moe Pressman has no problem trying to pay Johnny Castle to show his wife a good time) compared to the relative financial instability of Kellerman's entertainers and seasonal staff takes on new relevance during an election year in which income inequality has become a major issue.
If one show from the 1960s could be identified as the catalyst which changed the shape of musical theatre, it would be the anti-war Hair: The American Tribal Love-Rock Musical (with music and lyrics by Galt McDermot, book and lyrics by Gerome Ragni and James Rado). Hair was a groundbreaking, transgressive show which challenged audiences and sent the art form careening down a new path.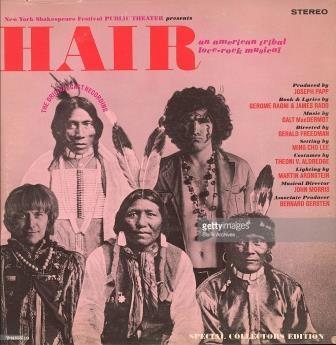 Album art from 1967's off-Broadway production of Hair
The show's premiere took place off-Broadway in October of 1967 at The Public Theatre. Because of its success (and the buzz generated by the actors going nude at the end of Act I), Hair moved uptown to the Biltmore Theatre in April of 1968 and ran for an astonishing 1,750 performances.
Unlike most of 1968's new Broadway musicals (Canterbury Tales, Darling of the Day, The Education of H*y*m*a*n K*a*p*l*a*n, Her First Roman, Maggie Flynn, Golden Rainbow, Zorba, and George M!) Hair was no period piece. Instead, it dealt with contemporary issues such as hippie culture, polyamory, the sexual revolution, fear of being drafted to serve in the Vietnam War, recreational drug use, racism, corporate greed, the peace movement, and a growing concern for the environment (the first Earth Day was celebrated on April 22, 1970).
Perhaps the biggest irony is that, while many of those issues still concern us, changes in our culture (as well as today's audiences) have transformed Hair into a period piece. Not only was the draft discontinued in 1972, the once-shocking combination of "sex, drugs, and rock 'n' roll" has gone decidedly mainstream.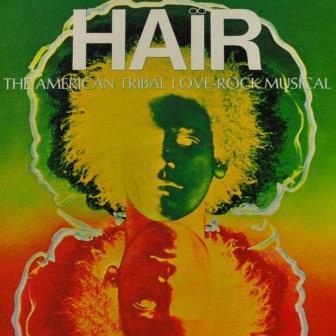 Poster art from 1968's Broadway production of Hair
For its second production, Bay Area Musicals! has staged Hair at the Victoria Theatre in a manner which shows an astonishing lack of understanding of the piece. Thanks to Jon Gallo's solid musical direction, this production of Hair probably has the best singing (enhanced by Nicholas Rieker's sound design) I've heard in years. It also features an extremely well-fed group of starving hippies.
Led by Jepoy Ramos as a cuddly, ebullient Berger, the cast includes Jeffrey Brian Adams as the conflicted Claude, a buffed Rotimi Agbabiaka as Hud, an appealing Benjamin Nguyen as Woof, Ally Reardon as Sheila, Grace Ng as Jeanie, and Adrienne Walters as Crissy. Others in the tribe include Katrina McGraw, Tierra Allen, David Glazer, Indiia Wilmott, and Peter Dakota Molof.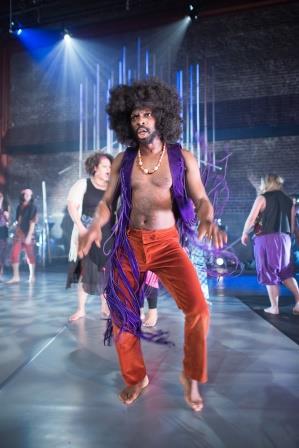 Rotimi Agbabiaka as Hud in Hair (Photo by: Ben Krantz)
Despite the efforts of director/scenery and lighting designer Jon Tracy, producer/choreographer Matthew McCoy, and costume designer Pasquale Spezzano, this staging of Hair seemed like an over-choreographed concert marking the season finale of a summer at theatre camp. In a moment of shock and awe, I found myself laughing out loud at the balletic ridiculousness of Claude's interpretive dance at the end of the evening.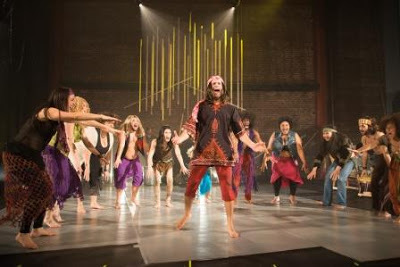 Jeffrey Brian Adams as Claude in Hair (Photo by: Ben Krantz)
Judging by the sparse set elements and limited costumes, I'm going to assume that budgetary constraints contributed to the lack of certain costumes normally used in a production of Hair. Unfortunately, those costumes are critically important to the show's rowdy spirit and in-your-face sense of humor.
There are several scenes in which the tribe's hippies interact with authority figures (represented by their parents and members of "the older generation"). Without those costumes, there was no sense of any standoff between the generations. To make matters worse, because of the lighting, it was nearly impossible to distinguish actors representing one generation against another.
When Peter Dakota Molof appeared in drag (wearing a bathrobe and wig), he was never identified to the audience as Margaret Mead. I can't help but wonder if anyone in the cast even knows about the famous cultural anthropologist and why her sudden appearance onstage to check out a group of hippies and give them her approval would have been so riotously funny in 1967.
The black woman singing "Happy Birthday, Abie, Baby" lacked a stove pipe hat and fake beard to give the audience any indication that she was mocking Abraham Lincoln.
In the original "White Boys" number, three black women wore a costume which mocked the costumes worn by The Supremes. When they moved apart, the audience discovered that, instead of three matching outfits, three actors had been stuffed into one oversized costume.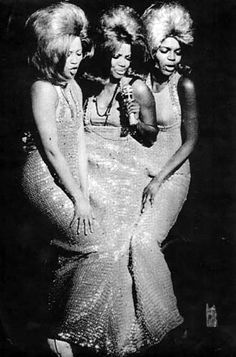 Emmaretta Marks, Melba Moore & Lorri Davis
performing "White Boys" in the original cast of Hair
Other than a gratuitous reference to cell phones at the top of Act II, there was no sense of any threat to the status quo, no sense of any threat to the audience's sensibilities, and no understanding of the bone-chilling fear so many young men felt at the thought of being drafted. As I chatted with several other baby boomers during intermission (who had not only seen the original production but had lived through the Sixties), it was obvious that some of the Millennials on BAM's creative team were sorely missing the mark.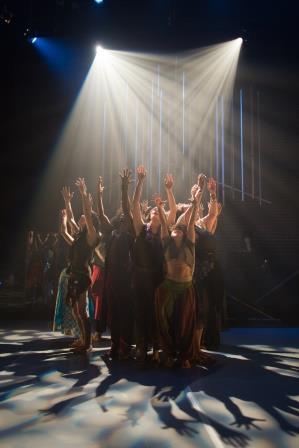 The Tribe in Hair (Photo by: Ben Krantz)
REAL LIFE. REAL NEWS. REAL VOICES.
Help us tell more of the stories that matter from voices that too often remain unheard.