"There can only be one answer. Magic. There are countless television series currently running, all clamoring for the same viewers. Most of these shows will come and go without much notice, but every now and then, on very rare occasion, a television show will have that magic which is a combination of casting and the chemistry of the cast, the characters and their individual developmental arcs, well written stories and compelling story lines which, when placed together, transcend the barrier of television, and become a cultural icon. One Tree Hill found the magic, and the magic found the fans. The fans are drawn because they have come to love these characters almost like family, and to meet the actors who portray them is a little bit like meeting the characters that they love so much." EyeCon founder, Kenny Smith says on why "One Tree Hill" conventions draw crowds like no other.
"One Tree Hill" is a show loved by millions everywhere, and even though its been off the air for five years now, the fans still continue to show their love and dedication for the show. To prove that, on Sunday, August 13th, 2017, "One Tree Hill" won a Teen Choice Award for Choice Throwback TV Show, which was voted on by the fans. What the fans want, the fans will get, and that's why EyeCon is doing its seventh (yes, SEVENTH!) "One Tree Hill" convention this October.
EyeCon is a "celebrity autograph convention featuring the most contact with your favorite celebrities". EyeCon was founded by Kenny Smith, not only as a source of income, but figuring it was the best way to meet actors, directors, producers, and to work with agencies and managers. Smith's aspiration in life is to direct motion pictures. His plan ultimately worked, and in 2015 he directed his first feature-length motion picture, an independent Star Trek film called "Star Trek First Frontier". "I was able to do this directly because of the conventions and the contacts I was able to make. Some of the actors who are celebrity guests at my conventions actually starred in my film, in particular Barry Corbin, who plays Coach Whitey on One Tree Hill.", explains Smith.
EyeCon's "Return To Tree Hill" convention will be taking place in the heart and soul of Tree Hill, in Wilmington, North Carolina. The convention will be running from Friday, October 13th, 2017, through Sunday, October 15th, 2017, with constant events taking place all weekend long! The event will be taking place at the Wilmington Convention Center (515 Nutt Street, Wilmington, NC, 28401). In order to get into the convention, you will need to purchase an admission ticket. Different levels of admission are available, including single day passes and full weekend passes. You can purchase your admission pass(es) here!
Throughout the weekend of the convention, you can expect to mingle with the cast in various, unforgettable ways. From question and answer sessions, to getting autographs from your favorite Tree Hill alumni, and even being able to have a one on one meet and greet with your favorite cast member!
New to this convention, is a Thursday night (October 12th, 2017) BBQ on the old River Court! "To add a Thursday night event basically adds an extra day of fun for the fans, and the convention just gets larger, and larger, and I couldn't be more proud.", explains Smith. This is a separate event from the actual convention, so you do not need a ticket to the convention to attend this event! The cost is $30 per person and runs from 5pm-9pm. During that time, two fan voted episodes of "One Tree Hill" will be played, food such as veggie burgers, burgers, hot dogs and more will be served, and even a few stars from the show may show up to mingle! Smith adds, "This particular event is epic in proportion because it takes the fans even closer to feeling as if they were in Tree Hill. This should be an event they remember."Tickets for this event can be purchased here!
Everyday of the convention, photo ops, different Q and A's, autograph sessions, and meet and greets will be taking place, but every night of the convention, something different will be taking place.
On Friday, October 13th, there will be a "Holding Out For a Hero" party, from 7pm-11pm. At this party, you can dress in your best superhero gear, prizes will be awarded! Halloween is right around the corner! Come as B-Dazzled, Baby Momma or even ShutterBug! Tickets can be purchased here.
A few things are taking place the night of Saturday, October 14th. The night will start with a celebrity dinner banquet from 7pm-9pm (please note: time may change). At this banquet, you sit with one celebrity guest in attendance for the meal, where you get to talk with them and have a blast! How cool is that?! Sign me up! Tickets are limited and selling fast so purchase yours for a once in a lifetime opportunity here! After dinner, WE'RE GOING TO PROM! That's right! 'Prom at Honey Grove" is happening at Laney High School Gym, Saturday Night from 8pm-11pm (please note: times may change)! Many scenes from "One Tree Hill' were actually filmed in this very gym! No alcohol will be allowed. Dress in your best prom attire! Tickets can be purchased here!
For Sunday, October 15th, get your voices ready! Performing live at Pier 33 (10 Harnett Street, Wilmington, NC, 28401) are some of your favorites from the show! Bryan Greenberg (Jake Jaglieski, Seasons 1-3), Tyler Hilton (Chris Keller, Seasons 2-9), Michael May (Chuck Scolnik, Seasons 6-9), Kate Voegele (Mia Catalano, Seasons 5-8), and Wakey! Wakey! (Grubbs, Season 7), will take the stage from 8pm-11:45pm. General Admission are available now. GA is first come first serve, and VIP is already sold out! Get tickets here!
Michael Copon, who was best known as Felix Taggaro in season 2, will also be appearing all weekend at the convention. This time around he's having a little fun, and doing his own DARE WEEKEND! Space is limited, and the game works in teams of 2, at $50 per person. More information, check out Micheal's instagram @michelcopon.
If your riding solo to this convention, or it's your first EyeCon and you're a bit nervous, don't be! We asked Kenny what first time EyeCon goers can expect! "First Time attendees are always surprised at how welcome they are at the convention, even if attending alone. They will find themselves immersed into a collective, a group of people who all feel the same way they do about One Tree Hill. They've all cried at the same times, laughed at the same times, had their hearts ripped out of their throats at the same times, and all watched their favorite characters (family) grow over nine years. Best friends for life are made at EyeCon. It happens at every convention. Anyone will be immediately accepted, as they are, with open arms."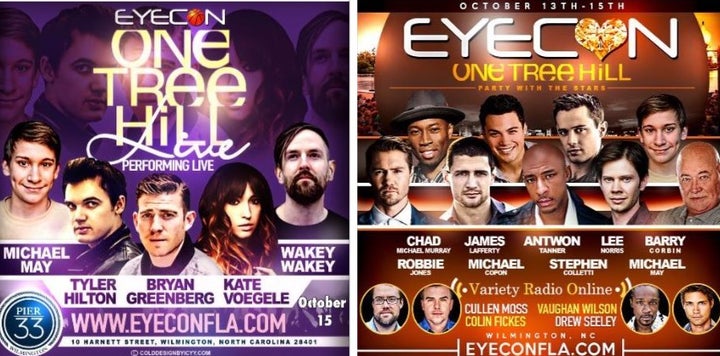 As the convention approaches, the @EyeCon3000 twitter page has been doing weekly trivia nights for chances to win different prizes! Make sure to follow them and play along for your chance to win tickets, photo ops and more!
Once again, Java Dog Coffee House (303 N Front Street, Wilmington, NC, 28401) , will be turning into Karens Cafe for the weekend! Its a local favorite in Wilmington, and located right across the street from the actual Karens Cafe in the show! Your drinks will be served with Karens Cafe coffee sleeve covers, and even napkins! So make sure to stop in!
As the convention gets closer more guests will be announced, so make sure to keep an eye on EyeCon's social media accounts for news and updates, as well as join their Facebook group for all convention updates! The lineup of guests so far includes:
James Lafferty (Nathan Scott, Seasons 1-9)
Chad Michael Murray* (Lucas Scott, Seasons 1-6) *only appearing Saturday
Lee Norris (Marvin "Mouth" McFadden, Seasons 1-9)
Antwon Taylor (Antwon "Skills" Taylor, Seasons 1-9)
Barry Corbin ("Whitey" Durham, Seasons 1-6)
Stephen Colletti (Chase Adams, Seasons 4-9)
Robbie Jones (Quentin Fields, Seasons 5-6)
Variety Radio Online (VRO) will be attending again, with cast members in the main hallway. With VRO guests, you can go up to them and get pictures and autographs throughout the weekend (prices TBD). Attending with VRO:
Vaughn Wilson (Fergie, Seasons 1-9)
Cullen Moss (Junk, Seasons 1-9)
Devin McGee (Xavier , Seasons 6-9)
Colin Fickes (Jimmy Edwards, Seasons 1-3)
Drew Seeley (Johnny "Vegas" Norris, Season 1)
While your in Tree Hill, you can book a tour through Tree Hill Tours (tickets available here), or you can plan your own and go to all the famous filming locations! Whichever you choose, being in Wilmington is like being in a real life One Tree Hill episode! As for Kenny and Autumn's favorite spots in Wilmington? "I like the battleship, personally and we always love eating at the different unique restaurants right there by the water."
EyeCon has made a name for itself in the entertainment industry. Other than their "One Tree Hill" conventions, they've hosted "Vampire Diaries' convention, and have talked about hosting "Grey's Anatomy" and "Riverdale" conventions in the future. So why does Kenny continue in this business? Honestly, other than a source of income and for my aspirations of filmmaking, I continue the business because without us, these fans would not have the environment that we provide, simply because we have found the "magic" in the convention world and it's hard to replicate. I feel a debt to these fans. They helped me make my movie. They helped me chase a lifelong dream and I don't want to take this away from them. So as long as they want to come, we'll keep doing our best for them."
Hey Tree Hill, we'll be seeing ya!
*Written by Samantha Nagen of Sam and Erica*