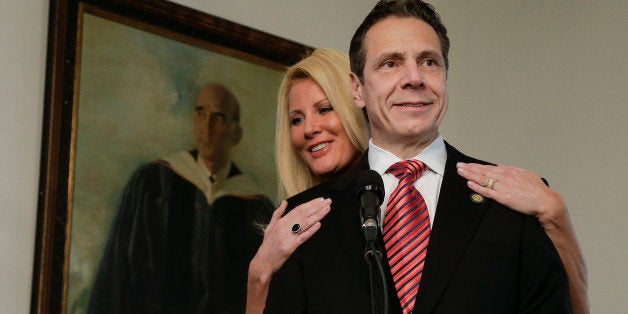 Multiple-choice quiz for groups and people who either endorsed or voted to reelect Andrew Cuomo.
What is Andrew Cuomo's top legislative priority now that he has been reelected Governor of New York State?
A. Healing racial and ethnic divisions
B. Better public schools
C. Protecting the environment
D. Repairing crumbling bridges and roads
E. Economic growth and jobs
F. All of the above
G. None of the above
If you followed Cuomo's campaign ads, you might pick anything from A to F, but the correct answer is "G. None of the above." Toward the end of the campaign, in a series of targeted, lightly publicized meetings, Cuomo's top legislative priority emerged. It is rewarding campaign donors and block voting by religious communities with a back-door school vouchers plan for private and religious schools.
On October 28, 2014, in an op-ed piece in Hamodia, which describes itself as the "Daily Newspaper of Torah Jewry," Cuomo listed his accomplishments that directly benefited religious communities and his priorities for his second term. Through Mandated Services Aid (MSA) and Comprehensive Attendance Program (CAP) programs, Cuomo bragged that he had expanded support for non-public schools. MSA funding was increased by 26% to $97.6 million and CAP has increased by 134% to $61.2 million.
In public appearances in Orthodox Jewish communities, Cuomo also celebrated making money from the state Tuition Assistance Program available to pay tuition at religious schools and providing public funds for busing students to Orthodox Jewish schools.
In his second term, Cuomo promised to create an Office of Faith-Based Community Services to channel public money to religious groups to provide education, health, and workforce training. He also promised to "work for the passage of the Education Investment Tax Credit." If passed, this bill, now before the State Legislature, would provide a "dollar-for-dollar state tax credit for any person or business that makes a donation to public schools or private scholarships for students attending non-public schools." Religious groups could charge the state for all sorts of "non-religious" services and outsource delivery to group members who would then donate money back to the organizations to subsidize their religious programs. The Education Investment Tax Credit would essentially be a back-door school voucher plan diverting public funds to support religious education and institutions without triggering court challenges to violations of the separation of church and state. The plan is strongly supported by Orthodox Jewish groups and Roman Catholic leaders including Archbishop Timothy Cardinal Dolan.
At the same time that Black and Latino students in communities like East Ramapo are being denied basic education by school boards controlled by his religious allies, Cuomo declared state handouts to the religious groups, "It's not charity, it's not a favor. It's justice . . . [I]t is my profound wish that we should work together and . . . bring justice to the community that we deserve."
And Andrew Cuomo got payback in return. The Albany Times-Union reported hundreds of thousands of last minute campaign donations to the Cuomo campaign war chest. According to another website, Jewish Political News and Updates, most of this money came from Orthodox Jewish donors with ties to Brooklyn real estate interests. The website also reported that Cuomo the won the Orthodox Jewish vote "by a significant margin."
Traditional press, online outlets, and tweeted messages were used by Cuomo loyalists in the religious communities to rally religious voters as a block to re-elect the Governor. On Monsey.com, members of the religious community were told "We need to vote for our local elected officials, but we also need to come out in huge numbers in support of our Governor Andrew Cuomo . . . Politics is all about the numbers and elected officials are always looking at which areas generate the greatest support. That's why it's so important for our neighborhoods, in Brooklyn, Monsey, New Square, KJ, and Williamsburg, to come out in large numbers in recognition of the Governor and all that he has accomplished for our community . . . [D]ue to the Governor's support, we've made tremendous strides on issues such as the Tuition Assistance Program, Special Education Services, School Bus Transportation for Non-Public School Students, and more . . . . Let's do our best to ensure that Governor Cuomo continues to have our best interests in mind." On the Satmar religious group's Headquarters tweet, eleven thousand followers were repeated urged to come out to vote for Governor Cuomo and told how to arrange for rides to the polls.
"Significant margin," at least in some Orthodox communities, is an understatement. The donations and the vote may help explain why New York State has failed to act as school boards and voters in communities with large religious populations like East Ramapo, the Five Towns on Long island, and in Monroe, New York, vote to decimate public school budgets and ignore the educational needs of minority students.
In Rockland County, New York, the town of Rockland has a number of communities with large ultra-Orthodox populations including Monsey, Kaser, and New Square. While the overall vote in Rockland County in the 2014 gubernatorial election showed Democrat Andrew Cuomo receiving 51.3% of the vote to 45.5% for Republican Rob Astorino, voting patterns were very different in Orthodox Jewish voting districts where there was "block" voting for candidates. In the main Monsey voting district (35), Cuomo received 89% of the votes cast. In the four voting districts that make up New Square (55, 58, 95, and 98), Cuomo received between 98 and 99% of the vote.
A number of civil rights organizations and parent groups are organizing to challenge religious sects that are diverting public money to private and parochial schools with support from politicians like Andrew Cuomo. In the East Ramapo school district, they include Advocates for Justice, a public interest law firm that has filed a class action lawsuit on behalf of East Ramapo School District parents, taxpayers and students seeking monetary damages from some school board members, district officials and contractors. The suit is championed by a group called Power of Ten, which has an online petition in support of the suit and is organizing a protest rally at the December 2, 2014 East Ramapo school board meeting. Other groups involved in the campaign include Preserve Ramapo and the local NAACP that has demanded immediate state oversight of the East Ramapo Board of Education and a long-term study group for troubled school districts.
According to the Advocates for Justice," The United States Constitution prohibits the use of public funds to promote or favor any religion. Here in the East Ramapo Central School District, however, public dollars have been used to benefit yeshivas in inappropriate ways, instead of those dollars working within the public school system. Our clients are committed to serving the educational needs of all the District's children and their families - not simply those from one special interest group."
Andrew Cuomo and his supporters are apparently unaware of those aspects of the Constitution.
Related
Popular in the Community