A new gun-control campaign aims to show President Donald Trump the scale of gun violence via Twitter.
#BackfireTrump, launched by the state-based group States United to Prevent Gun Violence, promises to automatically tweet "a powerful message" from supporters' Twitter accounts to Trump every time someone dies from gun violence.
The campaign asks that supporters volunteer their Twitter accounts on BackfireTrump.com. The group said it will automatically send Trump tweets from those accounts with each update to "real-time data of daily preventable gun violence deaths" on gunviolencearchive.org, an independent research group that collects data verified by law enforcement, government and commercial sources.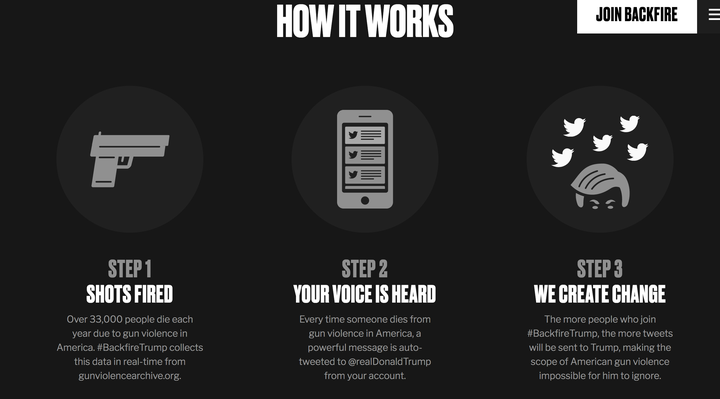 Users will have the option to set up automatic tweets to the president with each deadly shooting, or with daily or weekly summaries. The automatic tweets will be sent at 3 a.m. ― perfect for Trump, who often begins tweeting before 7 a.m.
Victoria Coy, States United to Prevent Gun Violence national director, said the campaign wants to continue raising public pressure on the issue of gun violence. 
"Every death lost to gun violence is preventable," Coy said in a statement. "Given Trump's prolific use of the platform, Twitter seems the most effective place to reach" him.  
The campaign's website allows supporters to sign up for the auto-tweets, write to Congress, or join a gun violence prevention organization. 
BEFORE YOU GO
PHOTO GALLERY
Students Protest Gun Violence At White House