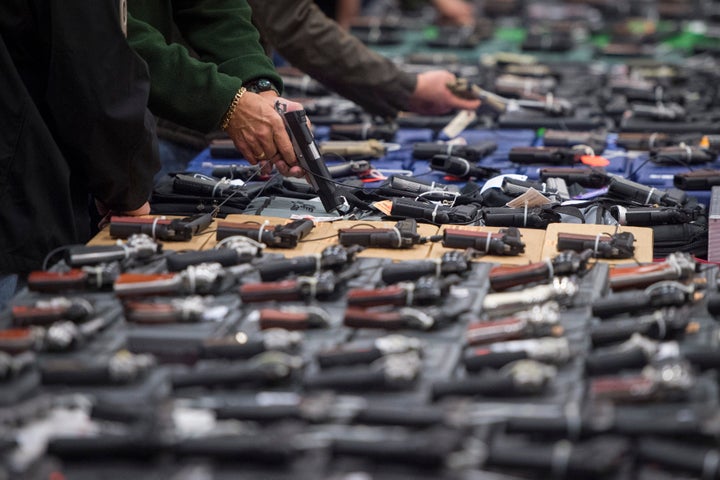 States that require background checks for all handgun sales have significantly fewer mass shootings than states without them, according to a new analysis by Everytown for Gun Safety, a gun violence prevention organization backed by former New York City Mayor Michael Bloomberg.
Under federal law, licensed gun dealers are mandated to conduct criminal background checks to identify those who are prohibited from owning guns. But in many states, individuals can skirt background checks by purchasing a gun online or through private sellers. Eighteen states and the District of Columbia have closed that loophole by requiring background checks for all handgun sales, including online and at gun shows.
Between January 2009 and July 2015, Everytown identified 133 mass shootings in the U.S. -- defined as as incidents in which at least four people were killed with a gun. Controlling for population, states that required background checks saw 52 percent fewer mass shootings than those without them. 
Not that surprisingly, states with mandated background checks also saw 63 percent fewer mass shootings committed by individuals barred from gun ownership. Nationally during that period, nearly 40 percent of mass shootings were perpetrated by people prohibited by federal law from possessing guns. 
Ted Alcorn, research director at Everytown of Gun Safety, said this was the first time the organization investigated the association between state laws and mass shootings.
"State laws have been shown to have an influence on rates of gun violence in a pretty voluminous body of research," Alcorn said. "When we see a state law that prevents people from buying a handgun without a background check at a gun show or online market, and we see a lower rate of mass shootings as a result, I think it's fair to draw the conclusion that they may be related."
This is a critical, central piece of public safety legislation that has a real impact on people's lives.
Everytown also found that states that required background checks experienced 64 percent fewer domestic-violence involved mass shootings. That's key.
The majority of mass shootings in the U.S. take place in private. They occur in the home, and the victims are predominantly women and children. The untold story of mass shootings in America is one of domestic violence. It is one of men (yes, mostly men) targeting and killing their wives or ex-girlfriends or families. The victims are intimately familiar to the shooters, not random strangers. This kind of violence is not indiscriminate -- though friends, neighbors and bystanders are often killed alongside the intended targets.
Alcorn said that much of the conventional wisdom around mass shootings is overturned by investigating the incidents critically.
"One of the factors that are most linked to them is not mental illness, as we see very few shooters with a documented history of mental illness. Instead we see a larger share, over a third of the shooters, have a prohibiting criminal history or domestic violence history that would have barred them from buying guns under federal law,"  he said. 
"No single policy, be it background checks or otherwise, is going to prevent every future act of gun violence," he added. "But it is clear in so many dimensions that this is a critical, central piece of public safety legislation that has a real impact on people's lives."
PHOTO GALLERY
Pivotal Moments In The U.S. Gun Control Debate
Calling all HuffPost superfans!
Sign up for membership to become a founding member and help shape HuffPost's next chapter