WASHINGTON -- Ask a Senate Republican if he or she supports an assault weapons ban and you'll likely get a "no." But ask about tighter background checks -- one of a few items in President Barack Obama's gun violence package with a shot at passing Congress -- and you'll likely get a vague response about needing more information, if you get a response at all.
"Uh, I don't know what you mean," said Sen. James Inhofe (R-Okla.), who then ended the conversation by turning around and walking into a room where senators were having lunch, closing the door behind him.
"I need to have more details. I, you know, I just need -- you need to ask me after I've talked to our judiciary staff in our office," said Sen. Bob Corker (R-Tenn.), also heading to the Senate lunch. "I hate to respond just in the hallway, so I won't."
"I've got -- my wife's here. I'm sorry. I've gotta -- thanks," said Sen. John Barrasso (R-Wyo.).
In the days since Obama spoke to the nation about gun violence and put forward proposals to address it, lawmakers in both parties have signaled support for stricter background checks -- mostly Democrats, but some key Republicans, too -- and the White House has made the proposal a top priority. Public support for universal background checks is extremely high, possibly even at 92 percent, per a recent CBS News/New York Times poll.
The provision would require anyone selling a firearm to run a background check on the prospective buyer. Under current federal law, background checks are only required for guns sold by licensed firearm dealers, whose sales make up an estimated 60 percent of U.S. gun sales. Private dealers sell the remaining 40 percent without checks -- at gun shows, via the Internet or just between individuals.
Some Republicans said they don't support universal background checks because they don't think the government should have any more control over people's access to guns.
"Probably not," Sen. Orrin Hatch (R-Utah) said when asked if he could support the proposal. "I don't want a national list of people selling guns ... My reasoning is that we have too much government as it is, and frankly, I don't believe it's the guns that are the problem. I think there are many other reasons behind the problem."
"I don't know how much tighter they could be," Sen. Thad Cochran (R-Miss.) said of background checks, brushing off a question specifically about the gun show loophole. "I'm not getting down in the weeds."
Others simply said they don't know where they are on the issue.
"I'm going to look at it," said Sen. Rand Paul (R-Ky.)
"I'm still looking at it," said Sen. Susan Collins (R-Maine). "I have a lot of concerns about what the impact should be on private sales, which are very prevalent in Maine."
Collins added, though, that Congress is "not doing a good enough job" when it comes to one aspect of background checks: requiring states to share information with the federal background check system, particularly when it comes to information about people who have been adjudicated as mentally ill.
"That's one very commonsense change we can make that would improve the quality of the data," she said.
Sen. John Cornyn (R-Texas) said the real concern isn't the need for tighter background checks but for the Justice Department to crack down on gun buyers who don't follow the law. "There are a lot of people who apparently lied on their background check who have not been investigated or prosecuted," he said.
Asked specifically about sales at gun shows, Cornyn reiterated that current law should suffice. "I think for people who are in the business of selling firearms, I'm happy to have a background check required as part of that process," he said.
The latest debate over gun laws comes in response to last month's shooting at a Connecticut elementary school and, more generally, in response to the uptick in mass shootings in recent years. Another school shooting took place on Tuesday, this time at a college campus in Texas.
Senate Majority Leader Harry Reid (D-Nev.) shook his head as he appeared to learn of the Texas shooting from a reporter who asked about it during a press event.
"Where is this one?" Reid asked.
Any action on gun legislation will likely start in the Senate, where Democrats hold the majority and have a greater chance of being able to pass something. Reid, who has been an ally to the National Rifle Association, said he plans to bring some kind of gun violence package to the floor -- "It may not be the bill everyone wants," he said -- as soon as it passes the Senate Judiciary Committee, which will hold its first of several hearings on gun violence next week.
"This is an issue we're not going to run from," Reid said.
Support HuffPost
The Stakes Have Never Been Higher
Before You Go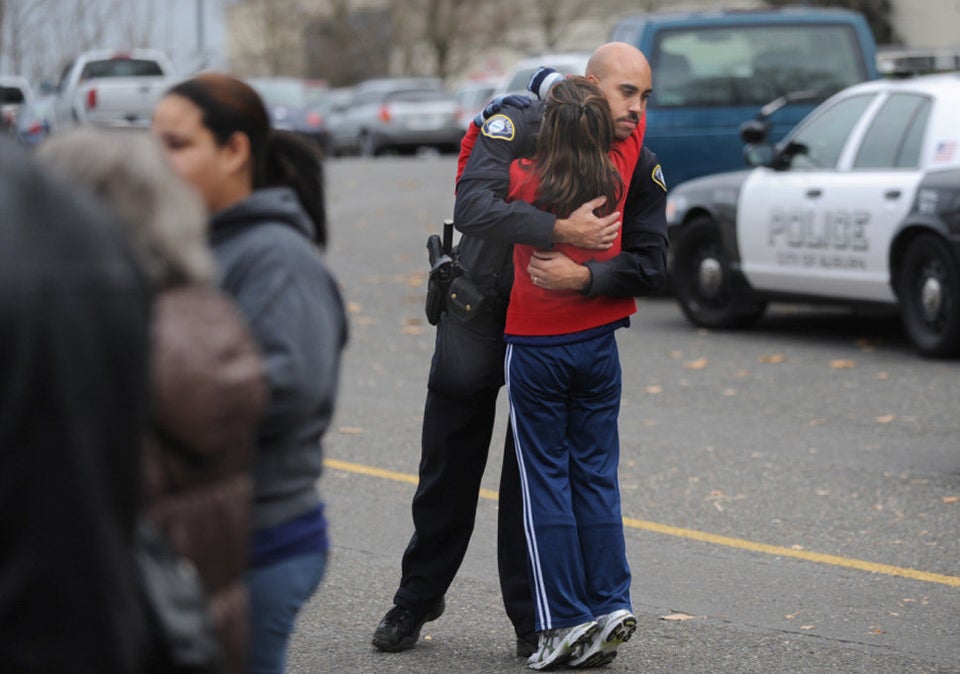 Obama's Gun Control Proposal Explained
Popular in the Community