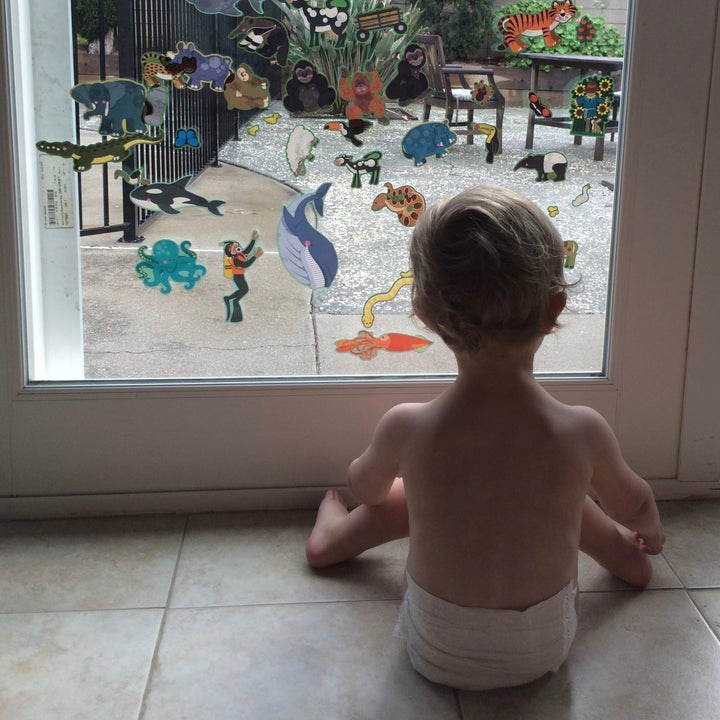 TIPS FOR BALANCING BABIES AND WORK
There is no way to sound professional with a screaming, shrieking child in the background.
Every parent knows this and yet every day, parents risk this scenario only to end up asking themselves: How can my baby be sound asleep until the minute I pick up the telephone for an important work call?
After having my son several years ago, these and other parent with child/work from home issues concerned me. Having a child pushed me to rethink journalism as a job. And when I changed careers and started a toddler slipper socks company, I figured I should get advice from parents who have successfully navigated this anxiety producing terrain. Everyone had a lot of advice to give.
PHONE A FRIEND/PARENT/NANNY
The majority of parents I spoke with compartmentalize child and work times. How they do that varied.
Gabriela Thomas-Fitch, a vice president for brand strategy at Drake Global Strategy, said she separates "work time from mom time." To her that means that "someone is taking care of the baby and everything that entails from making food, changing diapers and being on call during nap times."
To be effective, you must either hire a helper or enlist a family member to provide childcare even if it is short intervals where you can get specific tasks done. More importantly, don't feel guilty about this decision.
In my case, I found a gym that provides several hours of day care as part of my monthly fee. I work in the cafe with up to a half dozen other parents while my son enjoys play time with caregivers who have undergone background checks and know CPR.
Having a designated workplace is important. Liza Roeser Atwood successfully expanded her farm direct flower company to 44 employees but for many years she worked from home with children running around. The CEO of FiftyFlowers, who has a 10-year-old and a five-year-old, said one of the best ways to ensure focus is to have office space where "if needed you can shut the door."
While some parents can easily communicate that they are working from home, it isn't always the message you want out there. "If you are talking to a provider you are trying to impress and sound like you are a big company and you have an infant in the background whining and crying because they want their mommy," Roeser Atwood said. "It doesn't impress."
Dedicated office space is important to Julianne Smith for a different reason. The owner of The Garter Girl, which sells handmade garters, said it is important to let children know that a space is to be respected. "This is your place to work," Smith said. "They are not to touch your workspace or go looking for paper and art supplies, tape, scissors and other little things that kids like to go fishing for in your work space unless they have permission."
Having a separate space also helps Smith send a message to her children about ""when mom is "mom" and when mom is "working.""
Clearly delineating work time from mom time is really important to Lucie Leblois, the CEO of Crumbdrop an app that allows the user to create an animated trail. Via email, she said "if your kids are at home with you while you're working, they think you're home with them - that's all they know and see. As you juggle your day/time working from home, it's also about shutting things off and focusing on them. It'll also make you, as a mom, feel like you just owned your day. Business, done. Time with kids. Done."
Managing an international consulting business that helps companies expand and thrive beyond domestic borders means that for Thomas-Fitch work time and space often have to be defined as anywhere and any spare moment. She said she has her life set up so she can "give feedback to a quick copy while I am swinging the baby on a swing."
Her phone is her most important business tool. Thomas-Fitch found apps that enable her to fax, scan, type projects and project manage anywhere. If the baby falls asleep in the car on the way home, she can sit in her driveway and get work done without risking nap disruption.
Every parent has to accept that they will be juggling children and work. Often those times are when you don't want to be juggling children and work. Roeser Atwood said you need to preplan so you can set yourself up to be successful in those moments. She set up a play area in her office. "You can't count on that for three hours," Roeser Atwood said "you can count on age appropriate bursts of attention."
CHILDREN + WORK = FLEXIBILITY + ORGANIZATION
Regardless of how well you set up, you just won't get as much work done as you need or want. Such moments underscore that when it comes to children and work a parent must have flexibility.
Leblois said she no longer sets a daily agenda. "Daily goals are good but can also be tough because the moment your kid throws up or has a fever, you're done - and there go your goals for the day." Instead Leblois recommends setting broad goals with weekly, monthly or done by xyz date.
For Smith owning a business and raising three children means being incredibly organized so she can work on a project during a found 10 minutes. "However, mistakes happen when you pick up your work and put it down and forget where you are or get distracted with something non-work related and you don't finish tasks completely," Smith said. "If you take good notes and write everything down, it will save you and allow you to be more productive when you only have little pockets of productivity throughout the day."
Personally I know that if I set up my to do list before I go to sleep at night, I am more likely to finish it. Also if I can get up super early before my toddler wakes up and knock out the hardest thing on that list, I have won the day!
And while it is often frustrating balancing a business with child care, Roeser Atwood said raising her eldest daughter "in the office" has taught valuable lessons. "Don't feel guilty about it," she said. "I can see a sense of empowerment I have instilled in her life because she has been there watching me."
Popular in the Community