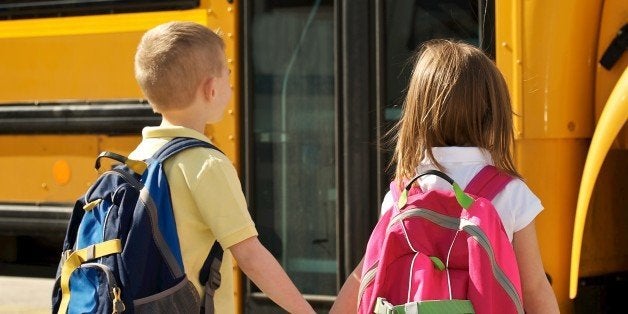 School is right around the corner and I can hear three sets of screams: one from the kids, one from the teachers and one of joy from the parents.
It is great to keep the kids from being bored or sitting around, but learning can be stressful to the brain and the back. Have you seen the amount of homework they have and the size of their book bags? Not to mention some students are playing sports and have to lug that duffle bag as well.
I've gone through some of the most recent research and ideas on backpack safety for kids, as well as the treatment for injuries related to carrying these heavy bags.
Here is a bullet list of ideas to implement for your loved ones to keep them well.
• Don't overpack. It shouldn't weigh more than 15 percent of his/her bodyweight. A 50-pound child should carry no more than 7 to 8 pounds in his or her book bag, a 75-pound child -- an 11- to 12-pound book bag, a 100-pound child -- a 15-pound book bag, etc.
• Try to plan better so everything doesn't have to come home. Parents may be able to help determine what is needed or not.
• When you pack the bag, use some thought to avoid heavy items on top or prevent shifting of items.
• Pick an appropriately-sized bag for the size of your child, so it isn't swinging around. The bigger the purse (or house) the more we pack into it.
• Get a pack with two shoulder straps to reduce shoulder pressure.
• Keep the majority of the weight around waist level. The higher the load -- like between the shoulder blades -- will lead to more postural stress. I know it's not as cool as flinging a pack over one shoulder, but I'm more about function and protecting the body versus what looks hot.
• Speak with your child about why it's important to use both straps.
• When you lift the bag to put it on, lift with your legs, use two hands and face the bag.
• One strap is similar to carrying a heavy purse. It can lead to the body shifting to one side, result in an elevated shoulder, neck pain, postural problems and back pain.
• Some backpacks have a waist strap to ensure that the weight stays low and close to the body.
• Look for red marks on your child's skin to determine if the book bag is positioned correctly or is too heavy.
• If the weight is too high, it will force your child to lean forward or it could pull him/her backwards and damage his/her lower back.
• Is it possible to get a ride or be picked up to decrease the amount of time the book bag is worn?
• Roller bags don't look cool and they can be really heavy without books. They can also be difficult to maneuver. As they get overloaded, who wants to pick that up and put it on the bus?
• Can they get some of this work done in a study hall and bring home less?
• Does the school have a program that offers books online, enabling students to complete their assignments at home with a computer?
• Can you borrow an extra book from school or the library to have at home so your student doesn't need to keep bringing their book back and forth each day?
• Children of all ages can experience headaches, neck and back pain, just like adults. Listen to your child if they complain.
Medications can help the symptoms but do not correct the spinal problems that cause them and in a growing child, it is extremely important that they have a healthy spine. Also kids respond quickly to treatment because they haven't waited too long. Their body and muscles haven't had a chance to adapt and become a bigger problem like us older folks. Present company included.
Dr. Jay M. Lipoff is the owner of Back At Your Best Chiropractic & Physical Therapy, LLC, which is located in California, Maryland. Dr. Lipoff is also the author of "Back At Your Best; Balancing the Demands of Life With the Needs of Your Body." It is available in book and Kindle format at Amazon.
He received his Bachelor of Science degree from Syracuse University in 1990, a Doctorate of Chiropractic (D.C.) from New York Chiropractic College (NYCC) in 1994 and he became a Certified Fitness Trainer (CFT) in 2005.
Dr. Lipoff is an Executive Board Member, International Chiropractic Association Council on Fitness and Sports Health Science; has a radio segment: Back At Your Best in 5 Minutes or Less, Co-Founder, Drug Free Training USA; Member, NY Strength-promoting the importance of physical conditioning; Board Member of Public Relations Committee, Maryland Chiropractic Association; has spoke on nationally broadcasted radio interviews, has articles in print and referenced in over 100 print papers, magazine and on websites.
For more on healthy living health news, click here.