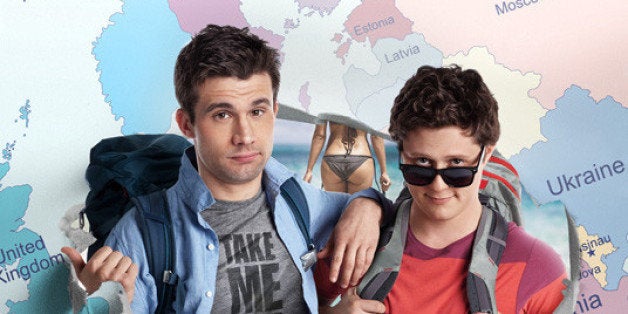 On August 15, The CW launched CW Seed, a digital studio focused on developing original series on the Web, with the goal of establishing projects that can ideally be ported over to the broadcast network if they connect with an audience.
It's a strategy that's worked well for shows like Lisa Kudrow's "Web Therapy" on Showtime and Adult Swim's "Childrens Hospital," and CW Seed has launched with a diverse array of comedies, like the third season of critically-acclaimed "Husbands"; globetrotting "Backpackers" starring "Nikita's" Dillon Casey; "The P.E.T. Squad Files" produced by "Heroes'" Milo Ventimiglia; and animated "Gallery Mallory," which will feature guest voices from CW stars like Misha Collins, Justin Hartley and Kat Graham.
In an attempt to get over a serious case of cold feet, "Backpackers" finds recently engaged Ryan (Noah Reid) and Beth (Meghan Heffern) embarking on separate European adventures leading up to their wedding. While traveling they are free to act single, adopting the mantra "what happens in Europe, stays in Europe." But hours into his adventure with his party animal, womanizing best friend Brandon (Casey), Ryan realizes he's made a huge mistake and sets off in search of Beth. One problem: He has no idea where she could be. The series consists of eight episodes, each around 12 minutes in length.
HuffPost TV caught up with Casey to discuss the appeal and challenges of working on the Web, the experience of filming on location across Europe, and how he feels about his "Nikita" exit.
How did you first get involved with "Backpackers"?
"Backpackers" is a project that's actually been around for a while. I auditioned for it first almost five years ago. It was one of these things where I was about to head back to Los Angeles; I had just moved there, and I was in Canada for a couple days. I went in for this thing where we were gonna get to do a lot of improvising and chemistry reads. It was a very vague idea of what it was going to be. So, I went in and had fun and, originally, I was cast with this guy named Chris Turner, so we originally went to Barcelona, Chris and I, and shot the presentation pilot that was about these guys who made this deal to go across Europe and have an amazing time.
Ryan, Chris's character at the time, who is now played by Noah Reid, is trying to find his fiancée. She could be anywhere in Europe, but they made this deal where they're allowed to go across Europe and have as much sex as they want, until they meet up two weeks later and get married. He quickly decides that he doesn't want to do that, but by that time, she's already lost, and my character, Brandon, is trying to keep his head on straight and make sure he has fun, but in the meantime he's helping him find Beth ... Half of that was how I got involved, and half of that was the plot of the show. [Laughs.]
Brandon is the wingman on the show, so is his goal in all of this to just screw his way across Europe and have as much fun as possible?
Well, I don't want to paint him with that brush -- his mission is to love his way across Europe, not "screw." [Laughs.] He's bringing a little bit of happiness to European women. He's there for his buddy -- he's the best man, he's the best friend. They couldn't be more opposite when it comes to their love lives. Ryan is marrying his high school sweetheart, and Brandon has never been in a relationship in his life. So, I think that he's looking for love, but he's more open to the other stuff, I guess. So his mission is actually to get Ryan to screw his way across Europe. He's already done it himself, it's no big deal for him, so this is more for Ryan than for him.
Is Ryan still going to be tempted over the course of the show, or after the pilot is he pretty firmly set in his quest to find Beth now? It seems like Brandon might end up being the devil on his shoulder, whispering, "Oh, you should just hook up with someone while we're here ..."
I look at it as: Brandon's the angel on his shoulder, saying, "You have this deal that she's made with you, and you made this deal, so there's obviously something there. There's cracks in the foundation." He's the one saying to him, "Have fun. Here we are, we're in amazing places." We start off at the Eiffel Tower; we go to the Trevi Fountain; we go to Spanish steps. We're all over -- we're in Prague, we're in Rome, all these places -- and you can't get it better than that. Ryan's saying, "Oh, where's Beth, where's my girlfriend? I can't find her!" Brandon is thinking that she's out having an amazing time, so he's trying to make sure that his buddy doesn't regret this. He's given a great opportunity here and he's trying to help him have fun.
As you said, you traveled across Europe while filming -- what was the shooting process like, and how long were you spending in each of these cities?
We started off in Prague. We were there for four days, but we were just doing a lot of inside stuff. We were in hostels, mainly ... it was such a blur, it happened so fast. Then ... I don't remember the name of the town, maybe Santa Marinella -- it was this beautiful, coastal town in Italy. We were there for four days. Then we went to Rome, and Rome is amazing to look at. The problem was we had so little time, it was just a sprint to the finish as soon as we got there. So it was like going through these incredible amusement parks and not being able to touch the rides. When we got to Paris ... it's just amazing, A lot of these cities, they're beautiful, but you don't have that variety. Paris, we finally got somewhere with some variety; it was just what we needed.
The chemistry between you and Noah is so believable, I could totally buy that you were childhood friends. Did you know him beforehand, or was it just a spontaneous connection?
We had met, but never really hung out ... He did a pilot called "Three Inches" for Syfy, and I played a character in it that was the typical [jerk] -- he had a crush on this girl and I was the bully guy who had the girl. We had one scene together, and we didn't even get a chance to talk or hang out, it was very quick. So, I didn't really know the guy, but then we met and right off the bat, hit it off. We had similar sensibilities, a similar sense of humor ... It's really hard to explain it, but we get each other, which was nice for us, I think, but the crew started to get frustrated with our inside jokes after a while. [Laughs.] It was nice. It relaxed everything -- we didn't have to try anymore, it was just natural.
Was it a fully written series by the time you signed on, or was it just a pilot script?
When I auditioned for it, what I saw on the page was essentially a concept, kind of like an arc. It was written, but then once we got there and started shooting, there's so many factors that are out of your control because we're on location, that we had to start tweaking the script. First, when Chris and I did it, five years ago, we came up with our own scene that made it into the show, the one in the laundry room at the end [of the first episode]. That's a scene that Chris and I improvised.
Then, as Noah and I developed the chemistry and the show started to evolve, you couldn't really have much set in stone. You had a plan, but you didn't have to stick to it. All of the scenes started to evolve with us, and it got to a point where we would get a tenth of the way through a scene, and then Noah and I would -- I don't know if they liked this -- we would do our own thing anyway. [Laughs.]
So there was a lot of improvisation?
It was written, but at the same time, we'd change things and be like, "This doesn't really work," and Josh [Levy], the director, and Jay Bennett, the producer, were awesome enough to let us experiment and try. If we came up with something that was funnier than the page, and shootable, then we would do it. So that was really cool, being able to do that. I wouldn't say that we wrote it or anything -- we just were able to take this great concept and these great locations and play with them.
"Backpackers" looks really great -- obviously it's on a much smaller budget than TV, but it's still well-produced. Did you guys ever feel constrained by the budget while shooting?
I try not to think about that too much. That's the producer's concern. We actually saw the budget concerns in a different way. All of our time management; you have the camera guys setting up the cameras, the director setting up the shot, the location people scouting the places and all that. A mistake that's often made is they set up all these things and it's the actors' turn to jump in, and what they'll always say to the actors is, "Guys, we don't have any time, so get this done as fast as you can." That, in my opinion, is a mistake, because that's going to end up on screen.
For a show like "Backpackers," we're in Paris, we're in Rome, we're in all these incredible places, and the background is cool, I'm sure people are going to love that part of it. But to me, one of the most important things is the relationship, 100 percent. I look at a show like "Seinfeld" -- you can shoot that show under the sea, it's still "Seinfeld."
So, for me, it was all about the relationship, and making sure you get that right, and there were moments when we're running, we're trying to get it done -- there's union rules and people are tired and this and that, but you still need to know that you've got to slow down and get it till it's right, because when you get home and you're in the editing room, you shoot yourself in the foot worrying about a lighting problem rather than a scene being right.
You've been producing your own Web series, "Living in LA with Dillon Casey," for a few years now, so you've had some experience with web content. What do you think the appeal of the Web is; what's the selling point for creatives who want to do this kind of project themselves?
It's so hard to get a show made on television these days, and there's so much competition. So much is out of your hands, and there's such a formula to it that if you don't fit the exact formula and you don't immediately have an audience based on some flawed ratings system, by the third episode, your show's off the air. You don't get another chance. The good thing about the net is that it's still in the experimental phase, so you can take advantage of that and be able to create things with a lot less rules.
It is hard to find an audience -- it's always hard to find an audience. There's a billion people on the Internet, but I think you get to have more control over your content, and you're able to reach out to your viewer a little more directly. You can count the views, people will comment right then and there, and myself, if I upload an episode of the Web series I did, I'm not ashamed to say that I'll sit in front of my computer and refresh it for hours to see who's watching it, what people are thinking of it. You don't get a round of applause when you do television. People are watching it ... but what's happening [on the Web] is that you get that instant reaction, which is nice.
You feel more connected to your consumer, and for a producer, once you're able to connect to your consumer directly, that helps you with advertising and making money, so you know exactly what your show is, exactly what the market is. I think it's one of those things where Internet and television are merging into one -– look at Netflix, they're virtually going to be one and the same.
Switching gears for a moment, did you know that fans are still mourning your death on "Nikita"? I still get tweets and comments lamenting Sean's demise.
Are they still doing that? I'm glad that I didn't become one of those characters that they were happy to see go. It's cool. I had fun doing the show. He died well, and it was very sad ... That's kind of flattering. "Nikita" fans are great. I don't know what's going to happen now. I don't know if Alex [Lyndsy Fonseca] and Owen [Devon Sawa] are going to hook up ... I talked a little bit with Shane [West], and he's said that filming's going really well, and they're sad to see it go, because it's only six episodes, but they feel they can wrap it up nicely and do a good job, so that's nice to hear.
Lastly, what's your advice for people wanting to create or star in a Web series? What should people know before getting involved?
A lot of people, they want to hang out with their friends, and they have all these inside jokes and are like, "This is funny, we should film this!" That becomes a Web series. But you still need to be original. You can go buy a camera and shoot it, just make it original, and just have fun. I mean, I wouldn't want anyone following my advice ... [Laughs.] Just don't be afraid to experiment. It's the Internet -- you can put it up, you can get a reaction, you can take it back down. Their attention span is a double-edged sword. You get a really low attention span [in viewers], so you can put something up that's horrible and get rid of it the next day, put up something else. It's free to upload, download, so just keep making them till you hit your stride, is what I would say.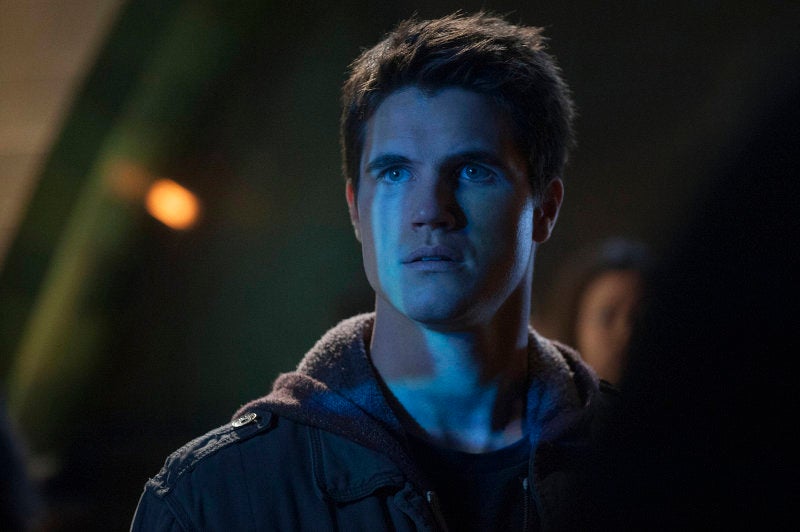 The CW's New Shows 2013-2014
Related
Popular in the Community