WASHINGTON ― The federal government on Friday seized Backpage.com as part of a law enforcement crackdown on the classifieds website that had come under fire because of its use as a marketplace for sex work.
A federal grand jury indictment that had been expected to be unsealed on Friday evening remained sealed as of Saturday morning, but an attorney for Michael Lacey ― the former editor of the Phoenix New Times and the founder of Backpage.com ― confirmed to the Arizona Republic that his client was one of those named in the 93-count indictment. FBI officials in Phoenix confirmed earlier on Friday that they had raided Lacey's home.
The Republic reported that the home of Jim Larkin, the former publisher of New Times, was also the scene of an FBI search. The total number of defendants named in the sealed indictment is not currently public information.
A message on Backpage.com said the website had "been seized as part of an enforcement action by the Federal Bureau of Investigation, the U.S. Postal Inspection Service, and the Internal Revenue Service Criminal Investigation Division, with analytical assistance from the Joint Regional Intelligence Center."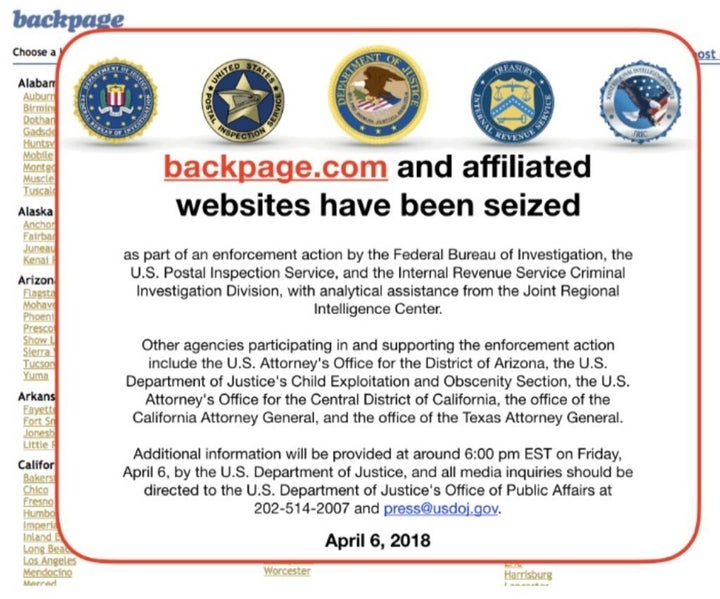 The shutdown of Backpage has already caused a major stir, particularly on Twitter. Many Backpage users and their allies are discussing the financial ramifications of the move, including the loss of funds used to purchase ad space on the site, with more than a few individuals worried about refunds.
Craigslist and Reddit shut down personal ads after the Senate passed a bill that gave sex trafficking victims and prosecutors more power to sue sites that allow sex trafficking ads. One recent paper argued that online adult classified ads helped save lives, tying a drop in female homicides to the creation of Craigslist's "erotic services" section.
"I think there's a tremendous amount of voluntary sex work, and I believe it's the majority of the market," Baylor University economics professor Scott Cunningham told HuffPost's Angelina Chapin in a recent interview. "But if you conflate voluntary sex work with sex trafficking, this liability involves all of the sex work ads. Part of what's going on in this bill is basically to treat all sex work as the same thing."

Support HuffPost
The Stakes Have Never Been Higher
Popular in the Community