I had the opportunity to sit down with Adore Delano backstage after her show at the TLA in Philadelphia, Pennsylvania. We chatted social media, ex-boyfriends, her new album, and why she wants to kill Bianca Del Rio.
What do you experience when you get off the stage? Adore Delano: Sweat. Sweat everywhere. I imagine my balls smell like bleach and how much I need to shower. I don't want to hug anyone because I sweat a lot.
How was tonight's show for you?
Tonight was fun! They are always fun. These little shows, they are always intimate and really cool. You see a lot of people from Twitter and Instagram and you put their faces to the names. Like that one guy that came up and was like, "I am BoB_FAGET." I know you're BoB_FAGET!
He is a guy on Instagram. He has the name BoB_FAGET. I was so jealous of that and I told him that. I recognized him instantly. It's so weird but really neat that I get to travel and meat these mother fuckers in person.
You have a really good relationship with your social media following.
Fuck yeah! You have to man. From the beginning, that's all I had. No one would come to my drag shows before Drag Race but I had a big social media following because I knew had to work it. I am very active on social media.
I think you have the biggest social media following of any of the Drag Race contestants. Is this true?
Yeah. It is awesome. It is a cool feeling. When you see shit like that, it's good to know that people actually get it. That's what you really need to focus on. I'm learning. Just to shut my mouth, and learn that the positive overcomes the negative.
Well I saw you posted on Facebook about last night's show this morning. About being nervous before your show. What happened there?
I was just being a baby. I was kind of scared. It was our first show for this run of this tour. These venues aren't really selling out. But I went to a show when I was 14 to see the Distillers, and Brody was performing in front of 50 people. They are one of my favorite bands ever. And she fucking slayed. I was thinking about that. And my band last night was like, "Who the fuck cares if no one comes? We are making music. We are having fun. Take a shot and shut up and have fun."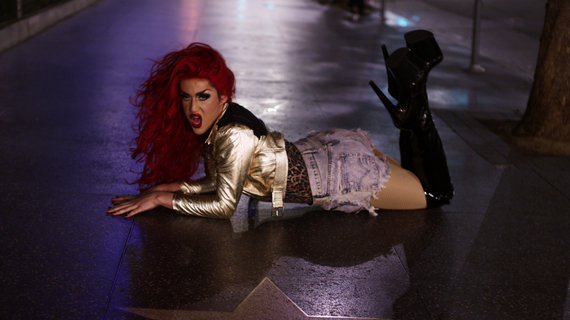 What happened with that Raven and Delta drama that happened on their Fashion RuView show?
Oh god. Delta and I go back. She is like my home girl. Her and I are the only Mexican American contestants to be on the show. I only know that because she would bring it up all the time. She is cool. But my feelings were hurt. Even though people said that, "You signed the contract to let them do that to you." But when they act like they don't get it, it just hurts. I have so much respect for them and I look up to them. Raven was the first drag queen I had ever seen. Her and Detox in LA when I was baby. I respect Raven and Detox so much. So it hurt my feelings.
What do you think of when I say Raven?
Artist. She is a fucking awesome makeup artist. She is very talented and creative. She is very inspiring. Before Sharon Needles a lot of people were emulating Raven's makeup and style. Sharon then kind of changed that. She made it cool to be edgy and weird. But, Raven is beautiful.
You had a boyfriend but said on stage tonight you are now single. What happened there?
Distance. He lives in Australia. When you get in a relationship like that that is long distance, it is really fucking hard. I am on the road. I was being faithful. My mom says, "Don't ever love anyone more than they love you." And that has been in my head since I was a kid. I was feeling it was one sided. If you are not sure that you are in my love with me, I can't do "I'm not sure".
Are you guys still friends?
Yes. Very much so. And I love his mom. My family fucking adores him. So that was hard. When I told my brother, he was the most upset. They all love him so much. He (Kristian) is a good kid. He is a sweetheart. Just chill.
A new album! When is that coming out?
Probably the same time this one came out last year. We are working on what producers to work with. We are writing a lot of shit. Working with the same writer, Ashley. She is awesome. Yeah, just touring. I just want to make music. And see these little fuckers. My fans.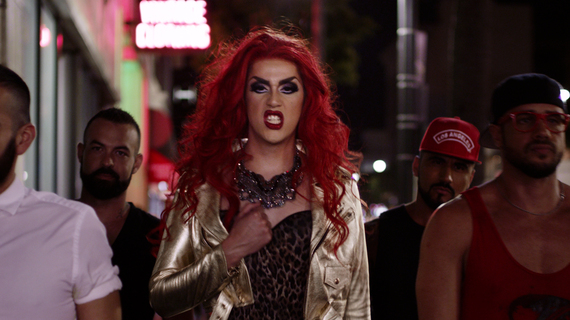 Let's play some rounds of kill, marry, fuck. First round: Darienne Lake, Courtney Act, and Bianca Del Rio.
Why? I can't kill them! Those are my home girls. Oh no! I don't know who to kill. I like them all. Who should I kill, John (Adore's assistant and cousin)?
John: Bianca would kill you.
Because then you would have won.
Yes. I want Bianca to die of old age so I can take the crown. I would then marry Darienne. And fuck Courtney.
I like that. Jink Monsoon, Raja, or Sharon Needles?
I guess I'd fuck Raja. I just don't want to marry any of them. I'll marry Jinkx but then I would probably divorce her because we would just be singing all the time while making eggs in the morning.
What would you be singing?
She will be singing show tunes and I will singing, "Shut the fuck up!" No, I love Jinkx.
For more information on Adore and where she will be performing in 2015, visit www.adoredelano.com.
Popular in the Community