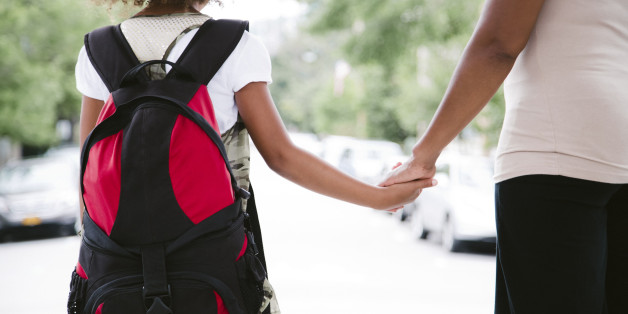 It's back-to-school time, and parenting expert Jessica Lahey has some great ideas to share about the importance of helping your children get organized in order to avoid angst. For any parent who struggles to stay organized this time of year her "Simple Student Routines for Back-to-School Success" is full of practical ideas.
But organization isn't the only source of angst children may face this time of the year. A new school year can bring new classmates, new teachers and for some, a completely new school. The new-ness can be overwhelming, and many students experience social anxiety. It's easy for parents to ignore or downplay this anxiety in the quest for new clothes and school supplies, figuring out bus routes, scheduling sports and activities and more.
But it's important to talk to your children about how they feel about going back to school for two reasons.
First, students who are distracted or uneasy have a harder time focusing on their studies.
Second, talking to your children about feelings, such as anxiety about a new social setting, is an important part of helping them learn how to identify and constructively manage their emotions. Children who are overly anxious about school can sometimes deal with their feelings in unproductive ways, from feigning sickness to suffering quietly to bullying others in an effort to feel more powerful. By talking with them about going back to school, you can help them understand that it's normal to feel anxious about new situations. If they are feeling anxious, get some details: Are they worried about the workload, making new friends, taking the bus for the first time, making the cut on a sports team or the band? Once you know the specifics, you can help them figure out how to productively deal with their anxiety.
Equally important, talking with your children about their own feelings is also a great way to help them consider how others are feeling -- which builds their sense of empathy. Maybe they're not feeling insecure, but other students may be, like the new kid in the class. Back to school can be a great opportunity to help your kids expand their circle of concern and to think about the feelings and well-being of people beyond their immediate friends and family. For example, you might suggest they keep an eye out for a child who seems sad or lonely and reach out to them.
Whether or not your child is feeling anxious about the start of school, you can use this time to talk to principals, guidance counselors and teachers about the importance of creating a classroom and school that feels safe and welcoming. During your first parent teacher conference, leave time to talk about this issue. Ask how the school promotes a caring and respectful environment, find out if they have any anti-bullying practices in place, and if they routinely check in with students to see if they feel safe -- let the school know that this issue is important to you. At the Making Caring Common Project over at the Harvard Graduate School of Education, we've created a series of questions to help guide your conversation, if you're not sure what to talk about.
REAL LIFE. REAL NEWS. REAL VOICES.
Help us tell more of the stories that matter from voices that too often remain unheard.