Are you a parent getting ready to send your kids back to school for the year? Or a teacher shopping for classroom supplies? You might want to check out Yoobi, a new company that creates fashionable products with heart. For every Yoobi item sold at Target and online at Yoobi.com, the company donates supplies to public schools in disadvantaged neighborhoods right here in the U.S. Why not make an impact with your dollars spent on colored pencils, pencil sharpeners, staplers, notebooks, pens and erasers?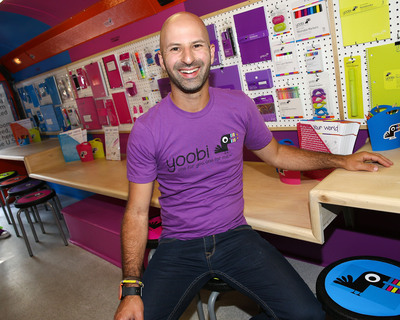 According to a recent survey by the National School Supply and Equipment Association, public school teachers in America spend an average of $500 per student out-of-pocket for instructional supplies and equipment to outfit their classrooms and make learning more fun. That's $1.6 billion per year. And the people doing this spending already are operating on shoestring budgets; elementary school teachers get paid on average just $53,000 per year for educating our nation's youngest generation.
When Ido Leffler, co-founder of the all-natural bath and body products line Yes To, found out about this problem, he felt inspired to take action. A trip to the local store to shop for school supplies with his daughters reinforced the concept percolating in his mind; all they found in the aisles were an assortment of lackluster products. Ido thought: Why not solve both problems at once? He developed Yoobi, a company that makes sassy, colorful and exciting school supplies while also giving back.
The simplest model, Ido felt -- and one that his children could easily understand -- was "one for you, one for me," as developed by Tom's shoes. It's easy for him to say to his daughter, "When we buy this package of colored pencils, a kid who can't afford them gets a set, too." Her reaction, he said, couldn't have been more validating: "Daddy, can I bring those pencils into school? I want to tell my friends about them."
For every Yoobi item purchased, the company contributes an item to a Classroom Pack, which contains essential school supplies. Together with their non-profit partner, the Kids In Need Foundation, Yoobi has identified U.S. schools with students who have the greatest need for free supplies. The goal is to distribute the Classroom Packs to over 30,000 classrooms by 2015, reaching over 750,000 kids nationwide.
When asked why creative expression is so important for kids, Ido replied, "Studies show that with the help of school supplies, students earn higher test scores, attend school more frequently, and behave better when they're in class." Ido himself recently distributed Classroom Packs to a school in need in Los Angeles, and found it an incredibly rewarding experience. "The students got so excited."

I have been a huge fan of Ido Leffler ever since meeting him aboard Summit at Sea. His enthusiasm for life and commitment to social entrepreneurship are inspiring. When I asked him what quote most inspires him, he replied, "As a big Ferris Bueller fan, I must go with this: 'Life moves pretty fast. If you don't stop and look around once in a while, you could miss it.'"
Popular in the Community