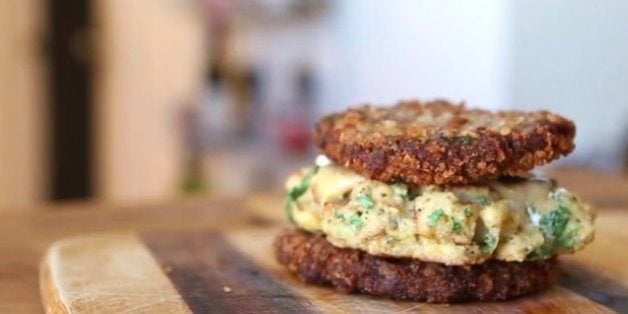 We've all had burgers, and we're always looking for a new way to make this classic dish. Well, we here at AskMen thought it would be a terrific idea to turn the classic burger inside out. That's right -- this is the new way to eat burgers and it's delicious.
French bread
Parsley
Milk
Steak seasoning
Flour
Beef
Panko bread crumbs
Ketchup
Tomato
Salad
Gouda cheese
Here's how you make it:
Start off by cutting up the bread and tossing it into a bowl along with the flour, milk, steak seasoning and parsley. Mix well, then form the bread mixture into a patty. Set your stovetop to medium-high and place the bread patty on the grill.
Next, up mix the beef with the steak spices and make patties. Cover the patties with panko bread crumbs, then lower into a medium high heat pan and cook. Once cooking is complete, stack the bread patty inside the meat 'buns' along with ketchup, tomato slices and lettuce.
Related