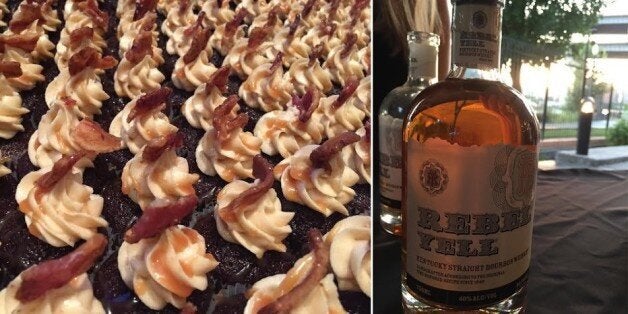 PORTLAND, Ore. -- And lo, God looked upon four fine cities in the United States, and he saw that they were good, and he bequeathed unto each of them a festival brimming with earthly delights that proved the Garden of Eden truly was a lame party.
To spread the tidings of his first-annual Bourbon and Bacon Festival, he sent a Huffington Post reporter to the Oregon Museum of Science and Industry in Portland on Saturday, the final stop in a decadent, holy tour that also included Seattle, Denver and Austin, Texas. Then he sent his disciples to bear his gifts aplenty: Four Roses Bourbon; DJ's Gourmet Foods; Hood River Distillers; 4 Spirits; Bendistillery; Andina; Blue Flame Spirits; and Tatoosh Distillery, to name a few.
They came, and they shared their wealth of spirits and bacon. And holding the bacon and the bourbon, and looking up to heaven, he blessed them, and kept giving them to the disciples to set before the people.
Hark! Dost thou not feel the buzz?
And the people came in droves, and were satisfied, and there was much rejoicing. And the reporter did ask the disciples: Why are bacon and bourbon so hot right now?
"Because sex, obviously," said Chessa Fait, 26, of Beaverton, a sinner representing Andina who doled out delicious lucuma ice cream with bacon and Bull Run bourbon caramel. "But seriously, it's the greatest combination ever. Bacon with all its fat, salty and piggy awesomeness, and bourbon with, well, bourbon. Mix that with our lucuma ice cream imported from Peru, and it's just the best."
Then, as a joke, God sent to his party a DJ who spun bad Top 40, and still they rejoiced, for the people were drunk and full.
The Lord spent extra time on certain delicacies, and the reporter did compile photos of them with notes:
Pig Candy By Fireside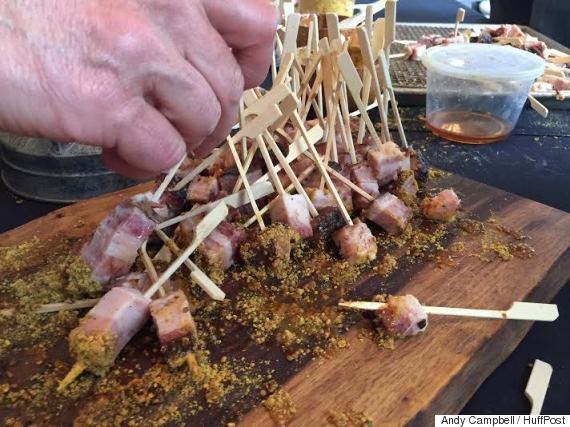 Angostura bitters made into a syrup using glucose and locally-sourced bee honey. PIG. Their love connection is as God intended. You can't find this delicious melding of flavors anywhere, unless it "pops off," as Fireside sous chef Joey Hart told The Huffington Post. Lord willing, it shall "pop off."
Tatoosh Distillery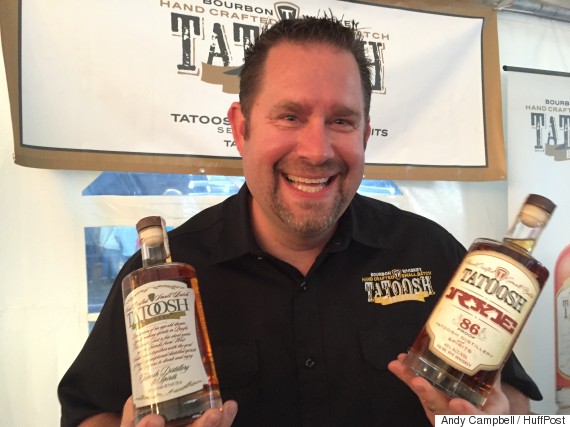 Tatoosh launched in 2008 with a bourbon that's hailed in top Seattle bars for its simplicity and mild spice, yet bold flavor. 'Tis a drink-all-night bourbon that goes down like lemonade. Tatoosh co-founder Troy Turner said he regularly has parties where only cigars, bourbon and pig are allowed.
"Bacon and bourbon are medicinal, baby," he said. "They go together like peas and carrots. Bourbon has the sweetness, bacon has that acidic and salty flavor and they go hand-in-hand."
Bacon cupcakes by Hungry Heart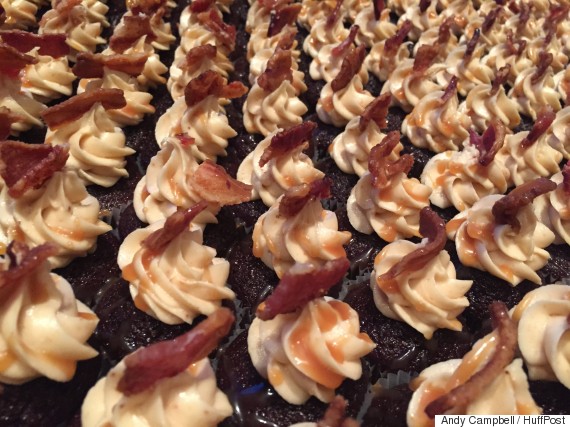 Sweet and salty is important. Hungry Heart worker Ellen Robinette said she's a vegetarian, except when she's eating these beautiful bacon bad boys. We understand.
Burnside Bourbon by Eastside Distilling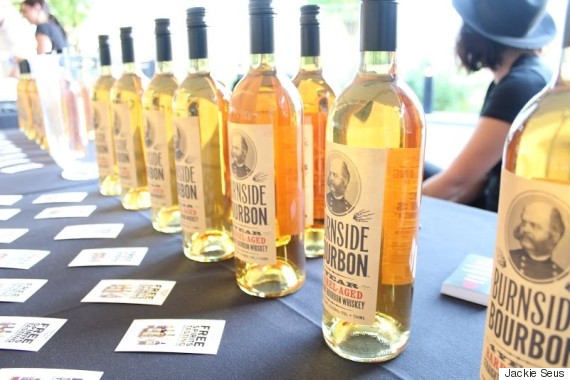 Eastside Distilling has been named one of Portland's top five distilleries (and there are many, many distilleries in the area), and for good reason. As reviewers have said, its burn will put some hair on your chest, but its balanced flavors will keep you coming back for more (and mixing it in your cocktails).
Temperance Trader by Bull Run Distilling Co.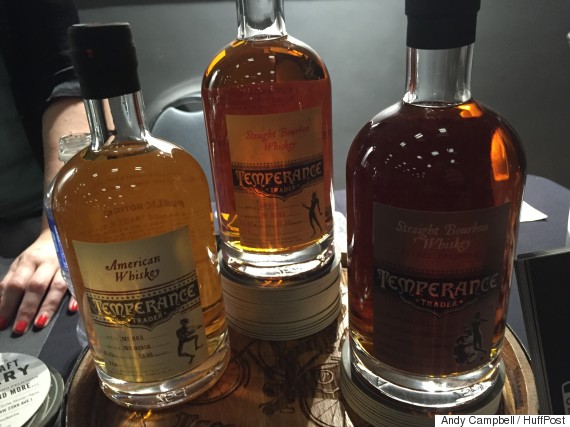 Sugar, spice, everything nice, and a swift kick in the palate once you get mid-sip. This is the top tier of Portland distilling.
Bacon and bourbon lucuma ice cream by Andina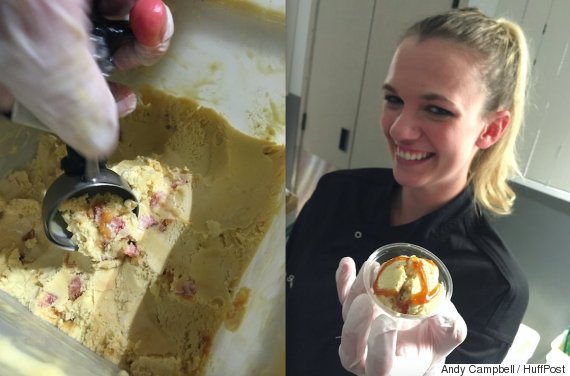 Related