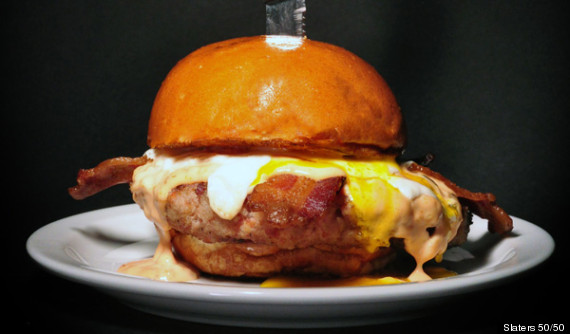 Southern California burger chain Slater's 50/50 whipped up the cholesterol-heavy item as part of its new offering, the "'merica" burger. The all-bacon patty is topped with a slice of thick cut bacon, a sunny side up egg, a new "bacon island" dressing and a heartly slice of bacon cheddar cheese.
Just last month the chain featured a Pulled Pork Burger, the month before that was a Chorizo Burger, and in months prior they've had items like an Orange Chicken Burger, a Lamb Burger and even a Chili Cheese Frito Burger back in January of 2011.
It's also worth noting that Slater's 50/50 namesake is a burger that's 50 percent ground beef and 50 percent ground bacon. Other wacky creations include the Burger Carbonara complete with creamy Alfredo sauce; the Peanut Butter And Jellousy burger and the Thanksgiving Burger topped with stuffing, turkey gravy and cranberry sauce.
In a press release, the restaurant says this is the burger that started it all: "The concept for Slater's 50/50 Burgers by Design came out of a dare at a Charger's tailgate party between owner Scott Slater and some of his San Diego State University buddies. Could a 100 percent ground bacon burger work? After some tweaking and perfecting (and a few small grease fires), the answer was yes."
Popular in the Community