Matt 'Megatoad' Stonie, one of Major League Eating's top two eaters in the world, just set the bacon-eating record by housing 182 slices in five minutes.
That's a lot of pig; Stonie estimates that he ate more than six pounds of cooked bacon, which sports more than 28,000 milligrams of sodium, according to Smithfield, which sponsored the event in Daytona, Florida.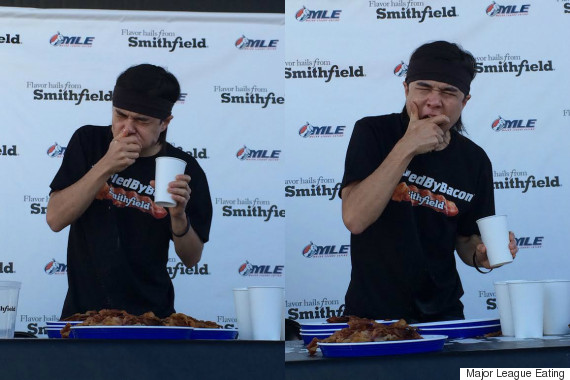 "The bacon was cooked just the way I like it -- a little crispy because I don't like having to chew it," Stonie told HuffPost Weird News after the feat. "I don't feel that bad. I'm used to 10 or 12 minute contests, where I'm eating 10 or 15 pounds of food. I came into this prepared."
Just as bacon hits its prime on the world stage, so has its champion. Stonie told HuffPost that he'll never lose his craving for the breakfast behemoth. Eating competitively is his job, and when he's stuffing his face on stage, he doesn't taste food the same.
"I feel the texture, I taste the saltiness, and I focus on getting it all down," he said. "But I love bacon, it goes with everything."
He added that he's picky about how his pork product is prepared: "It needs to be cooked perfectly. It can't be too crispy and if it's not warm when I get it, the fat coagulates into lard."
Going in, the new Baron of Breakfast didn't have much competition. MLE hasn't ever sponsored a true bacon-eating contest before, and for comparison's sake, unofficial eating groups show a measly 54 pieces of bacon as the previous "record." But Stonie needed to set the bar high today. After all, Megatoad is second only to Joey "Jaws" Chestnut on MLE's list of gustatory greats, and Stonie admits that the two waste no time in eating each other's records. EatFeats shows that the two are gut-and-gut in most competitions.
It wasn't immediately clear whether Chestnut would try to pilfer the pork record, but Stonie can rest easy knowing that today is his day. In fact, it has been his month -- he has set several records in Florida, including today's in Daytona and a 14.5-pound birthday cake eating record set in West Palm Beach on Feb. 14.
Related
Popular in the Community