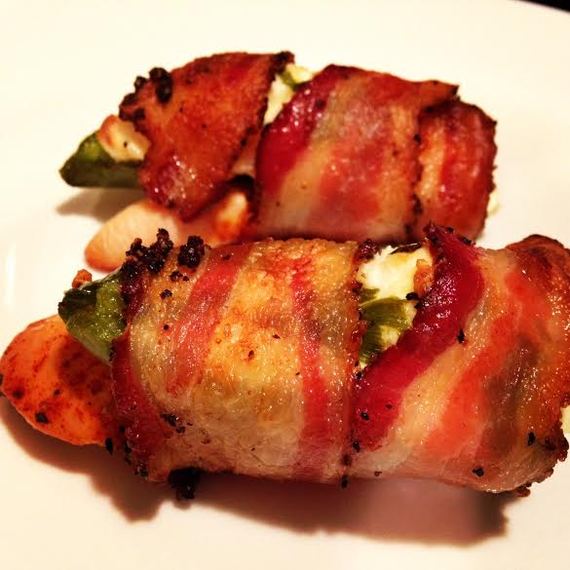 If you Google "healthy Superbowl snacks," chances are you'll get a recipe list that sounds as bad as it tastes: Quarterback Green Smoothie? Not unless Tom Brady is involved. Wait -- is he even playing in this Super Bowl? (Googling again to check... OK, he's apparently not.) Fruit Skewered with Yogurt Dip? Um, can we say touchdown into tasteless? Don't even get me started on the celery stick options.
The other extreme is not pretty either, though. Plowing through the salty, crunchy, carb-heavy snacks that Super Bowl parties are notorious for will leave you feeling like a linebacker come Monday morning. Not awesome.
So, let's talk game day strategy:
Low Carb OMG Bacon Wrapped Jalapeño Popper Bombs.
It's a mouthful, right? And oh, what a mouthful it is. As in, GETINMYMOUTHRAWTNOW!
These are my latest, greatest and most favorite low carb creation. It's like the love child of a chicken tender and a jalapeño popper. Wrapped in bacon. SCORE.
Take a pack of chicken tenderloins (or cut chicken breasts into strips) and dry them off with paper towels. (They cook evenly if they are patted dry.) There are usually 8-9 strips in a package of tenderloins. Then season with a little paprika and steak seasoning.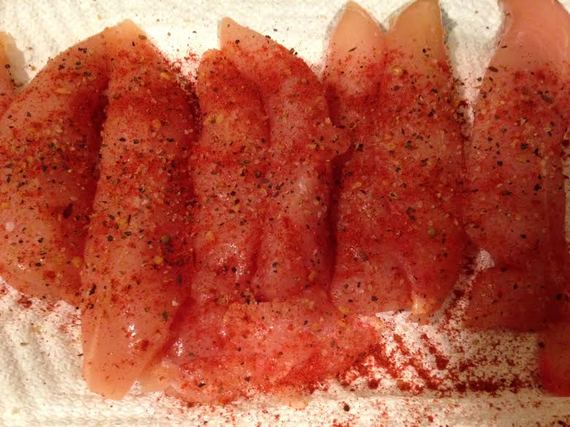 Then, cut the stems off of 4 jalapeños, slice them in half and scoop out the seeds and membranes. Fill them with full-fat cream cheese and top with some chopped chives.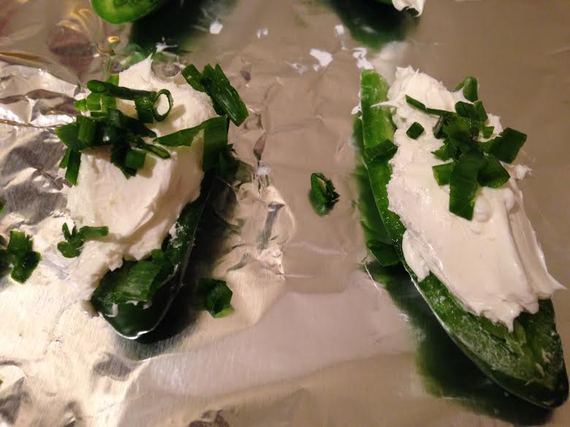 Place a stuffed jalapeño on top of each chicken strip and sprinkle with a pinch of kosher salt.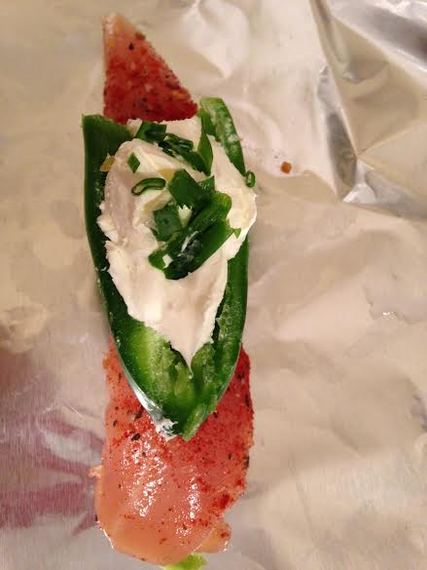 Wrap a strip of bacon around each chicken popper. (I used Burgers' Smokehouse Peppered Country Bacon and it was sublime.)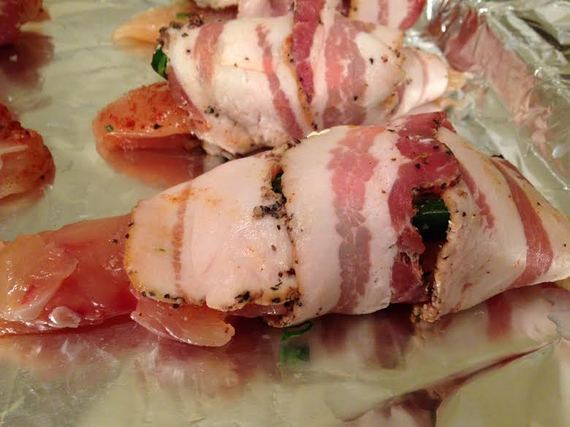 Line up your popper bombs on a baking sheet and put in the oven at 375 for 35 minutes.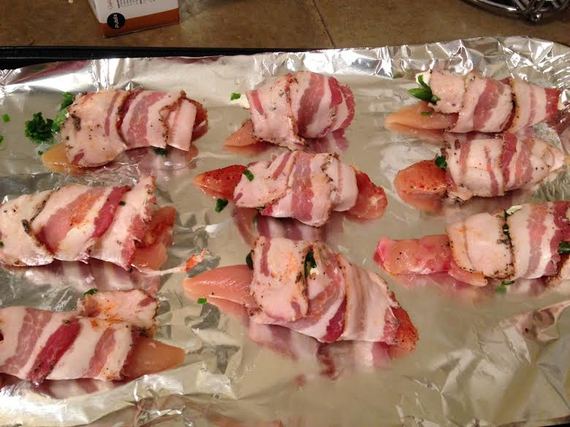 Turn the broiler on for 2 minutes and brown the top of the popper bombs.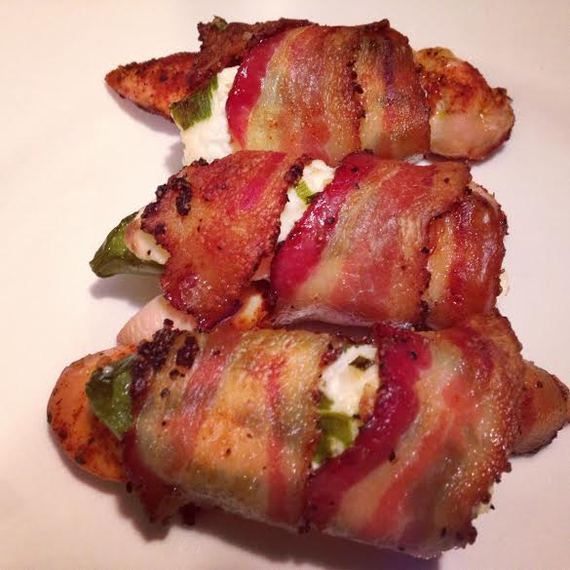 It's pretty much the perfect bite. Tender chicken, creamy, melty, spicy popper with the peppery, salty crunch of bacon. OMG. Winning! (No matter who you're rooting for.)
1 package of chicken tenders/tenderloins
4 jalapeños (stems cut off, sliced in half lengthwise with seeds and membranes scooped out)
4 oz of full fat cream cheese (about 1/2 a pack)
8 strips of bacon
2 Tb chopped chives
1 tsp steak seasoning
1 tsp Paprika
pinch of kosher salt
1. Preheat oven to 375.
2. Dry off chicken tenders with paper towel and sprinkle them with paprika and steak seasoning (about a tsp of each for the whole pack).
3. Stuff cream cheese into the jalapeños and top with chopped chives.
4. Place each stuffed jalapeño on top of a chicken strip. Sprinkle top of jalapeños with a pinch of kosher salt.
5. Wrap each "popper bomb" with one slice of bacon.
6. Put popper bombs on a foil lined baking sheet.
7. Bake at 375 for 35 minutes.
8. Turn broiler on high and broil popper bombs for 2 minutes to crisp up the bacon.
Related