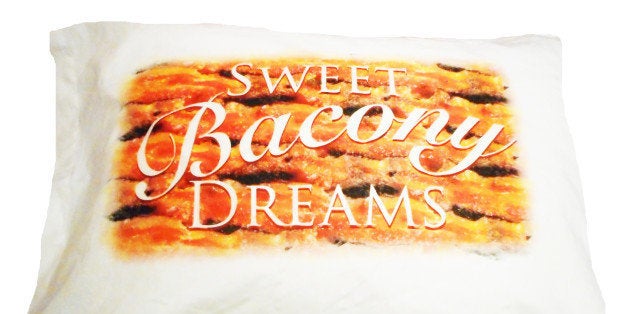 "The inspiration for Bacon Pillowcases came when I got a 3 a.m. bacon craving and went to the fridge and cooked myself a plate of bacon," J&D's spokesman Dave Lefkow told The Huffington Post. "I woke up later with the scent of bacon still in my house, and I felt pretty incredible, like I could chop down a tree with my bare hands or put a grizzly bear in a full nelson. I wanted this feeling every morning."
According to its website, the company used "advances in printing technology [it] stole from NASA" to embed the scent in the pillowcase's ink. If the item's washed correctly -- only in unscented detergent and separately in warm water -- the scent should last for 6-12 months.
The bacon-scented pillowcase retails for $12.99, and apparently, it's pretty popular: "Due to the incredibly high demand for this product, please allow an extra week for shipping," the site reads.
"I have one and haven't tried eating it in my sleep yet," Lefkow said. "I have been waking up really hungry, however!"