One San Diego couple tied the knot Sunday, united by their love for each other -- and bacon.
The couple, who bonded over their love of Puerto Rican pork shoulder, walked down a bacon-printed carpet to the altar, where local radio station Star 94.1 DJ Jesse Lozano officiated the ceremony, according to a press release. Dunvan carried a bacon bouquet and Quinones wore a bacon boutonniere. Guests celebrated by tossing bacon bits instead of rice, and enjoyed a bacon-themed wedding cake and a maple-glazed donut covered in bacon bits.
The newlyweds were also gifted with a honeymoon in Baltimore, where they will be the guests of honor at the annual Pigtown Festival.
But they're not the first couple to bring their love of bacon to their wedding -- "Big Brother" contestant Adam Poch's wedding featured a bacon-themed menu and tables decorated with bowls of bacon bits. Another man proposed to his girlfriend using bacon in the shape of a heart.
Click through the slideshow below to see photos of the pork-themed nuptials, courtesy of Star 94.1 and the Big Bite Bacon Fest.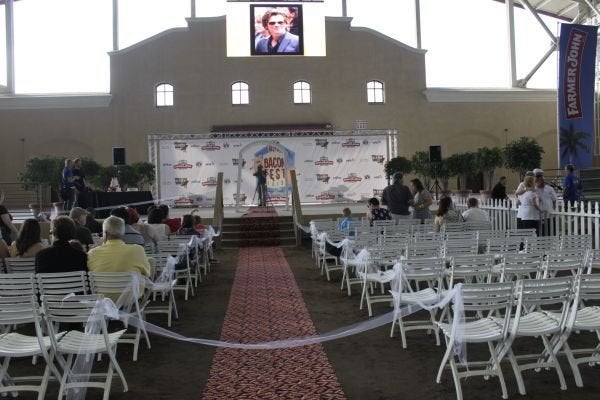 Big Bite Bacon Fest Wedding