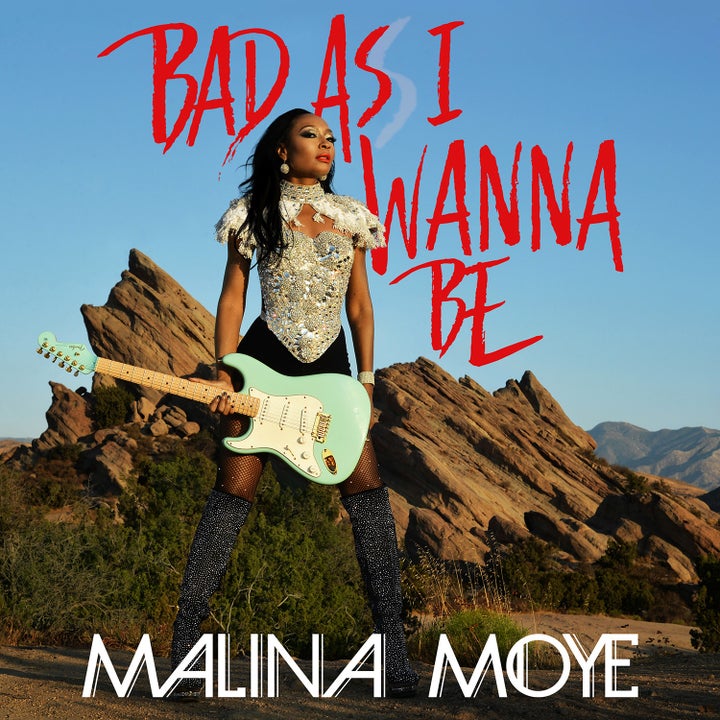 When Eric Clapton declared recently that "maybe the guitar is dead" he clearly didn't consult Malina Moye, the maverick left-handed axe slinger who is inspiring new generations of electric guitar players to rock on. Featuring her signature fusion of rock, funk and blues, Moye's eagerly awaited new album, "Bad As I Wanna Be", is set to drop in March 2018. Over the past decade, Moye has received acclaim for her trailblazing work and was named one of "The Top 10 Female Guitarists to Know", by Guitar World Magazine. In a career that's spanned the globe, she's performed for the Queen of England, played in the Experience Hendrix Tours, and been featured at the Rock and Roll Hall of Fame's tribute concert for music pioneer Chuck Berry. Her "Led Zeppelin meets Sly and the Family Stone, with a little bit of Hendrix thrown in" 2014 record "Rock & Roll Baby" (which featured funk icon Bootsy Collins and was dubbed "insanely good" by Guitar Magazine) garnered three Billboard charting singles on various charts in the Top 40.
Moye describes her upcoming album as a "celebration of self [and the cover] image personifies an empowered woman who is her own super hero." As one of the only internationally renowned African American women rock guitar players, Moye is acutely aware of the role racism, sexism, and white supremacy play in stunting the careers of women of color in the music industry. Despite posthumous acknowledgment of the influence of rock guitar pioneer Rosetta Tharpe, there are no black women or women of color on Rolling Stone's "Top 100" guitar players list. And for the largely white male gatekeepers of RS, only a few white women merit inclusion in the pantheon of blues and rock "gods" who have sold mega millions, influenced scores of musicians, and indelibly shaped global pop culture. As Moye notes, "Because of where we are as a nation, it's obvious there are still underlying prejudices in America's DNA. I feel sometimes it's important to start a conversation about issues like the absence of diverse women in certain areas of the music industry. It's about redefining the status quo and being unapologetically you."
In a hyper-segregated industry that has long thrived on ripping off black folks' invention of rock music, Moye is constantly innovating, collaborating, and wrecking respectability politics. During our recent interview about her new album we discussed her upbringing as a musical prodigy, the need to mentor black women and girls of color, and the perennial question of "Why (it) is that our people feel rock is not part of our black culture?"
How did you start playing electric guitar and what messages did you receive about playing this "male" instrument when you were growing up?
My mom and dad were big influences. I grew up in a musical family and my dad gave me a guitar at seven years old but I didn't really take to it until nine. He gave me a right-handed guitar, but that didn't work for me because I was left-handed, so I flipped it over and learned how to play it upside down because it felt more natural. My technique is rare. I actually play with the guitar strung in reverse (upside down) like Albert King famously did in the 60s, and like today's Eric Gales and Doyle Bramhall, who are also upside-down lefties, on the Experience Hendrix tour.
Even in the beginning, I was so focused at nine years old. I was walking my own path and following my own beat. I told my parents that I wanted to do music, turned professional at twelve, and started a band with my brothers. I was told that I was obsessed, but, in my mind, this was just normal. My cousins wanted to watch cartoons and they said I was always like, 'hey, we have to rehearse'. We would perform at night with the band and go to school in the morning.
I was born in Ohio but grew up in Minnesota in the late 80s. The Minneapolis sound merges funk, rock and soul and it is my DNA as a musician, especially growing up listening to Prince. In Minneapolis, the musicians would add distortion to the guitar which followed funk rhythm and bass lines, with elements of synth-pop. I remember my mom driving my band to one of the Minneapolis clubs as kids where I asked one of Prince's horn players to record on my album. The guy was so blown away that he brought his entire horn section to the studio and I had all the horns play on my album. That's what made me realize everything is possible—when people responded positively to what I was doing at such a young age. Growing up as one of the only black kids in school and in the community, I learned how to embrace being different than everyone else while going after what I wanted. This alone has helped me navigate in the current rock music industry and I'm thankful for it.
Who were some of your superheroines growing up? My mom Scelesteen is no joke. She didn't take shit from anybody and she told me that you can do anything in this world that you want to do. She was ruthless, amazing, and full of love, but she went through so much in life. If the house was burning down she would say 'we can have a pity party for five seconds' and then we would have to keep it moving. My grandmother was also another major influence in my life. She made sure that everyone ate and everyone knew love. We were never made to feel like we were poor and didn't have anything. I also admire Sheila Nevins, Oprah Winfrey, Michelle Obama, and any woman who actually stands up for herself and makes something work.
Who are some of your primary artistic influences? Growing up with musical parents, I listened to an eclectic palate of music spanning several decades. At home, we played Mahalia Jackson, Prince, Tina Turner, Stevie Ray Vaughan, and Michael Jackson. Recently, I'm loving Eminem and Bruno Mars.
What challenges have you encountered in the music industry vis-à-vis racism and sexism?
Certain avenues are not available to you when you're the first person doing these things. But one of the great things is now folks can create and control their product. Money gives you access to do certain things. Take Rosetta Tharpe, who was just inducted into the Rock and Roll Hall of Fame, and is now being considered the actual architect of rock music. There are few black women in rock overall and even fewer who are playing electric guitar. For instance, some great players who should be recognized more are Kat Dyson, Diamond Rowe, and Jackie Venson. We have to redefine the status quo. I want to play my part and help folks rethink how black women are perceived in entertainment. Ask yourself, which women, let alone black women, are in the top twenty on the rock charts? I want to encourage mainstream rock artists to diversify by putting other unique artists in front of their shows as support acts whom their audiences ordinarily wouldn't see. That [kind of exposure] trickles down to playlists and to radio; and maybe it will make the old guard rethink their programming. It's important to start a conversation about the lack of opportunities and representation to provide vehicles for girls of color to play music. They've cut arts out of schools and underfunded music training. In order to make those avenues happen we need to educate and force the conversation. So, with Rosetta Tharpe being inducted, maybe now black women and women in general will start to be included in the rock genre much more.
What advice would you give to young women of color about navigating the racism and sexism of the music industry? I really take to heart what Dr. Martin Luther King Jr. said about your life's blueprint: "[you should have] a deep belief in your own dignity, your worth and your own 'somebodiness'. Don't allow anybody to make you feel that you're nobody. Always feel that you count. Always feel that you have worth, and always feel that your life has ultimate significance." Everything that you do, do it in truth and try to be the best at what you do, and just know that God will always make a way. There are other people ahead of you who've made their way, which sometimes shows you that you can at least grasp an opportunity. It's important to mentor and raise up young people that are coming up. If you see other kids that are killing it, highlight them, put them on your Instagram, because that is the new medium. Find like-minded individuals and don't let anybody make you feel like you don't matter. The hardest thing in the world is to ignore what people think—good or bad. Do what you know you are put here to do and show up. When they tell you that you can't do it, still show up. Make "No" fuel you, and accept all of those life lessons which are part of your journey. If you see me with my axe doing me, that means you can do you too. My mantra is, 'Discover your super power and celebrate yourself.'
Malina Moye's album "Bad As I Wanna Be" will be released in March 2018. For more information check out www.malinamoye.com.
Related
Popular in the Community