"I didn't realize how therapeutic this film was until my friend called me crying about how much it affected her," says popular heartthrob Actor, Robert Ri'chard (Chocolate City, One on One, Cousin Skeeter) as he excitedly tells me about his hit film, "Bad Dad Rehab." which aired this past Sunday and was trending on facebook and twitter."My friend said it reminded her so much of her relationship with her father," Ri'chard shared.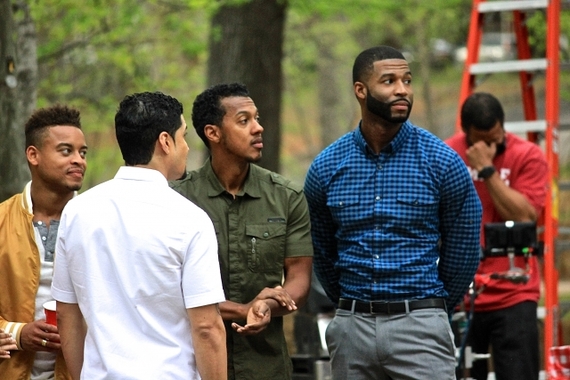 I must admit when I first read about "Bad Dad Rehab" I was a little afraid of the title. With a primary African-American cast, I thought why would any studio put out a film that could reinforce the stereotypes Trump supporters hold dear to their heart. I automatically assumed "Bad Dad Rehab" was another spin on Hollywood portraying African-American men as deadbeat dads-- a stereotype that absolutely makes me cringe considering I had a strict but excellent father who had a doctorate degree but despite his work, valued having family time and fun. I'm not ignorant to the fact that this kind of balance isn't everyone's story. I have friends who've shared their stories of how their relationships with their fathers or lack thereof has impacted them. So I was open to listening to Ri'chard and his amazing co-star, the very talented Wesley Johnson (Soul Man, Crossover, City Guys) as they spoke about the importance of "Bad Dad Rehab" which received an emotionally charged standing ovation at ABFF.
Produced by Roger Bobb's Bobbcat Films, "Bad Dad Rehab" is the winner of TV One's 2015 American Black Film Festival Screenplay Competition award and is written by Keronda "Kiki" McKnight and directed by Carl Seaton. In the movie, four men in denial of their poor parenting skills, attend a rehab for deadbeat dads that uses unusual methods to help them become true fathers and real men. The four men are fathers to their children, but not dads. Shawn (Wesley Jonathan) wants to see his kids, but his vengeful ex-wife wants the back child support he owes first. Tristan (Robert R'ichard) would rather pay out of pocket for a pair of designer sneakers than a fraction of that for his child's winter coat. Jared (Rob Riley) is a single guy who prefers to pay child support instead of pay attention to his teenage daughter. And rounding out the crew is Pierre (Rick Gonzalez) who just doesn't give a damn about his son - period. After turbulence with their respective baby mamas and ex-wives force them to take definitive action, the guys sign up for Deadbeat Dad Rehab to help them get their act together. Through all the hilarity,drama and soul-searching, the guys discover that fatherhood is less about making babies, and more about becoming men.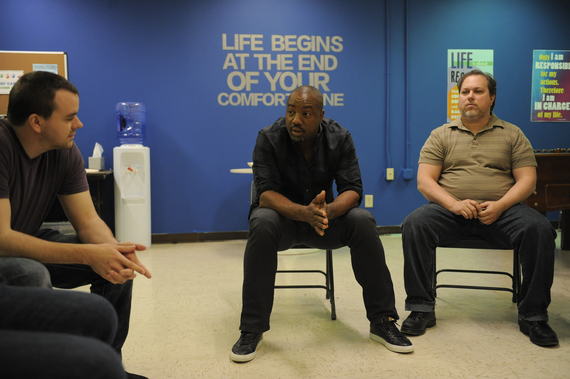 "This film open up peoples eyes to the struggles of fatherhood and the struggle moms endure too," said Jonathan. "I don't think Black fathers are portrayed that much in film--let alone negatively portrayed. When you think about it though they are positive roles out there. Anthony Anderson on Blackish, Mike Epps on Uncle Buck and Dr. Huxtable on the Bill Cosby show. I think the real focus and take away from this film is that as men we have to really step up and be there for our kids in every level. My character wanted to very much be a part of his kids life. I think its great to have a film focusing on the varied realities of fatherhood and its going to touch a lot of people's lives," shared Johnson who has a new toddler himself.
"I didn't write this to male bash, I wrote this to create a much needed conversation," said McKnight who we hope can fill the void in the lack of diverse female writers in Hollywood. This film is composed of real life stories that need to be heard."
Comedic and heart-wrenching, "Bad Dad Rehab "may open up a few wounds but like most of Roger Bobb-produced films and projects, this movie is only a photograph of reality, capturing an issue that is very real but perhaps will create a pathway to change and healing as a result.
Calling all HuffPost superfans!
Sign up for membership to become a founding member and help shape HuffPost's next chapter