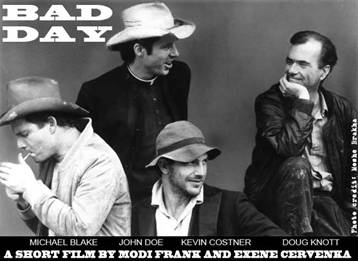 Before he danced with wolves, Academy Award winning actor/director Kevin Costner made a never-before-seen movie that's being released today after nearly 25 years in a vault: Bad Day, directed by the award-winning rock video director, Modi Frank, and photographed by punk rock queen, singer, poet and visual artist, Exene Cervenka, co-founder of the seminal band X. The duo are releasing the cowboy-themed short as a digital downloaded for a "you decide" amount. A portion of the proceeds will benefit Gulf charities providing aid to both people and the environment. Exene and Modi said:
We are both so proud of Kevin and grateful for all he's doing to help in the Gulf.
Bad Day is also a collaboration of formats-punk rock and two-reel Western silents, black and white film stock meeting the Internet at a time when digital is the format du jour. The advent of downloading videos provided the perfect format to release Bad Day, allowing this moment of artistic collaboration to reach its target audience. Says Exene:
It was a blast to write, envision and then film. We have talented friends, all up for a project, and we froze a moment in history. It was one of the best times Modi and I have ever had... We've talked about releasing Bad Day over the years, but now with the internet we have control over distribution with digital downloads. We want the world to see it and enjoy.
Popular in the Community