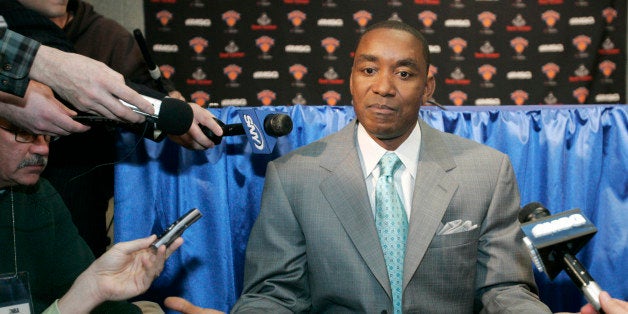 Last week, James Dolan -- chairman of Madison Square Garden (which owns the New York Knicks) -- proposed that Isiah Thomas be named president and part-owner of the New York Liberty of the WNBA.
This immediately struck many people as an awful choice. Thomas was hired by Dolan in December of 2003 as President of Basketball Operations for the Knicks. And before he exited in 2008, Isiah presided over a team that frequently ranked towards the top in of the league in both payroll and losses. In addition -- and this was the more important issue for many -- in 2007 a jury ruled that Thomas sexually harassed Anucha Browne Sanders (a former executive). And as a result, Browne Sanders was entitled to $11.6 million in damages.
To hire a person to lead a women's basketball team who was found guilty of sexual harassment seems, at a minimum, to be immensely tone-deaf. For others, it is the worst decision Dolan has ever made. But Madison Square Garden issued an explanation:
We did not believe the allegations then, and we don't believe them now. We feel strongly that the jury improperly and unfairly held Isiah Thomas responsible for sordid allegations that were completely unrelated to him, and for which MSG bore responsibility.In fact, when given the opportunity, the jury did not find Isiah liable for punitive damages, confirming he did not act maliciously or in bad faith. We believe Isiah belongs in basketball, and are grateful that he has committed his considerable talent to help the Liberty succeed.
So Dolan's position is that the jury was wrong. Unfortunately -- as Anucha Browne Sander's statement in response to Dolan makes clear -- the above statement misrepresents the outcome of this trial. In other words, Dolan's position does not seem consistent with reality.
For those familiar with Dolan's decision-making with the Knicks and Liberty, this may not be surprising. For example, the above statement from Dolan also insists that Thomas has "considerable talent" and he can "help the Liberty succeed."
Dolan, though, already has a history with Thomas running a basketball franchise. This is how this history was described in Stumbling on Wins (a book I wrote with Martin Schmidt).
In the four complete seasons with Isiah leading the team, the Knicks only won 112 games. This works out to only 28 victories -- and 54 losses -- per season. Only two teams -- the Atlanta Hawks and Charlotte Bobcats -- were less successful during the Isiah years in New York. Atlanta and Charlotte, though, ranked last in the NBA in payroll, combining to spend only $339 million on player salaries. In contrast, Isiah's Knicks spent $442 million on players, a mark that led the NBA across these four seasons. To put the level of inefficiency in perspective, in these same years the San Antonio Spurs, Miami Heat, and Boston Celtics spent between $245 and $258 million on playing talent. These were the three teams who won the NBA titles -- the titles Isiah was hired to win -- from 2005 to 2008.
Why was Isiah so unsuccessful? As Martin and I explained, the players Isiah chose to hire tended to be like himself. As an NBA player, Isiah tended to lead his teams in scoring. And the players Isiah liked to hire, such as Stephon Marbury, Jamal Crawford, Eddy Curry, Quentin Richardson, and Zach Randolph, tended to be above average scorers. But a player's contribution to wins is not simply about scoring totals.
Wins in basketball are primarily about gaining and keeping possession of the ball (i.e. forcing your opponent into turnovers, grabbing rebounds, and avoiding turnovers) and turning those possessions into points (i.e. shooting efficiently). Players can score by shooting efficiently. But more often than not, Isiah hired players who scored by simply taking many shots. And the operative word is "taking". The more a player shoots the less his teammates will shoot. So a player who takes many shots is simply taking shots from his teammates. In addition, if that player doesn't shoot efficiently, he is not really helping his team win.
After Isiah left the Knicks in 2009, the team made some effort to go in a different direction. In 2011-12, the Knicks added Tyson Chandler, a rebounding big man not known for scoring. And for 2012-13 the team added Jason Kidd, a point guard who excelled at passing and rebounding but was also not known for scoring. With these two players, the Knicks managed to win 54 games and advance out of the Eastern Conference first round.
But after 2013, the team once again returned to its emphasis on scorers. Kidd retired from basketball. And former first overall pick Andrea Bargnani -- a player known for scoring but not much else -- was added to a roster that already had Carmelo Anthony and Amare Stoudemire. Behind this group of scorers, once again the Knicks had a large payroll and few wins.
One should emphasize, that this is the same story behind the Liberty. The Liberty in 2014 added Tina Charles. Like Carmelo Anthony, Charles is an All-Star and a scorer. But like Anthony, Charles is in not an efficient scorer. In fact, her shooting efficiency is below average for a WNBA player. Consequently (again, like Anthony), Charles doesn't produce as many wins as her star status would suggest. Specifically, in 2014 she ranked 3rd in the league in points scored. But in terms of Wins Produced (a measure of how many wins a player contributes to a team that is calculated for the WNBA very much as it is for the NBA) she only ranked 19th in the WNBA. And behind Charles, the Liberty (much like the Knicks) lost more often than they won.
When we look at Dolan denying the reality of a sexual harassment trial we should keep in mind that this behavior fits a pattern. His teams keep doing the same thing over and over again. And the results are the same. The good news for fans of the Liberty is that the WNBA says it is investigating the choice of Thomas. Clearly, given the issue of sexual harassment Thomas should not be allowed to run this team (a point ESPN's Pablo Torre eloquently made on Sunday). But given Dolan's past decision-making it seems unlikely he is going to recognize why this is yet another bad decision.
Related
Popular in the Community