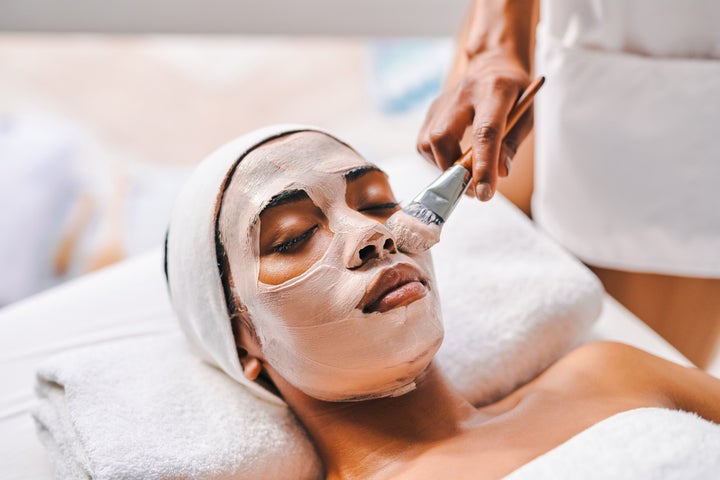 Few things can feel as good as a facial, especially when it leaves your skin glowing and healthy. And because aestheticians have access to more potent concentrations of certain skin care ingredients, like acids, they can do things to your skin that you might not be able to do at home.
No matter what your reason is for getting a facial, you should be able to rely on your facialist to provide a safe, comfortable environment. Unfortunately, this isn't always the case. A negative facial experience can not only leave you feeling more stressed afterward but can be detrimental to your skin.
We interviewed several aestheticians to learn what red flags to look out for before, during and after a facial. Here's what to look for, straight from their mouths.
1. Only one skin care line is being used.
Some skin care brands (like Dr. Barbara Sturm or SkinCeuticals) have their own dedicated facial studio, which is great. But unless you're visiting one of those places, your aesthetician should be switching up the products.
"If you see that your aesthetician is only using one skin care line, this is probably a bad sign. The options will be limited within your treatment if your provider is bound to only one product line. It could also mean that they will be more motivated to push these products on you and sell you more than you need." — Dali Gandara, a SkinSpirit aesthetician based in Beverly Hills, California
2. The studio has poor (or no) hygiene standards.
"It's a huge red flag if there are no sanitation systems visible in the room. This can include things such as Barbicide containers, autoclave machines and individual disposables (facial sponges, cotton/gauze, bedding). Generally, pay attention to whether a salon or spa does not appear clean, if trash cans and work surfaces are not attended to, and if the staff are in plain, casual clothes as opposed to a uniform, apron or scrubs. These could all indicate that they do not follow strict protocols in other areas. Also, equipment and bedding should be sanitized and cleaned in between clients. Pay attention to state licenses and other training certificates. If these are not confirmed or visible, you might assume that there is a lack of training or unlicensed staff performing facials on your skin." — Fatima Lalani Rosa, an aesthetician and the owner of Face. Brow & Beauty Bar in Miami
"If you don't see or hear your aesthetician wash their hands right before your treatment, this is a very bad sign. Your aesthetician should be washing their hands before the start of your treatment to avoid contaminating your skin, with or without gloves." — Gandara
3. The aesthetician uses over-the-counter products.
"One major benefit of visiting an aesthetician is being treated with more powerful products than you would use at home. Our aesthetics licenses allow us to purchase professional products with higher concentrations of active ingredients such as TCA and other acids. Consumers only have access to retail products that are effective for home care maintenance while skin care professionals are able to purchase treatments that can penetrate the deeper layers of the skin to bring about quicker, more efficient results." — Essence Moore, an aesthetician and the owner of Lineage Studio in New York City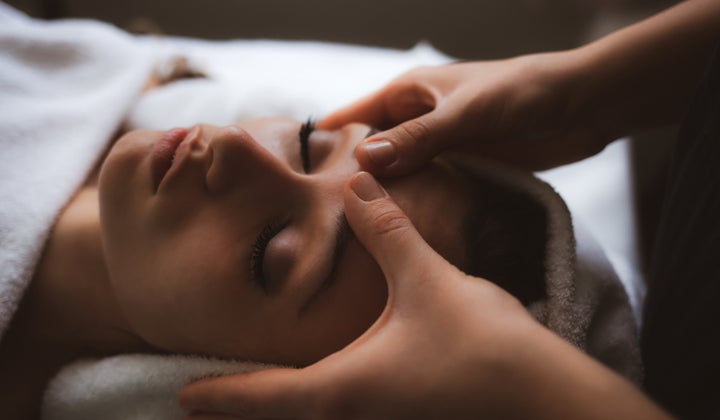 4. The aesthetician has long fingernails.
"If your aesthetician has long fingernails, it's a red flag. Long nails are more likely to scratch and damage the skin during treatment, especially during extractions where your clogged pores are being cleared. If the skin is scratched, it is possible that scarring could occur. It is also likely that your aesthetician is doing multiple treatments, on multiple people, per day. Bacteria is more easily trapped underneath long nails, making it possible for that bacteria to be picked up from several different people and collected underneath long nails. Transferring bacteria from person to person by long nails could lead to the development of new breakouts or worsening existing breakouts. It is best to choose an aesthetician with clean, short nails for the best overall experience." — Amber Shal, an aesthetician and the founder of Flora Spa And Aesthetic Bar in Pittsburgh
5. The prices are too cheap.
"The saying 'you get what you pay for' couldn't be any truer when it comes to getting a facial. You cannot find a microdermabrasion or microneedling treatment for $50 unless the technician has re-used the same tip on multiple people. Doing this can pose a serious health risk. Personally, I have seen an aesthetician microneedle two people with the same microneedle tip — this is how one can spread viruses." — Natalie Aguilar, a Los Angeles-based aesthetician
6. The aesthetician doesn't offer after-care instructions.
"Part of an aesthetician's job is education so that you, the client, can continue to take care of your skin in between appointments. Your aesthetician should be taking notes on what has or hasn't worked for you in the past so that they can make recommendations on products you can use to care for your skin at home. Post-facial care is just as important as the facial itself, and it's important for you to know about things like building the correct skin care regimen, layering products, exfoliation, and night care versus day care after your treatment." — Janna Ronert, an aesthetician and founder of Image Skincare
7. You're experiencing deeply uncomfortable extractions.
"Some extractions will for sure feel uncomfortable — for instance, the nose is a sensitive area and it can feel like a constant pinch if extractions are being performed there. With that in mind, if an extraction feels like any gunk is going further into the face, then it probably is and probably shouldn't be extracted at that time. I've seen too many extractions go too far. You should be kind to your skin and your aesthetician should be kind to it too!" — Ian Michael Crumm, a celebrity aesthetician based in New York City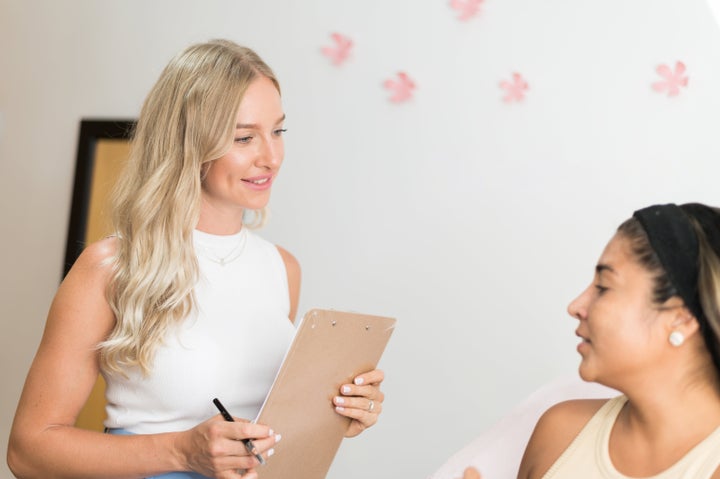 8. You're not asked to fill out any intake forms.
"If you schedule a facial and you are not asked to fill out any paperwork indicating your medical history, social history or anything related to your skin, that is a big red flag. I cannot perform any treatments on any patient without a dive into their individual medical history. What most people don't understand is that some ingredients in products that we use in our facial services can cause significant problems if you are taking certain medications. Additionally, if you have certain active uncontrolled medical conditions like high blood pressure, diabetes, are in active cancer therapy, or have bleeding disorders, we cannot perform certain treatments.
If you have implanted medical devices such as a pacemaker or defibrillator, and someone goes to use a microcurrent treatment on you, you are in a serious situation because that is a contraindication for treatment. Also, if you are pregnant or actively trying to become pregnant, ingredients like salicylic acid or retinol cannot be used, and that is just to name a few. If someone does not understand treating skin of color and is too aggressive with things like deep exfoliation or chemical peels, you can potentially burn and/or scar a patient." — Joelle O'Connor, an aesthetician for Schweiger Dermatology Group in Hackensack, New Jersey
9. Your facial involves extreme heat.
"If your facial involves extreme heat, you are in trouble. The water, the towels and the steam (if the aesthetician is using a steamer) should all be cool to lukewarm. Extreme heat applied to the skin only causes damage like broken blood vessels, broken tissue and inflammation. Hot water can also dry out and crack the skin, and can pull hydration from your natural skin barrier. Even worse, if the facial is followed by heavy exfoliation, this can further exacerbate this situation. Sensitive, reactive, irritated, and dry skin types are much more likely to see extreme reactions to extreme heat." — Melanie Simon, a Los Angeles-based celebrity aesthetician and the creator of ZIIP Beauty
10. Your facial begins with extractions.
"Your aesthetician should never start your facial by doing extractions. You should expect to be double cleansed at the very least before you start the extraction portion of your facial if that is something you requested. This is because you should first have any makeup or sunblock removed, and then a second cleanser applied to cleanse the top layer of skin and prepare it for extractions. The skin should be free of dirt and debris, as they can actually be pushed back into the pores during extractions if not properly cleansed away." — Simon
11. Efforts aren't made to keep you comfortable.
"This seems random at face value but an amazing facial is in the details, and if there is water flying around during the cleansing and it's getting in your eyes, in your ears, and down your scalp, that's a sign the rest of the treatment might not be fabulous." — Crumm
"A clean, comfortable table with table warmers and cozy sheets is an essential part of keeping clients relaxed. If the aesthetician isn't focused on that, then you're probably under the hands of someone that doesn't care about your comfort." — Rachel Lee Lozina, an aesthetician, laser technician and the owner of Blue Water Spa in Oyster Bay, New York
12. Your aesthetician is wearing jewelry.
"If your aesthetician is wearing rings and bracelets, it makes me wonder if they're a true professional. Rings and bracelets can not only abrade your face during the treatment but they can harbor bacteria that can then transfer to your face during treatment." — Lozina
Before You Go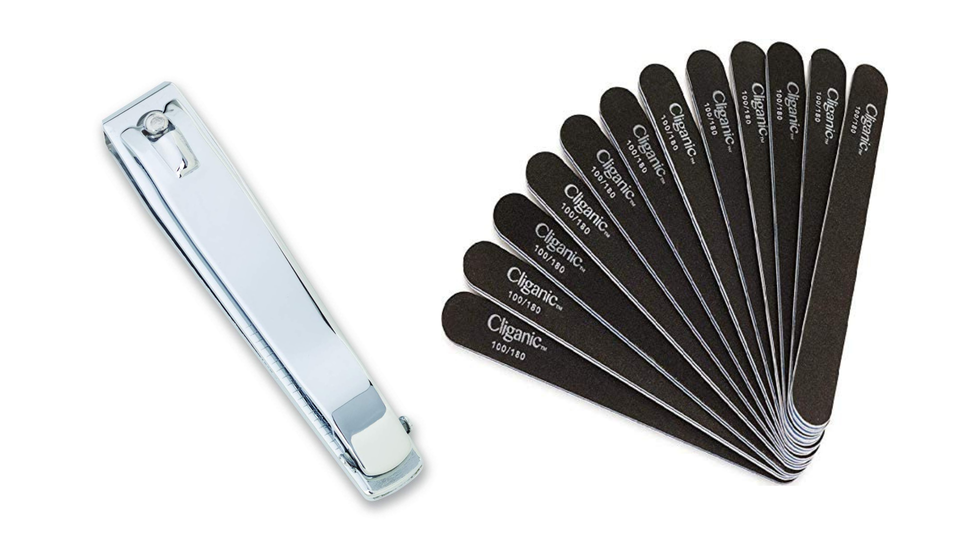 Everything You Need For The Perfect Home Pedicure