Some women don't just march to a different drummer. When push comes to shove, they become formidable badasses. While society would like them to repent of their wicked, wanton ways, they see nothing wrong with what they did. Perhaps they're right.
Maybe it's society that's all twisted in knots of foolish pretense and insufferable pride.
Maybe it's society that has created ridiculously false constructs that oppress women and prevent them from using their natural gifts to survive and thrive.
Maybe it's society that handicaps women before they even get a chance to discover their strengths and learn how to assert themselves.
In 2014, the San Francisco Silent Film Festival invited audiences to spend time with three women who, as a result of having defied parental authority, were forced to deal with severe repercussions to their rebelliousness.
Each is the subject of parental scorn (ranging from disinterest to disapproval and disownment).
Each is forced to sacrifice her dignity because of a parent's stubborn hard-heartedness.
Each handles her situation with remarkable guts and fortitude.
Based on an 1884 novel by Helen Hunt Jackson, 1928's Ramona starred Dolores del Río as a beautiful young woman of mixed blood who had been adopted by a wealthy Mexican-American widow harboring a shameful secret. Although the beautiful young Ramona is a half-breed, she has grown up playing with Felipe (Roland Drew), her adopted brother.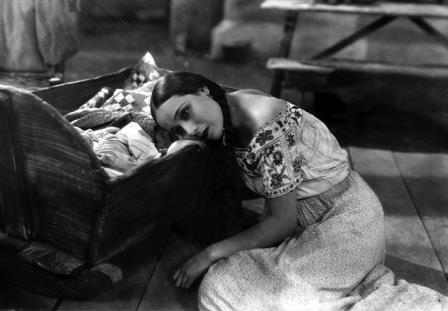 Dolores del Rio in the title role of 1928's Ramona
Whereas Felipe has always been spoiled by his stepmother, Ramona has received much less affection as a child. Much to the displeasure of Señora Moreno (Vera Lewis), Ramona falls head over heels in love with a Native-American sheep shearer named Alessandro (Warner Baxter). Needless to say, Señora Moreno is dead set against the possibility of them marrying because she fears such a union would bring shame on the family name.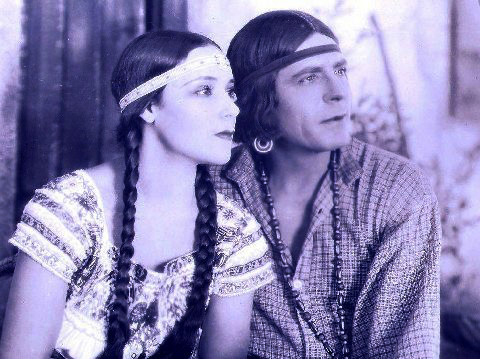 Dolores del Rio with Warner Baxter in 1928's Ramona
Nevertheless, upon learning that she is actually part Indian, Ramona feels free to marry another Indian and asks her beloved friend, Father Salvierderra (John T. Prince), to bless their union. Unfortunately, their marriage suffers one setback after another.
Alessandro and Ramona are constantly in search of a place to live where they won't be displaced by American settlers.
After they settle into a remote spot in the San Bernardino Mountains, Alessandro loses his mind.
Ramona's daughter ("Eyes of the Sky") dies after a white doctor refuses to treat her because of her mother's Indian lineage.
When Alessandro rides off on a white man's horse, the American follows him and shoots to kill.
The Americans take their revenge on Alessandro and Ramona by burning their cabin to the ground.
Ramona goes into shock and develops amnesia.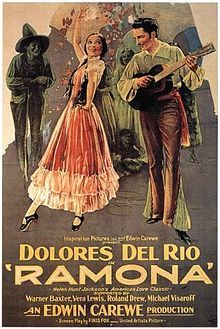 Poster art for 1928's Ramona
Meanwhile, Felipe (who has never lost his love for his stepsister) has continued to search for Ramona. When he finds her and brings her back to Señora Moreno's estate in Southern California, he slowly nurses her back to health and awakens some memories of the past. Once Ramona is back in shape mentally, she marries her first love, Felipe, and the two live reasonably happily forever after. Some interesting pieces of trivia about the 1928 version of Ramona:
Although it was not made as a talking picture, Ramona was the first United Artists film to have a synchronized score and sound effects.
For decades, the film was thought to be lost. However, film archivists rediscovered a print in the Národní Filmový Archiv in Prague.
Directed by Edwin Carewe, the restored version of 1928's Ramona had its world premiere in UCLA's Billy Wilder Theater on March 29, 2014.
Using a print provided by the Library of Congress, the San Francisco Silent Film Festival's screening at the Castro Theatre was accompanied by the Mont Alto Motion Picture Orchestra.
With music by Mabel Wayne and lyrics by L. Wolfe Gilbert, the title song for the movie became a big hit. During the introduction to the screening at the Castro, the audience was invited to sing along with the music.
Gerhard Lamprecht's 1928 tale of downward mobility, Under the Lantern, begins with Else Riedel (Lissy Arna) trapped in a suffocating lifestyle which has made her into little more than a maidservant to her widowed father (Gerhard Dammann), who locks her in their apartment whenever he goes out at night. Although Else desperately wants to marry Hans (Mathias Wieman), her father has no intention of losing his teenage daughter to another man.
One night, after Else succumbs to temptation and manages to escape, her father changes the lock to their apartment door and refuses to have any further communication with her. In order to survive, she moves in with Hans and his roommate, Max (Paul Heidemann). With little cash between the three of them, Hans and Max convince Else to join them in a cabaret act where the two men dress up as a horse while Else pretends to be a stable girl.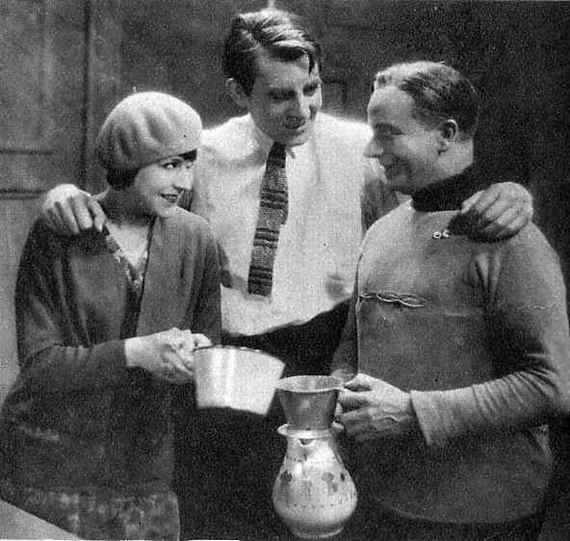 Else (Lissy Arna), Hans (Mathias Wieman), and Max (Paul Heidemann)
become unlikely roommates in Under The Lantern
Problems quickly ensue. Not only is Max falling in love with Else, the cabaret's manager is putting the moves on her as well. When Else's father notifies the police that his daughter is still a minor, she is forced to seek out the protection of Gustave Nevin (Hubert von Meyerinck), the sleazy cabaret manager.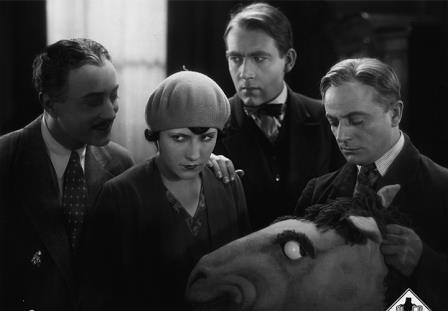 Lissy Arna stars as Else Riedel in 1928's Under The Lantern
Else becomes Gustave's lover but, when business sours (and a jealous former mistress exacts her revenge), Else has no other choice but to hit the street and start working as a prostitute. She can't go back to her father, nor is Hans about to tolerate her fall from grace.
Else soon becomes ill. By the time Max discovers her and attempts to reunite her with Hans, it's too late. Rather than die in darkness, shame, and isolation, Else asks her friends to bring her bed out into the street so that she can enjoy the open air on a summer's night and die peacefully under the street lantern where she has picked up so many tricks.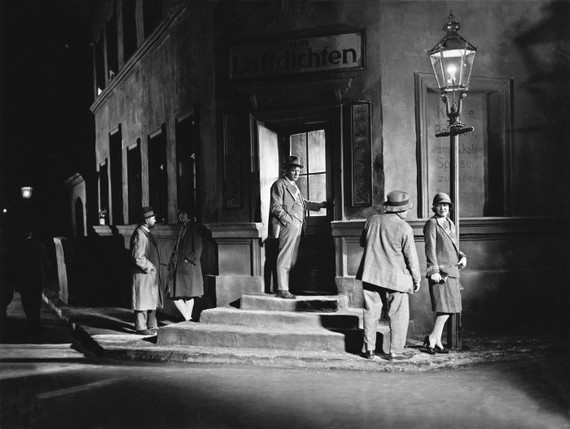 Lissy Arna stars as Else Riedel in 1928's Under the Lantern
With the Donald Sosin Ensemble (Donald Sosin, Frank Bockius, Guenter Buchwald, and Sascha Jacobsen) providing live accompaniment, the San Francisco Silent Film Festival's screening of Under the Lantern offered the audience a chance to savor a newly-restored 35-mm print from the Deutsche Kinemathek. The film's restoration had been commissioned to celebrate the museum's 50th anniversary (in 1962, Lamprecht had taken on the post of its founding director).
One of the most delightful surprises of the 2014 San Francisco Silent Film Festival was a 1927 Swedish comedy directed by Karin Swanström (whose contributions to Swedish cinema are quite remarkable). Swanström began as a character actress, became a film director, and was the studio talent scout credited with discovering Ingrid Bergman. As a studio executive, she was the first woman in a major leadership role in the Swedish film industry.
The Girl in Tails is based on one of Hjalmar Bergman's comic novels showcasing the inhabitants of Wadköping (a fictional town in central Sweden). Accompanied by the Mont Alto Motion Picture Orchestra, the screening at the Castro Theatre turned out to be a delightful romp and frolic.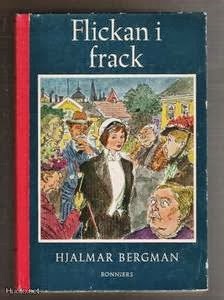 Book cover for Hjalmar Bergman's novel, Flickan i Frack
Katja Kock (Magda Holm,) is strong, smart, and practical. But she's also a girl which, in the town of Wadköping, means that in the eyes of the village elders her only hope is to marry a decent man. Unfortunately, she's surrounded by useless fools. The Girl in Tails draws heavily on Katja's frustration with traditional gender expectations for its comic effect.
Katja's brother, Curry (Erik Zetterström), is about to graduate and is eager to marry his girlfriend, Eva Björck (Carina May).
Her father (Nils Arehn), is a widowed inventor who has bought Curry a new tuxedo to be worn at his new job.
Katja's best friend is Count Ludwig von Battwhyl (Einar Axelsson), a daydreaming rich boy whose inability to concentrate on his studies could easily prevent him from graduating. Ludwig has a rather strange background (having been raised by a group of female relatives who have been described as "a wild herd of learned women").
When, much to everyone's surprise, Count Ludwig manages to pass his final examination, he decides to throw a grand ball for the students at his school. While nothing is too expensive for his son, Katja's father is much too cheap to buy his daughter the dress she would like to wear to the ball.
Katja's desperation leads her to a brilliant solution. She dresses up in her brother Curry's new tuxedo and attends the ball disguised as a man. Katja drinks and smokes like a man, dances with other women, and manages to offend the Widow Hyltenius (Karin Swanström), the village's powerful matriarch. Although most of the townspeople attending the ball are horrified by her behavior, headmaster Starck (Georg Blomstedt) defends Katja's courage and creativity.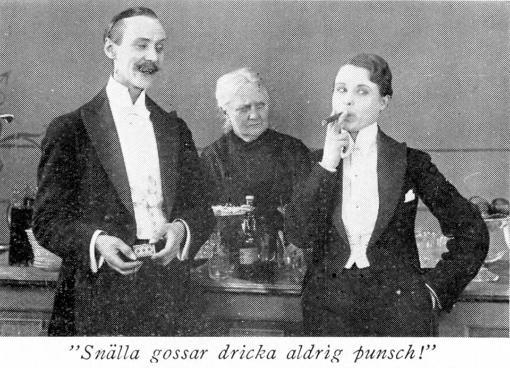 Rector Stark (Georg Blomstedt), the Widow Hyltenius (Karin
Swanström) and Katja Kock (Magda Holm) in The Girl in Tails
After Katja's father (who is angry and humiliated as a result of her antics) kicks her out of their home, Count Ludwig invites her to visit his family's country estate. When Katja refuses to marry Ludwig because she doesn't want to have to visit Mrs Hyltenius (the required protocol after becoming engaged), Ludwig's female relatives (who tend to dress like men) offer Katja a position as a live-in maid. They quickly discover that Katja is a total klutz.
In time, however, love wins out and Katja gets a big surprise. It turns out that Mrs. Hyltenius is one of Count Ludwig's relatives and, before she dies, wants very much to bless his marriage to Katja. All ends happily at last!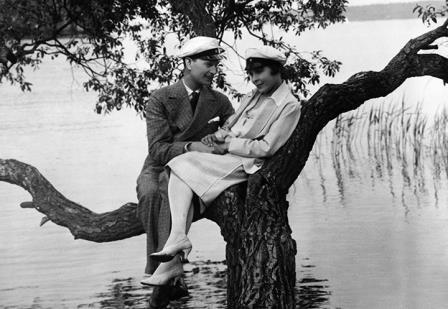 Count Ludwig (Einar Axelsson) with Katja Kock (Magda Holm)
in a scene from 1927's The Girl in Tails
Calling all HuffPost superfans!
Sign up for membership to become a founding member and help shape HuffPost's next chapter