"Out with a canon of beauty imposed by men. Long live sexual freedom!" the press release states for "Bad Girls" at Frac Lorraine in Metz, France.
We don't know if we've ever been so fired up by a press release before, but then again, the art world's bad girls sure know how to rile up a crowd.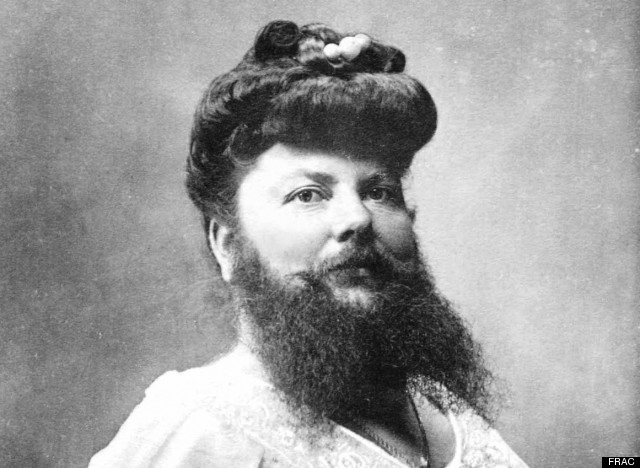 Clémentine Delait

Marina Abramovic, Martha Rosler and Lili Dujourie are among the dangerous women featured in Frac Lorraine's new exhibition. With brains, humor, fearlessness and sexuality as their weapons, these women battled the binaries that be using the power of their bodies.
In Abramovic's "Rhythm 10," the iconic performance artist recorded the sound of her stabbing a knife into a table between her fingers until she missed and cut herself. She would then repeat the recording and try to repeat the exact rhythm, cutting herself at the same moment. The dangerous game toyed with the relationship between time and repetition, play and pain.
Rosler's 1975 "Semiotics of the kitchen" addresses the oppressive domestic roles imposed upon women through the shape of a traditional cooking instructional video. Rosler goes from A to Z, assigning each letter to a kitchen tool, her voice and movements punctuated with anger and frustration.
While many women represented used performance art to activate change, others simply existed refusing to conform to the established understandings of gender. Clémentine Delait, a bearded lady who owned a cafe in 19th century France. In honor of Delait, The Frac Lorraine invites viewers to post their most imaginative reconfigurings of gender on their Facebook page. The most unusual "XXY" competition will be posted on FRAC.
"Bad Girls: A Collection in Action" honors the women who dedicated their lives and their work to tearing down established order to make room for experience, freedom and life. Through screaming, stripping, stabbing or staring, the art world's bad girls used the simplest of means to change our vision of the future.
The exhibition features work from Marina Abramovic, Pauline Boudry / Renate Lorenz, Lili Dujourie, Clarisse Hahn, Anna Maria Maiolino, Annette Messager, Liliana Motta, Ewa Partum, Lotty Rosenfeld, Martha Rosler, Raeda Sa'adeh and Hito Steyerl. It runs from July 13 until October 30, 2013. See a preview in the slideshow below and let us know your inspirations in the comments.
Calling all HuffPost superfans!
Sign up for membership to become a founding member and help shape HuffPost's next chapter