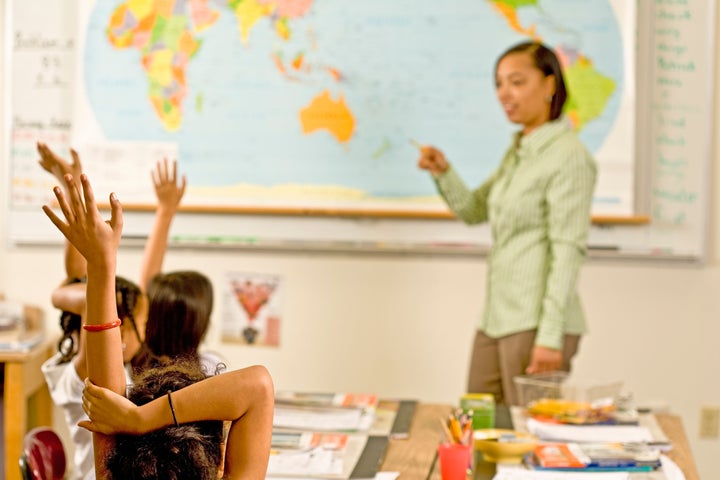 I have a peculiar habit of tracking incidents that land substitute teachers in hot water, a hobby I started in 2008 while researching a book.
It was nearly impossible to miss the story from Vancouver, Washington, where a male substitute teacher at Wy'East Middle School came to work dressed as a woman, an event which some viewed as inappropriate and others saw as an opportunity to teach students tolerance.
Meanwhile, less sensational stories trickled into my in-box, chronicling incidents in which students were put directly as risk, raising the question, "Who is overseeing these school employees?"
Let me show you what I mean. Below are five reports from the past three weeks that didn't make national news, stories that include substitute teachers belittling, hitting, and sexually assaulting students.
• In Monroe, Louisiana, a mother of a 14-year-old student says a substitute at Rayville Junior High School called her son the N-word, as in "Sit down, N-word." The mother told her local news station, KNOE, that the principal brushed off her concerns. The substitute was later fired.
• In Tulsa Public Schools, a substitute teacher was fired at Kendall Whittier after 6th-grade students said she hit them with a book and used inappropriate language.
• In Racine, Wisconsin, a substitute teacher at Knapp Elementary School allegedly grabbed a 9-year-old girl by the arm and shoved her into a bookshelf.
• In Bayonne, New Jersey, a substitute teacher at the Woodrow Wilson School was reported to have allowed a 9-year-old boy to walk home. However, the boy has a learning disability and did not have permission to leave school alone. He went missing for two hours.

I feel sorry for this last substitute. While the school administration publicly punished her by prohibiting her from working there again, I wonder about the administration's culpability. What systems were in place to ensure student safety? Was this substitute left on her own -- with no support from the office -- to figure out after-school instructions for two dozen young children, whose routines she did not know? (Nationwide, only 23 percent of school districts train their substitute teachers, according to Geoffrey Smith, director of the Substitute Teaching Division of STEDI.org. Furthermore, 10 percent are not given a background check, and 52 percent are not interviewed by school personnel before getting the green light to work as substitute teachers.)
These five reports didn't surprise me. During just one month -- October 2008 -- I tracked all the substitute-teacher related incidents reported in newspapers -- at least those that my Google alert picked up. The accounts included: a substitute teacher who showed up to work drunk; another who passed out in class amid drug paraphernalia; one who pointing a loaded handgun at a teen who he thought had stolen his own son's iPod; one who humiliated a gay student; and one who stole money from the school office.

There were 14 incidents of sexual misconduct with students, four of which involved female substitutes who pursued or had sex with students.
One of these October 2008 incidents stands out for the judge's comment during the trial because it includes the ultimate question, highly relevant today.

A substitute gym teacher at Ocean City High School, New Jersey, pleaded guilty to giving alcohol to a 15-year-old student. He denied having oral sex with her; the student says otherwise. The student also claimed that the substitute teacher called her degrading names and that she gained 20 pounds because of anxiety and humiliation. Superior Court Judge Raymond Batten sentenced the substitute teacher to 364 days in jail and said, "When we reach a point in society when we as parents can no longer safely and reliably entrust our children to the care of those professionally responsible, we are bankrupt as a culture. How does it stop? When does it stop?"
Yes, the substitute teachers are to blame for their own actions. But who is legally and morally responsible for putting them in charge of the children in the first place? The principal? The superintendent? The school board?
Whoever that is, that entity should take the screening, hiring and training of substitute teachers more seriously. We may think that substitutes simply mark time until the regular classroom teacher returns and in doing so, bring the children no harm, intentional or otherwise. If we do, we are quite wrong. Perhaps dangerous, tragically wrong.
REAL LIFE. REAL NEWS. REAL VOICES.
Help us tell more of the stories that matter from voices that too often remain unheard.