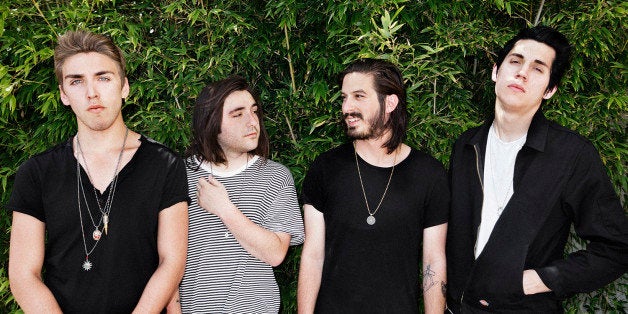 Before The Beat Drops is an artist introduction series dedicated to bringing you the rising acts before they make their break. Our unlimited access to music of all kinds is both amazing and overwhelming. Keeping your playlists fresh, we'll be doing the leg work to help you discover your next favorite artist.

I wasn't sold on Bad Suns after hearing their breakthrough single, "Cardiac Arrest," the first time. It has minimal verses that gets your head bobbing. The hook's vocal lines are impossible not to sing along with as you groove out to the punchy riffs and sped-up hi-hat hits. It's an infectious radio smash, and that was exactly the problem. It was almost too perfect.
It's not that I didn't appreciate the song, but it just brought to mind a number of other acts that reside somewhere within the alternative-indie sphere. They put a few stellar singles out and then when the album drops, there is little substance to be found in-between the hits. Fortunately, Bad Suns have not fallen victim to the single-driven paradigm built by the Internet. Their debut album, "Language & Perspective," never loses its luster from start to finish.
"As kids from a generation who were completely brought up in a time of single records, the idea of the album was so important to us," Bad Suns vocalist/guitarist Christo Bowman told HuffPost Entertainment. "We wanted to make a record without so much saying, 'Fuck being in a single-based industry' or whatever. Let's just make a record that from start to finish where we think each song is just as strong or strong than the one that precedes it and is just an album that is worth listening to."
Rounded out by members Miles Morris (drums), Gavin Bennett (bass) and Ray Libby (guitar), Bad Suns is a four-piece dedicated to the sounds of guitar, bass and drums. Largely influenced by acts such as The Clash, The Police and U2 -- although Bowman was sure to note that they listen to a lot of contemporary acts as well -- "Language & Perspective" is often a contradiction between sonic and lyrical content.
"When it comes down to it, it's just about entering and dealing with young adulthood," Bowman said. "Making mistakes, learning from mistakes, falling in love, falling out, where you're going to be. We wanted to make it hopeful as well as slightly introspective. I think that ultimately the idea is about accepting the hand you've been given, accepting it and making the most of it and understanding that things are the way that they are. And the only thing you can do with that, that's up to you. It's how you choose to act and what actions you choose to take."
It's in the opener, "Matthew James," that Bowman lays out exactly where his mind is at, singing, "I find myself enamored with an explanation that doesn't exist." One of the most all-around upbeat cuts, it isn't until penultimate track, "Sleep Paralysis," that you realize Bowman has strayed to darker spaces from time to time. The most aggressive song on the album, it builds and builds until the final third where the bass, tom smashes and crackling electronic blares take over. While it seems a world away from "Matthew James," both songs are split from the same stem.
"There's a lot of songs on this record that work kind of like brother and sister," Bowman said. "They're based on the same idea, but you can have two completely different emotions about this idea. For instance, 'Sleep Paralysis' is kind of the other half of 'Matthew James.' It's that kind of fearing where you're going to be and who you're going to turn into and what are people going to remember you by. 'Matthew James' is kind of the more hopeful version, the album starting out with this person who has no idea what the fuck is going on and finds peace in the idea that nobody knows what is going on. And 'Sleep Paralysis' is at the end of the day you have to deal with yourself when you go to bed and the thoughts can be paralyzing, so it's the darker side of it. It's about those moments where you feel that you can do nothing about it and it feels hopeless."
Prepping for a fall tour with New Politics, it was during their spring run with The 1975 that the band made a name for itself. Bowman explained that when the tour began in Los Angeles, their hometown, few people knew who they were. By the time the tour wrapped up in Baltimore, a city they had never played in before, and the room was completely alive, a packed crowd singing along. However, as Bowman previously mentioned in a Billboard article, there was a brief moment when they thought Bad Suns would call it a day soon before their album had even released.
"It got to a point where those first recordings we put out we were really confident in and showcased what it was that we wanted to be doing," Bowman said. "Then we started showing some new tunes to people that we had prospects of working with and they didn't quite believe in it. We felt really confident in them, but at some point it's really easy to doubt yourself in a situation like that, for a minute. We were like, 'Shit, what if they are right? What if this isn't the right direction?' But once we put the songs out we realized that this is us, and it was a really nice turn around."
Thankfully, the band inked a deal with Vagrant Records soon after their release of "Cardiac Arrest," earning plenty of chart love since.
"As long as you are honest in what you are creating, and there's a reason for to what you are doing, there's no reason to doubt yourself," Bowman said. "That's ultimately where happiness derives from."
REAL LIFE. REAL NEWS. REAL VOICES.
Help us tell more of the stories that matter from voices that too often remain unheard.
BEFORE YOU GO
PHOTO GALLERY
See Your Favorite Artists Turned Into LEGO