It's no secret that parents are multitasking pros. But this Utah mom is taking the balancing act to the next level.
"Yesterday I ran a half marathon at five months postpartum," Young wrote in the caption. "I had to leave at 4:30 a.m. and the race started at 6:45 a.m. I nursed my daughter before I left my house, pumped after running the first 8 miles and nursed her after I made it past the finish line."
She also acknowledged Occupy Breastfeeding and La Leche League for motivating her to figure out a way to run the race and take care of her 5-month-old daughter.
Young's post has thus far received over 7,600 likes, and the comments section is filled with supportive messages for the badass mama. She told The Huffington Post she ran competitively in high school and college, and although she signed up to run the REVEL Big Cottonwood Half Marathon in Salt Lake City last year, she needed to defer due to an IT band injury.
After Young gave birth to her first child, she decided that she wouldn't let this major life change stop her from competing this year. "I thought signing up for a race would be a good way to commit myself to running more regularly, as well as an opportunity to share something I am passionate about with my daughter," she said. The new mom added that she trained by running while pushing her daughter in a stroller.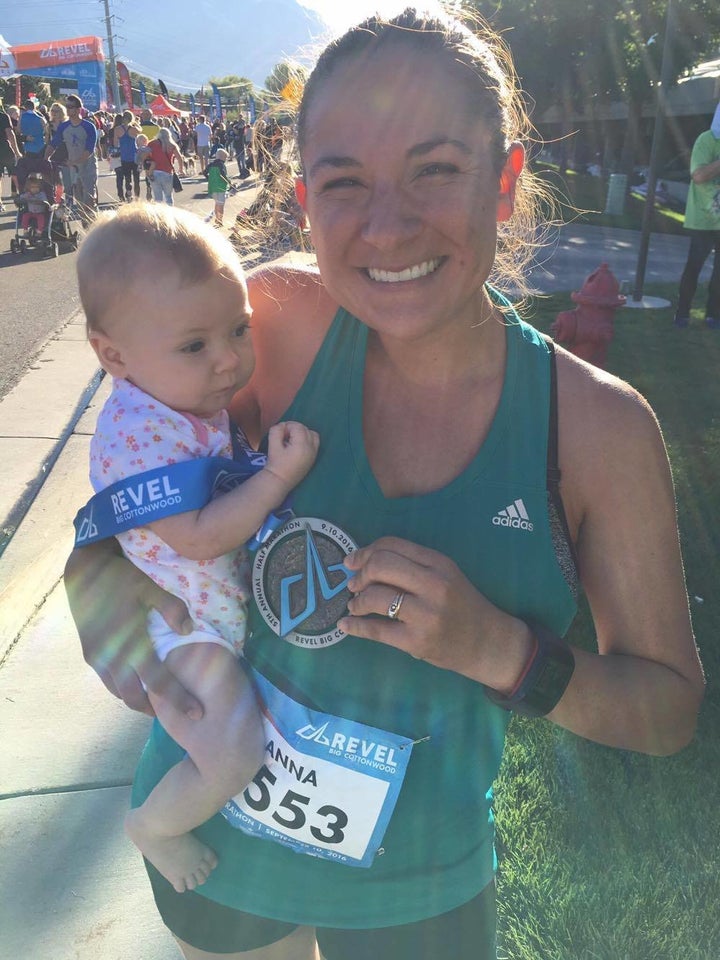 On the day of the race, Young brought her pump with her because she was unsure how long she would take to finish. Though she'd planned to stop and pump on the sidelines for a bit, she decided in the moment to keep moving while she pumped.
Young didn't realize a photographer had snapped a picture of her in that moment. "I was a bit surprised when I saw it uploaded with my race results," she said. "I don't believe most of the people running past me could tell what I was doing, but I did have one woman look back and cheer me on because she knew exactly what I was doing."
The mom told HuffPost she decided to share the photo as a tribute to the supportive breastfeeding communities who helped her through her early nursing struggles ― from breast pain to tongue and lip tie issues.
"Posting this photo was an attempt to thank the breastfeeding community and make an effort to help normalize it," Young said, adding that she wants to raise awareness about the many resources available to new moms, like support groups, lactation consultants and La Leche League.
"Even though I was nervous about pumping during my race, I hope it helps other mothers to not be afraid to nurse their children in public," she continued. "I want other moms to see that you can still take time to do the active things you love and nurture your baby. Breastfeeding and motherhood does not limit what I am capable of, it only enhances it."
Cheers to this badass mom!
Before You Go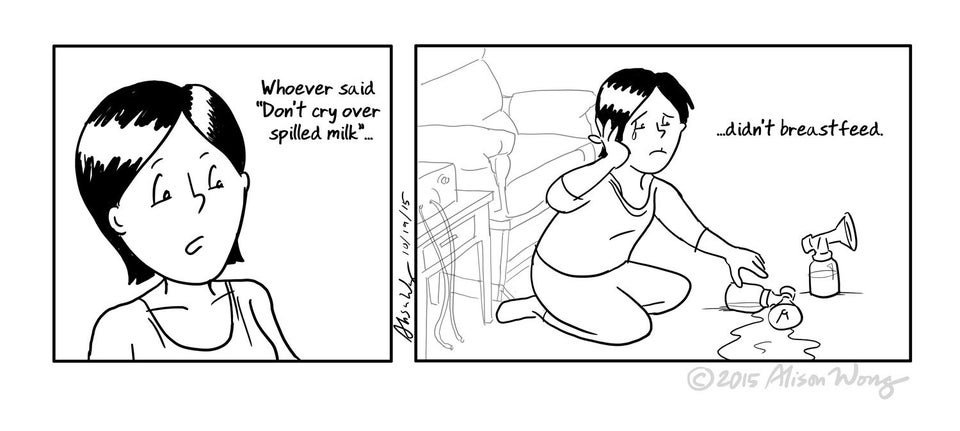 Comics That Sum Up Pumping
Popular in the Community