A UK mom stood up against gender stereotypes after her 3-year-old son was mocked for wearing socks with hearts.
Last week, Shona Campbell was picking up her son Harry from nursery school when she noticed a fellow mother and her child laughing at his "girl" socks. Campbell later shared her frustration with the incident in a viral Facebook post.
Addressing her post to the unnamed mother, Campbell writes, "You may have thought I didn't hear you but let me assure you I did!! When your child pointed out my SON had love hearts on his socks, and mocked them for being GIRLS socks you absolutely tore apart my faith in this world, because you agreed and laughed along with your child."
Campbell adds that her son Harry loves "love hearts," "the colour pink" and playing "with dolls and prams."
"But what he loves more than anything, is having the independence to make his own choices," she continues. "He chose these socks in the shop, and he chose to wear them today."
In the post, the mom questions the gender norms that seem so pervasive in kids' clothing. "Why should we teach our children that certain things are for girls/boys??" she asks. "If my son wants to wear a dress, he can!! If he wants to wear a big fluffy hat, he can!! And if he wants to wear socks with love hearts, HE CAN!!"
Ultimately, Campbell proclaims that she wants her son to be "whoever he wants to be" and condemns those who mock him or say he's "wrong" for his wardrobe choices.
"This is the perfect age to allow our children to make their own decisions and let them figure out who THEY want to be, not who society says they should be!" she writes. "This is MY SON. And I love him. Love heart socks and all!!""
Campbell's Facebook post has been shared almost 95,000 times.
In the comments section, she notes that she decided to share her frustrations on Facebook because she didn't want to get into a confrontation in front of the children at the time. But, as she explains in the final line of the viral post, she hopes the mother in question and "anyone else that thinks it's OK to specify gender in clothes/toys etc" sees her words and develops a more open mind.
Campbell also states in a follow-up comment that she has the same gender norm-free policy for all of her children. Of her daughter, she writes, "Sophie is living being a Tom boy some days, and others she's all princesses, but the same goes for Harry, he loves to play zombies, and he loves to wear Sophie's dresses."
Cheers to letting kids wear the clothes and play the games they love, regardless of what others may think.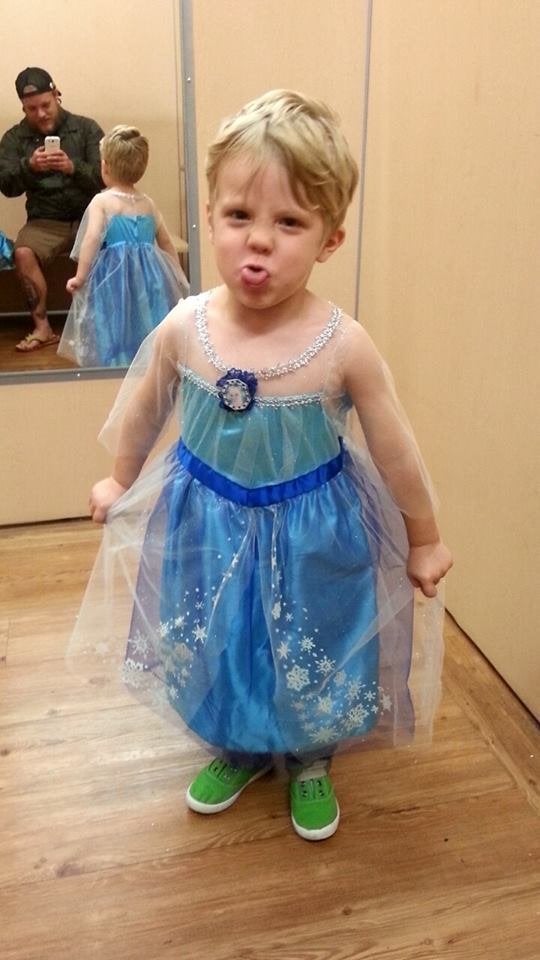 8 Moments That Made Us Totally Rethink Gender In 2015