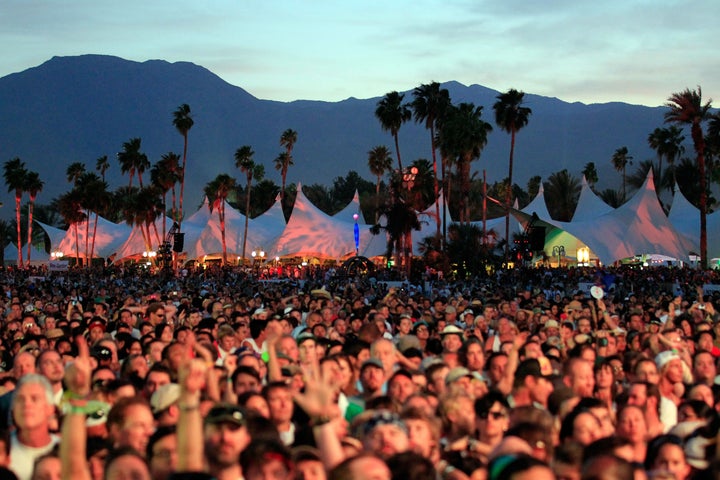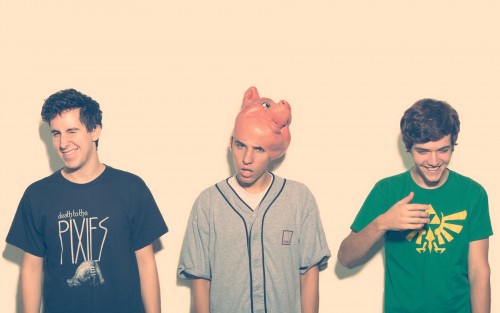 No one above the age of 21 was involved in making this article.
September 17, 2011 : The first show Matt Tavares, Chester Hansen & Alex Sowinski played as BADBADNOTGOOD was in the back room of Toronto's Red Light resto-lounge. Their second show was opening for Roy Ayers at the Fourth Annual Nujazz Festival two months later to encore chants. Since then, their RARE blend of jazz and hip-hop has blown up into YouTube basement jam sessions with Tyler the Creator, work with Earl Sweatshirt, and starting Friday, pulling double duty as Coachella's band-in-residence, playing six different sets, and backing for Frank Ocean at both weekends. Needless to say, things are taking off for them in a major way.
BBNG started the way all best friendships do: through hip-hop. Meeting through the jazz program at Humber College, drummer/pig mask enthusiast Alex Sowinski, 20, hit it off with future keyboardist Matt Tavares, 21, over a shared appreciation for Metal Fingers. "We found out we went to the same MF Doom show a year (prior)" says Alex. "Then we found out we grew up a block away from each other in rural Ontario, so it was pretty interesting." Bassist Chester Hansen, 19, was brought into the fold soon after. "We liked hip-hop, that's basically how it happened. We've been sharing & having an appreciation for all that. F-kin' hip-hop."
The band's influences are equal parts The Roots, Mos Def and Three 6 Mafia as they are Bill Evans, Robert Glasper and John Coltrane. Their conversations about jazz amongst themselves could go on for days, the three of them breaking out encyclopedic knowledge of artists like Eric Duffy, bassist Scott LaFaro, drummer Chris Dave & solo saxophonist Colin Stetson. "Flying Lotus and all those guys are pushing boundaries, too."
It bleeds through in the music. Their first release BBNG (the product of three hours in their first ever studio session) is filled with jazz interpolations of Gang Starr ("Mass Appeal"), Nas/Ol' Dirty Bastard ("The World is Yours"/"Brooklyn Zoo") and Slum Village (the J Dilla masterpiece "Fall in Love"). Alex says, "I feel like the cover thing is like, not in a lame way, but it's pretty cool because you can take a song that will never see the light of this combination of style of music and you can give it some new life." They deconstruct the four bar loops, understanding how to work crescendos by stretching out and reshaping the music into their own vision of silky smooth key progressions, pounding drums, and tasty bass lines.
BBNG also specializes in getting ratchet as all hell. Their covers of Waka Flocka Flame's "Hard In Da Paint" (BRIIIIIIIICKSQUAAAAAAD), Lil B, and crowd killer Gucci Mane's "Lemonade" had the people moshing at their last Dilla tribute show. Their newest release BBNG2 has an official, mastered version of this, using Tyler the Creator's intro track to Bastard as their own. Peep the 2:43 mark and hold on. They completely abuse Bangladesh and their instruments as the keys come crashing down on those ubiquitous chords, the drums spiraling out of control as the bass strums along, trying to keep up the pace. This goes back and forth for another five minutes, snapping back and forth from slight composure to all hell breaking loose in the music.
BBNG2 sees them expanding their sound, mixing their covers with a set of original material as well. "We all write chord progressions and make beats... they're all a combination of songs certain people started writing a riff on and we all just kind of came together as a band doing it." The lead single "UWM" (above), featuring saxophonist Leland Whitty showcases the band's innately natural musical talent, layering rolling strings and sax over a marching drum roll through the course of a six-minute jam session. The video is a single shot performance of them eating cereal in their apartment with their friends, sitting on a couch as they play hypeman to their own music. Bobbing their heads and playing drums in the air, the friends pile into their shoot in sync with the instruments, drifting out of frame as the saxophone goes.
Their talent hasn't gone un-noticed, most notably by Tyler the Creator. A by-product of their Odd Future Sessions (above), Wolf Haley came through to their own basement before his Odd Future shows and jammed out to an extended play of "Orange Juice" (below), "Seven" and "Fish," over a million views combined on YouTube. When asked what direction they want to take the band, their first, half-jokingly response was "Beats for Kanye" followed up by a much more Based answer. "We just want to keep planning shows, playing festivals, stuff like that. We really want to do a lot of producing and stuff like that... Matt is really good with production, so we just want to keep making tons of music and keep playing a lot of music, collaborating, just seeing where everything goes." As of now, everything is undoubtedly going the right way. '90s babies have arrived.
BADBADNOTGOOD will be appearing at Coachella as the band-in-residence & backing for Frank Ocean both weekends, April 13-15 & 20-22.